We Finally Know The Sex Of Rihanna's Baby
Cubankite/Shutterstock
Okay, immediately stop everything that you're doing. Rihanna has officially given birth and yes, that's right folks, we now know the lucky little one's sex. Fans have been speculating on the sex of Rihanna's future offspring since the moment the "Umbrella" singer revealed her pregnancy to the public (via impossibly glamorous photoshoot, naturally). 
Back in March, many people thought that the mystery was solved when Rihanna was seen at Target (Target!) buying baby clothes, per Us Weekly. She reportedly picked up several onesies as well as a pink baby dress that had fans convinced she was having a girl. Suspicions were strengthened when Rihanna was seen shopping for baby clothes a second time, where, according to Us Weekly, she looked at a couple of baby dresses. Since none of these fans had seen an actual sonogram or anything, it wasn't exactly case closed — but it was at least a solid hint. 
Well? Were the fans correct? Drum roll please ...
Rihanna had a baby boy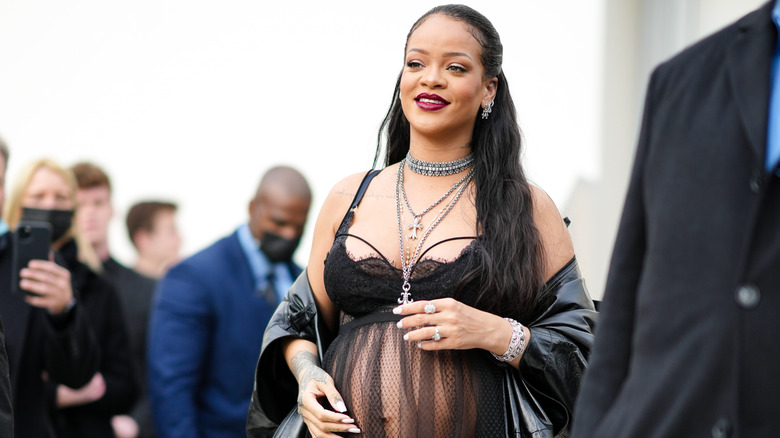 Edward Berthelot/Getty Images
No! Sorry social media, but TMZ has reported that Rihanna gave birth to a baby boy on May 13 in Los Angeles. TMZ's reporting comes courtesy of an anonymous source, who did not have much else to say. So no, we do not know what the baby's name is, nor do we know any other details. All we know is that this is Rihanna's first child, whom she shares with her partner, rapper A$AP Rocky. 
While we're obviously happy for the new mom, we have to admit we'll be a little sad to say goodbye to Rihanna's truly innovative maternity style. In her Vogue cover interview, Rihanna said, "When I found out I was pregnant, I thought to myself, 'There's no way I'm going to go shopping in no maternity aisle.' I'm sorry — it's too much fun to get dressed up." But she also had a more meaningful reason for her belly-baring looks. "My body is doing incredible things right now, and I'm not going to be ashamed of that," she told Vogue. "This time should feel celebratory. Because why should you be hiding your pregnancy?"