Who Is Lily-Rose Depp's Famous Godfather?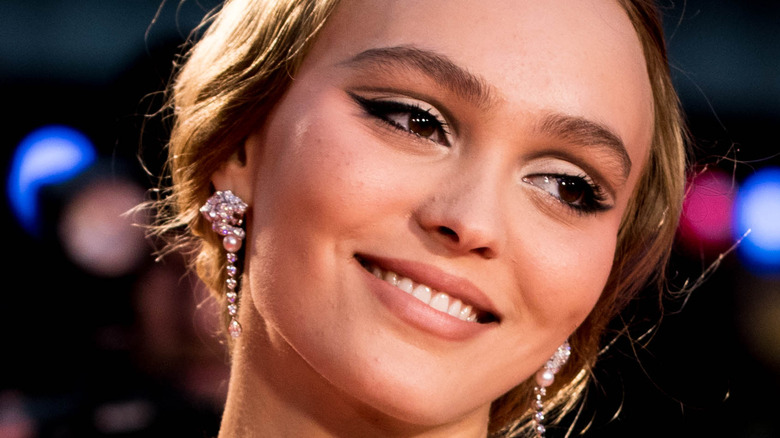 Tom Rose/Shutterstock
The following article includes allegations of domestic abuse.
As the complex defamation trial between Johnny Depp and Amber Heard continues, rehashing their toxic he-said-she-said relationship, and the many allegations of abuse and drug use, friends and family members from both parties have been mentioned on the stand, including the godfather of Depp's daughter Lily-Rose Depp. 
Johnny has two children with his former girlfriend, French model and singer-songwriter Vanessa Paradis, with whom he split shortly before he and Heard began their fractious relationship. Both kids were born in Paris, per Babygaga, Lily-Rose arriving first in 1999 and son Jack Depp in 2002; both children have dual citizenships and speak fluent French. 
Lily-Rose started her acting career starring in films in Los Angeles and in France, including "Tusk," "Yoga Hosers," "The King," "La Danseuse" ("The Dancer"), and "Wolf." Currently, she is filming "The Idol," The Weeknd's forthcoming HBO series. Lily-Rose is also childhood best friends with director Kevin Smith's daughter Harley Quinn Smith, per Nylon. But perhaps most interesting of all is who Lily-Rose's godfather is, particularly since he was mentioned during the Depp-Heard trial (and is facing legal problems of his own). 
Lily-Rose Depp's godfather is Marilyn Manson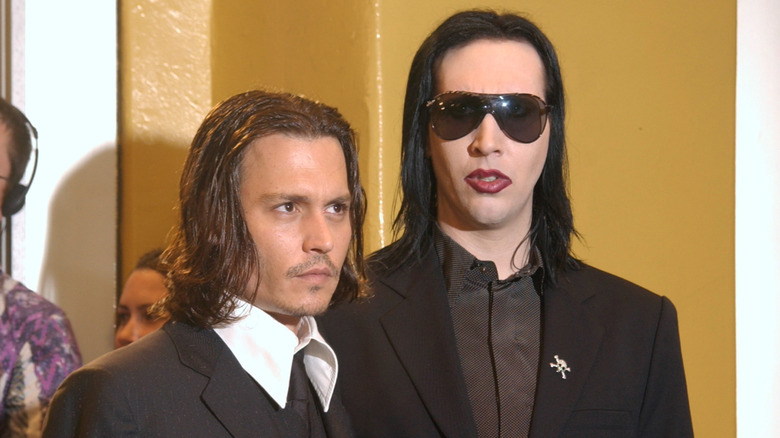 Featureflash Photo Agency/Shutterstock
Johnny Depp took his friendship with controversial rock star Marilyn Manson to a new level when he asked Manson to be Lily-Rose Depp's godfather.
The two A-listers have been close friends since Manson was an extra on Depp's show "21 Jump Street," according to Jezebel. The two have been through many experiences together, from Manson accompanying Depp to movie premieres to Depp appearing on stage with Manson, per ABC. They traded memorabilia — Depp's wig from "Blow" for Manson's prosthetic breasts from his "Mechanical Animals" album cover per, Yahoo! News — and even tried to urinate on Depp's Hollywood Walk of Fame star together along with pal Hunter S. Thompson, per NME. They even partied together on the turn of the millennium. 
"Johnny Depp and I, on Y2K, ... I went to the South of France and we bought every case of absinthe they had in Prague" Manson told Vice's Noisey. "It was just the burgeoning of our bromance, our brotherly love for each other."
They also found themselves in the tabloids together in February 2014 when Daily Mail reported that Depp and Manson had dropped Lily-Rose off at school, photographing Depp with what looked like a marijuana pipe. The incident was mentioned in Depp's 2020 defamation case against The Sun, as Amber Heard's lawyer told the court that Heard allegedly texted Depp's sister saying, per Page Six, "JD is on a bender with Manson."
Lily-Rose Depp is trying to stay out of the trials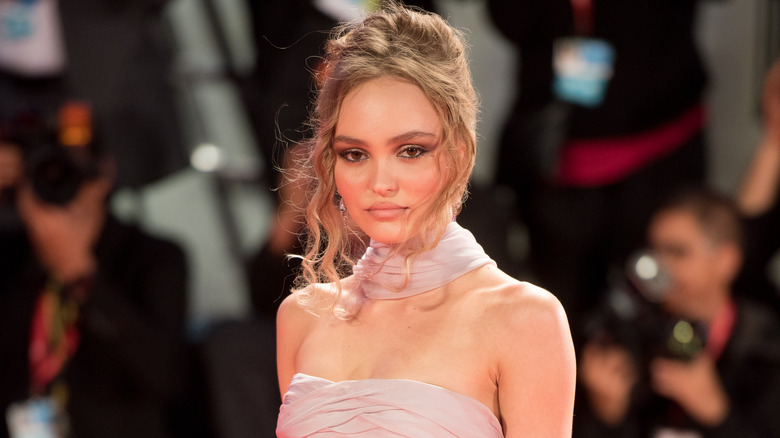 Anxionnaz Brice/Shutterstock
As Lily-Rose Depp tries to stay private, including on her Instagram which she hasn't posted to since early April 2022, people are dragging her into the various trials.
Lily-Rose was mentioned in her father's 2020 trial against The Sun when he said he was being "a responsible parent" by encouraging Lily-Rose to come to him when she was ready to experiment with drugs — even if she was only 13 at the time, according to People. She has also been mentioned in the current trial by both Johnny and Amber Heard, with Johnny saying Lily-Rose didn't attend their wedding because she and Heard "were not on particularly great terms," per Us Weekly. However, Heard testified she comforted Lily-Rose during a trip when Johnny's behavior scared her, per Insider, and they left the trip early together. The Sun also reported that Lily-Rose didn't want Johnny to give up on his relationship with Heard, saying she was a "good influence" on his parenting.
Now Lily-Rose is facing attacks from Johnny's supporters, Buzzfeed reports, who are angry with her for not supporting him publicly. As the trial brings more vitriol against Heard for speaking out, making it more difficult for domestic abuse survivors to file reports, Johnny's supporters are turning their venom to Evan Rachel Wood, who accused Marilyn Manson of abuse. Hopefully Lily-Rose can stay clear of that (if she wishes), but it seems unlikely. 
If you or someone you know is dealing with domestic abuse, you can call the National Domestic Violence Hotline at 1−800−799−7233. You can also find more information, resources, and support at their website.