Has George Clooney Ever Been Arrested?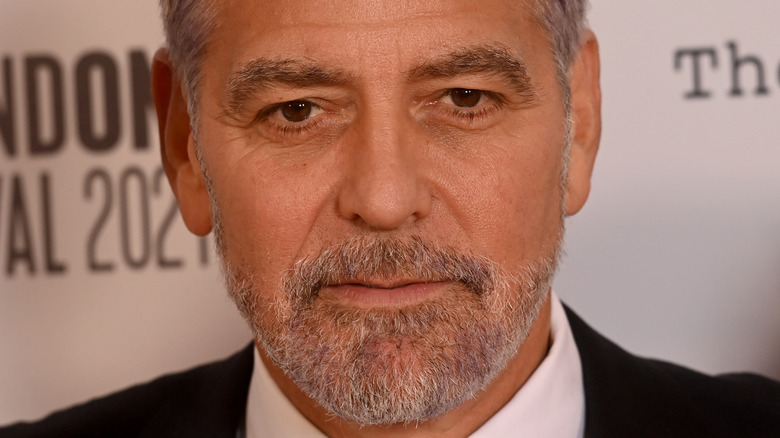 Dave J Hogan/Getty Images
George Clooney is widely known as one of Hollywood's most upstanding and likable citizens. He and his wife, British-Lebanese human rights attorney Amal Clooney, have received a great deal of recognition and praise for their humanitarian work and citizen activism. In 2020, the generous couple donated $100,000 to Lebanese charities after its capital and largest city, Amal's native Beirut, was left devastated by a massive explosion. The two have also been heavily involved in advocating for recognition of the Armenian genocide, open-door policies for Syrian refugees, and resolution of the deadly Darfur conflict in Sudan. 
Years before his marriage, George was also renowned in Hollywood for his pro-LGBTQ activism, even staging a play in 2012 documenting the court case which overruled California's Proposition 8, which outlawed same-sex marriage in the state in 2008. So, given his admiral pro-human rights background, many may be surprised to find out that the legendary actor has actually been arrested. However, this arrest wasn't despite Clooney's upstanding moral values, but precisely because of them. 
George Clooney was once arrested for civil disobedience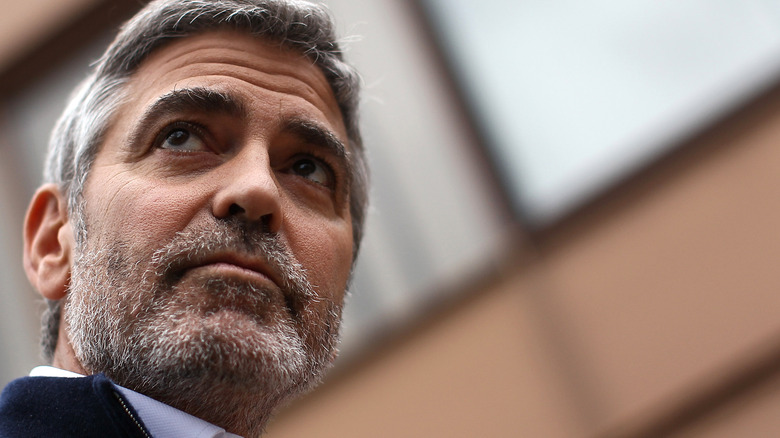 Win Mcnamee/Getty Images
Legendary Hollywood actor George Clooney has indeed been arrested once in his life, back in March 2012. This was for civil disobedience outside the Sudanese Embassy in Washington, D.C. Essentially, Clooney attended a rally protesting against the actions of then-Sudanese President Omar al-Bashir for his actions in the Darfur conflict, a major armed conflict in western Sudan. In the conflict, multiple rebel groups began fighting against Bashir's government starting in 2003, accusing it of suppressing Sudan's non-Arab population. Bashir responded by carrying out a colossal campaign of "ethnic cleansing" against the country's non-Arabs, according to the Independent, resulting in massive bloodshed, rape, and tragedy among Sudan's civilian population, including against women and girls.
At the protest, Clooney, along with a number of high-profile individuals, blocked the entrance to the Sudanese embassy, and refused to disperse after being ordered to do so by police, according to The Guardian. Clooney intended to be arrested going into the movement, and largely commit the act of civil disobedience to raise awareness of the Darfur conflict. Among the high-profile individuals alongside Clooney that day included Jim Moran, then a U.S. House Representative from the state of Virginia, as well as NAACP and future Democratic nominee for Governor of Maryland Benjamin Jealous, and Martin Luther King III, the famous civil rights activist's eldest son. 
King, as well as Clooney's own father, were among those arrested with the actor. They were released later that day after paying $100 in bail. 
George Clooney's arrest seems to have paid off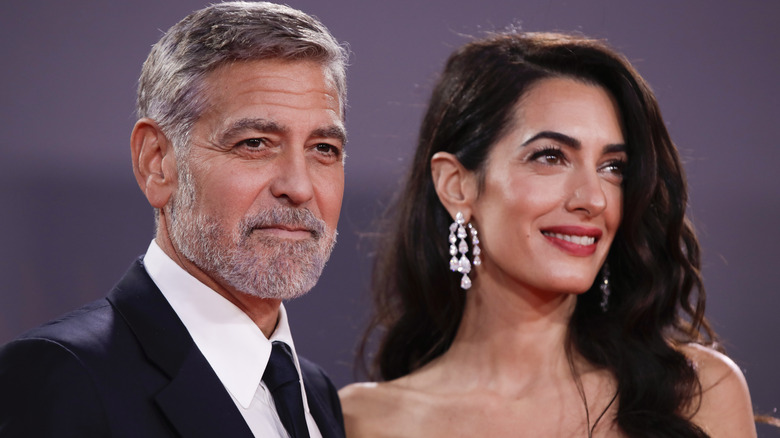 John Phillips/Getty Images
"Best estimate is tens of thousands of people are going to die from starvation," George Clooney said during his civil disobedience protest in 2012, per the BBC. "This isn't a famine, this is a man-made tragedy by the government of Khartoum to get these people to leave." He later added, "You never know if you are accomplishing anything ... We hope it helps." 
Luckily, Clooney's actions, along with many of those around the world fighting against Omar al-Bashir's brutal regime, seems to have paid off in the end. Massive protests against the president in Sudan led to his ouster via military coup in April 2019, where he was promptly placed under house arrest. About a year later, he was handed over by the government to the International Criminal Court for multiple charges stemming from indictments in 2009, such as mass pillaging, murder, torture, and rape. Al-Bashir, now 78, is currently on trial for his crimes, and will likely be convicted eventually. In addition, al-Bashir's ouster led to an August 2020 peace agreement in the Darfur conflict, signed by the new Sudanese government and several rebel groups. 
So, although it may be a bit surprising to hear that George Clooney has been arrested, it all seems to make sense once you take a closer look at it. And in the end, largely due to the heroic actions by Clooney and many others, it seems as though a bit of justice has been done.