Britney Spears Has A Message For Her Fans In The Wake Of Her Miscarriage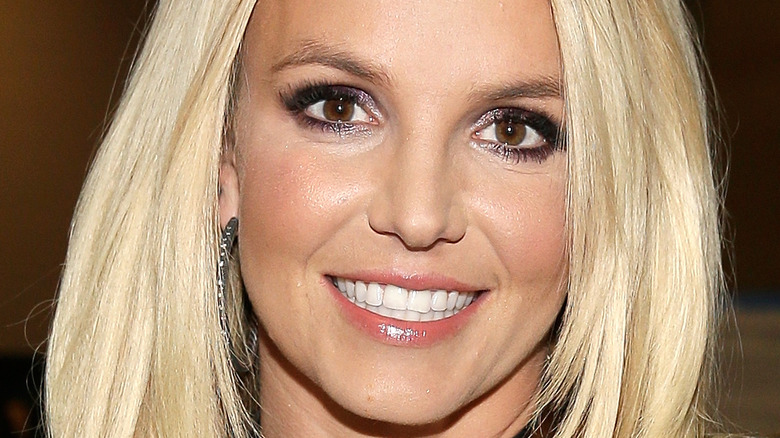 Isaac Brekken/Getty Images
Britney Spears has gone through more heartbreak in her life than any one woman should have to endure, so her fans were gutted to hear that after finally getting free of the conservatorship and becoming pregnant again, the pop superstar had a miscarriage recently. In the public statement Spears made to the court when petitioning for the conservatorship to end back in June 2021, she alleged that her conservators had forced her to have an IUD, even though she very much wanted to have more children with her fiance Sam Asghari, per Variety. 
It's hard to think of any celebrity with a fandom as large and as dedicated as Spears' (maybe Dolly Parton?), and now that she's in complete control again, she's using her social media pages to speak to her supporters directly. She and Asghari announced the miscarriage in a joint statement on Instagram on May 14, which read, "It is with our deepest sadness we have to announce that we have lost our miracle baby early in the pregnancy." And less than a week later, Spears posted another message to fans on her Instagram — in her patented, heartfelt, long-winded style.
Britney Spears thanked all her supporters
Having a miscarriage must have been devastating for Britney Spears, but in the four-slide notes app message she posted to her Instagram on May 19, the newly freed icon sounds like she's keeping her head up. The post starts on a meditative note, with Spears contemplating her situation, then explaining why she's writing a memoir, even though she doesn't necessarily want to keep reliving the trauma. She gets more positive on page three, writing, "I've never been more happy in my life in the past several months since it's been over besides my miscarriage!" Spears continued, "My spirit feels lighter and I genuinely laugh and smile now and my eyes are hungry for more each day." 
The mini opus, which is peppered with emojis, ends with a special thank you to her fans. "My fans showed me so much love and assertiveness through it all ... Their hearts knew and there's not a single day that goes by that I'm not aware of that and I'm so grateful to have my fans." There's a strong case to be made that without the years of dedicated work and awareness campaigns raised by the #FreeBritney movement, Spears' conservatorship may not have ended, which she seems to be referencing here. It's not the first time she's sent her fans a shoutout either. After the conservatorship ended officially, she wrote on Instagram (via Vulture), "Good God I love my fans so much it's crazy." 
Clearly, the love is mutual all around.