Ted Cruz Has An Odd Question For Pete Davidson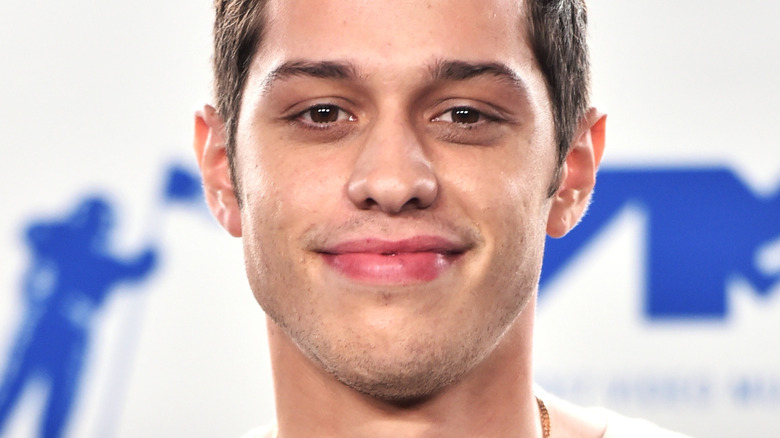 Alberto E. Rodriguez/Getty Images
Pete Davidson isn't at Kourtney Kardashian and Travis Barker's Italian wedding weekend, but he's still making headlines! The "Saturday Night Live" star was a topic of conversation for one U.S. Senator. Talk about moving up in the world; he's dating Kim Kardashian and is being discussed by senators! 
Lately, Davidson has made headlines surrounding Kanye's threats to beat him up, but the "SNL" star has been in the press for his love life over the years. In addition to Kardashian, the 28-year-old comedian has been previously linked to some of Hollywood's most beautiful women, including Kate Beckinsale, Ariana Grande, and "Bridgerton" star Phoebe Dynevor. But the "SNL" funnyman is off the market as he and Kim have a serious relationship. The SKIMS CEO chatted with Robin Roberts about Davidson in April. Kim said, "Obviously, I want to take my time, but I'm very happy and very content. And it's such a good feeling just to be at peace." Sister Khloé also raved to Roberts about Davidson. The younger Kardashian explained: "He just makes [Kim] laugh and she laughs all the time."
It seems everyone loves the 28-year-old comedian ... including U.S. Senator Ted Cruz, who has an odd question for Davidson.
Senator Ted Cruz wants to know why Pete Davidson gets all the 'hot women'
Senator Ted Cruz is wondering why Pete Davidson is such a hit with the ladies. During a "toxic femininity" segment on the "Verdict With Ted Cruz" podcast, the U.S. Senator pondered the important topic of Davidson's dating life. Cruz asked: "How come that dude gets all of these, like, hot women?" His co-host Michael Knowles chimed in: "Because of toxic femininity, senator." Um, what?
Then the senator launches into a  ... strange ... monologue about Kate Beckinsale (whose surname he mispronounced, by the way). Cruz said: "Pete Davidson was dating Kate [Beckinsale] — I mean, you're talking 'Underworld.' You're talking, like, super hot vampire in black leather trench coat, and you're like, 'Really? The 'SNL' dude?' Like, wow." The Texas senator might have a little crush on the "Underworld" queen. Cruz may also have feelings about certain Disney characters.
During the April 18 episode of "Verdict With Ted Cruz," Knowles and Cruz talked about Disney's response to Florida's "Don't Say Gay" legislation. The Texas senator slammed Disney, saying: "In every episode now, they're going to have ... Mickey and Pluto going at it ... You can always shift to Cinemax if you want that." Politics in 2022 is interesting, right?