Inside Sharon Osbourne And Piers Morgan's Friendship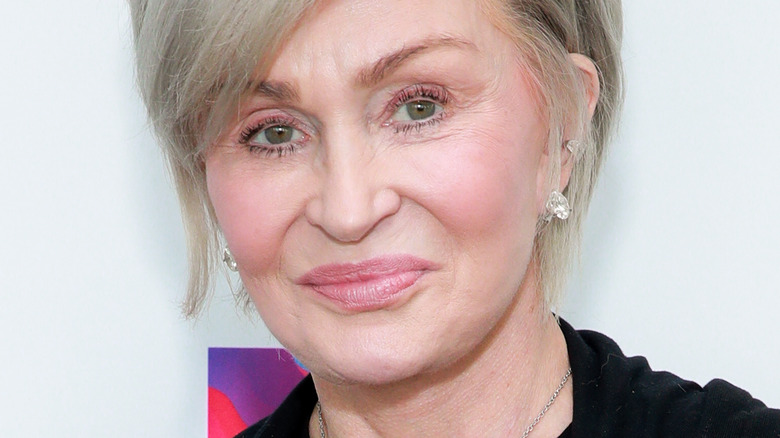 Rich Fury/Getty Images
In 2021, Sharon Osbourne and Piers Morgan's friendship became a topic of conversation when the talk show host defended Morgan following statements he made about Meghan Markle. Morgan came under fire for comments he made about Meghan Markle's interview with Oprah — which included a discussion about racially insensitive comments made about Markle's son. "I'm sorry, I don't believe a word she says," Morgan said on "Good Morning Britain." I wouldn't believe her if she read me a weather report. The fact that she's fired up this onslaught against our royal family, I think is contemptible."
Following Morgan's comments, Osbourne came to his defense, during a conversation with her co-host on "The Talk." Osbourne said that while she didn't "like everything" Morgan said about Markle, she still supported her friend. "Because it's his opinion. It's not my opinion," Osbourne said (via People). "I support him for his freedom of speech, and he's my friend."
Osbourne eventually left the daytime show after being with the program since its inception. Her friend Morgan also left his job on "Good Morning Britain" after storming off set during a broadcast. Clearly, Osbourne and Morgan have a bond that extends beyond their roles as TV hosts, but their friendship is far more storied than it appears.
Sharon Osbourne and Piers Morgan once had a blowout fight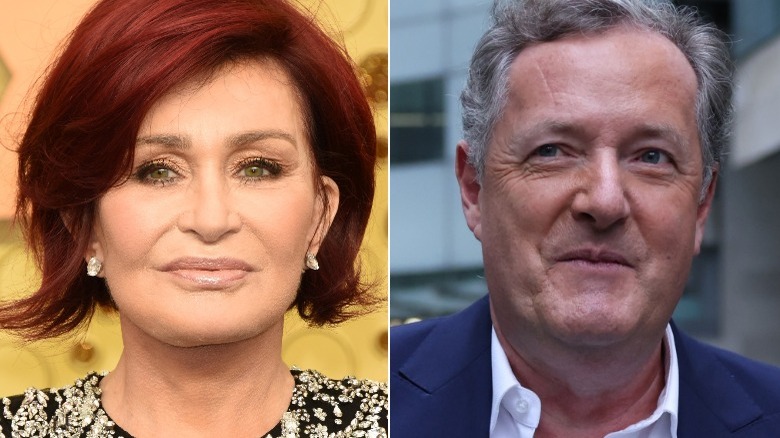 Hollie Adams/Getty & Kathy Hutchins/Shutterstock
Sharon Osbourne and Piers Morgan had a seemingly friendly bond when they co-judged "America's Got Talent" in 2007. However, before the television personalities took on the roles, they had a messy dispute that quickly turned physical. Morgan previously described an incident where Osbourne tried to assault him after he made a snarky comment during dinner.
"I said something a little confrontational," Morgan admitted to Loose Women in 2017 (via Mirror). "But next thing Sharon had run up behind me — all the execs were there — and begins to strangle me to death." However, their conflict was quickly resolved, and the pair went on to join David Hasselhoff at the "AGT" judging table for Season 2.
It wouldn't be long before the outspoken duo found themselves in another intense exchange — this time over a 9-year-old contestant on the show. "I feel like it's not so much about you, but what your mom wants," Morgan told the aspiring cheerleader. Osbourne became visibly upset with Morgan's remarks and made no secret of it. "This is horrific, and I'm going," Osbourne said before storming off stage.
Osbourne and Morgan have remained friends throughout the years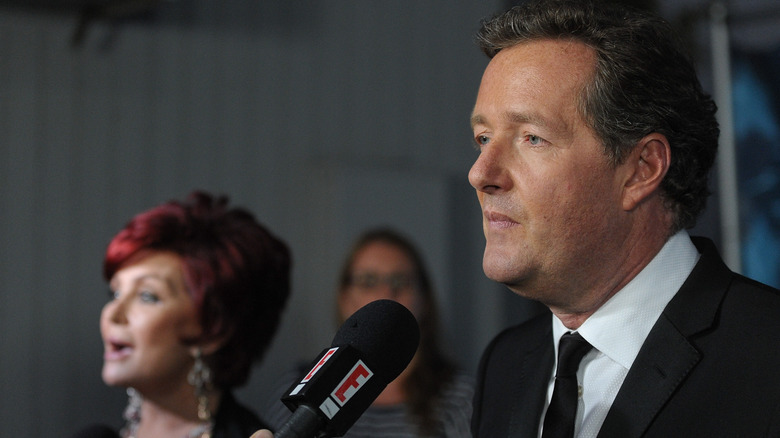 Noel Vasquez/Getty Images
Despite their messy start, Sharon Osbourne and Piers Morgan have seemingly remained friends (rife with strange birthday messages and all!). In 2009, Osbourne joined Morgan for a sit-down interview for his ITV series, "Piers Morgan's Life Stories," followed, of course, by their more public support for one another during the Meghan Markle debacle in 2021. Afterward, Osbourne and Morgan would both eventually land solo-talk shows on the U.K.-based network, Talk TV.
"What I'm really looking for in my co-workers at Talk TV is somebody who is, well, a bit like me," Morgan said in a video posted to Twitter. Adding, "Very opinionated, fearless, funny, knows their own mind, not afraid to speak it, unpredictable, maybe a little bit dangerous. But also somebody who every time opens their gobby little mouth, it makes global news."
"Um, where do I sign up Piers?" Osbourne said as she then entered next to Morgan. According to TMZ, Osbourne's new talk show gig will also be called "The Talk," and will feature the media personality in a panel-style talk format.