What Really Happened Between Zoe Kravitz And Ezra Miller?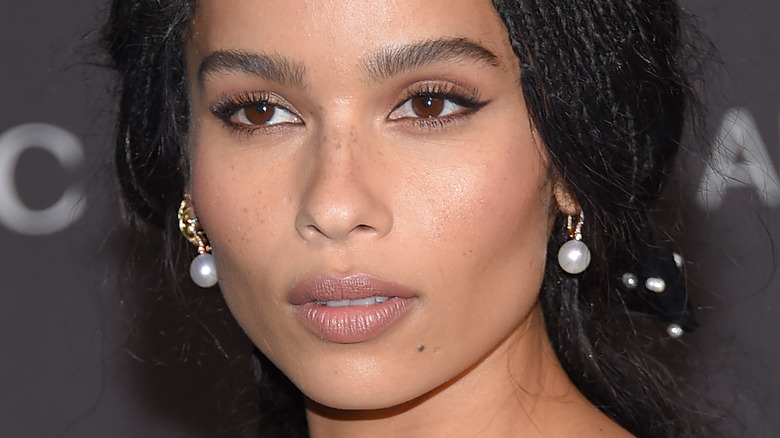 DFree/Shutterstock
There's nothing Hollywood loves more than a juicy love story — and we're not talking about rom-coms. You know how the Hollywood story goes when it comes to co-stars... Sometimes the chemistry behind their intense performances on-screen translates to their personal lives, as well. It's not uncommon for co-stars to date after sharing the silver screen. Take Brad Pitt and Angelina Jolie, Tom Holland and Zendaya, or Andrew Garfield and Emma Stone.
In keeping with that superhero theme, what happened between Ezra Miller and Zoë Kravitz? Both suited up in spandex to become the faces of DC superheroes (albeit in different universes). Miller will star as everyone's favorite speedster in the upcoming "The Flash." Meanwhile, Kravitz turned her seduction up to an 11 as Catwoman in the critically acclaimed "The Batman." But did she ever turn her charms to Miller in real life? Both actors have starred in the high profile "Fantastic Beasts" series, but again, they didn't share much screen time. However, back in 2010, the stars shared a romantic intensity in the film "Beware the Gonzo." 
In recent years, Miller has opened up about their sexuality and being open to dating all genders. They told The Hollywood Reporter in 2018, "Queer just means no, I don't do that. I don't identify as a man. I don't identify as a woman. I barely identify as a human." At the time, Kravitz was coming out of a relationship with MGMT's Andrew VanWyngarden. Here's everything that reportedly went down between the two co-stars. 
Ezra Miller and Zoe Kravitz began dating in 2010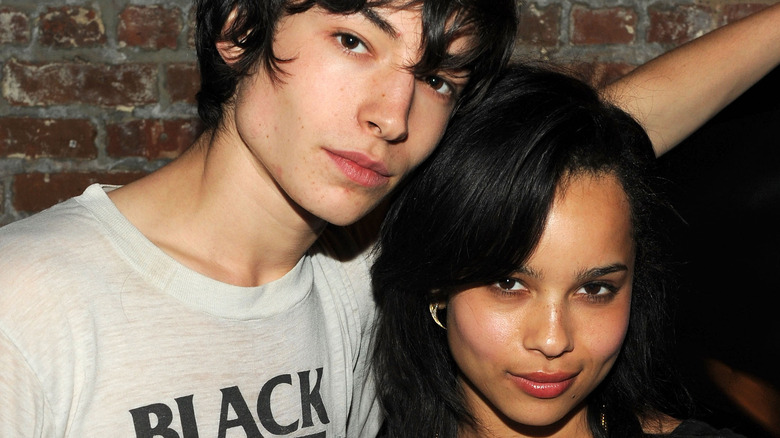 Bryan Bedder/Getty Images
Both Zoë Kravitz and Ezra Miller reportedly shared a brief fling in 2010. But unfortunately for any shippers out there, they are no longer dating. They did, however, have a short romance after appearing in the film "Beware the Gonzo." That film was a quirky romantic comedy exploring the geeks and outcasts of high school. The film cast Miller and Kravitz as Eddie "Gonzo" Gilman and Evie Wallace, respectively, two teens destined to fall in love during the film.
In an interview with Collider from 2011, Kravitz opened up about their chemistry together. While it's unknown if sparks immediately flew, the two did quickly become fast friends. "Ezra had the part and we met, before I was actually hired, just to get ready for a chemistry read, and there was chemistry. We became best friends immediately and still are," Kravitz told the outlet.
Miller also agreed, "I guess we clicked right away, but then also spent time together." But, according to the New York Daily News, the young stars were spotted packing on the PDA during the 2010 Tribeca Film Festival.
The two co-stars appear to have an amicable break up
Dario Cantatore/Getty Images
Zoë Kravitz and Ezra Miller didn't date for long. In fact, the Tribeca Film Festival was one of the only places the couple displayed public affection. Things appear to have ended amicably. Both actors went on to star together in the hit blockbuster "Fantastic Beasts" franchise. Kravitz appreciated her co-star's love for the franchise with some good nature ribbing during this interview with ET Canada.
These days, Kravitz is reportedly in a romantic relationship with Channing Tatum, according to Us Weekly. "Looking at his work and hearing him speak about Magic Mike and the live show, I'm like, I think he's a feminist," Kravitz told ELLE. "You need to be so far from who this is, where it's not scary. And I don't think we've ever seen him play someone dark. I'm excited to see him do that."
Meanwhile, Miller opened up about being polyamorous and in a relationship with a group of people in a 2018 interview with Playboy. "I'm trying to find queer beings who understand me as a queer being off the bat... and I feel like I'm married to them 25 lifetimes ago from the moment we meet," he said. Both Miller and Kravitz have moved forward romantically, but still appear to be on friendly terms.