The Real Meaning Behind The 'M' Necklace Hoda Kotb Wears Every Day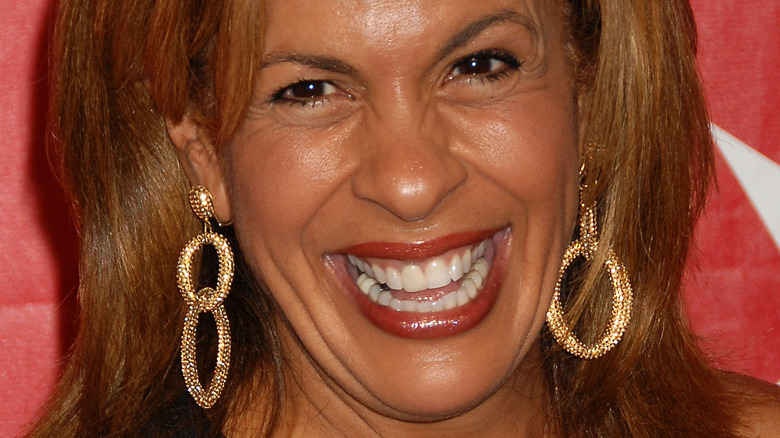 Ga Fullner/Shutterstock
If you've ever tuned in to "Today" on NBC, you may have noticed something interesting about what Hoda Kotb is wearing. The star has a wardrobe any of us would be jealous about, and we just can't get enough of seeing what fun look she's going to pull out of her closet each morning. It seems like neither can Kotb either, as she's admitted she's a big advocate of wearing her outfits in front of the camera more than once — even wearing the same suit two days in a row on "Today" in April 2021.
But it's not always Kotb who gets the final say on what she's going to wear. "Today with Hoda & Jenna"'s Instagram page has also been known to ask fans for a little input on her outfits, including March 2021 when fans were asked to choose between a red dress with an exposed zipper at the front, a black sheer blouse and black pants, or a white top with checked bottoms.
But it's actually her accessories rather than her outfits that we hear at Nicki Swift are taking a closer look at. Ever noticed that 'M' necklace Kotb is almost always wearing? Well, it turns out it has a very sweet meaning for the anchor.
Hoda Kotb's sentimental jewelry
It turns out Hoda Kotb's 'M' necklace is full of sentiment. Kotb herself revealed the meaning behind the jewelry on "Today" in January 2022, explaining the letter stands for "Mom." "The 'M' is so me. That would be the initial I would want to wear if not my kids' initials. Because who knew that I was gonna get to wear that initial?" Kotb explained to her co-host, Jenna Bush Hager. You may have noticed that the star usually wears a few chains, and she also opened up about what the others mean. "I have Haley and Hope on [one of them]. Then I have an 'I love you Mama' on this one. All of them are my girls."
As fans will know, Kotb is a mom of two girls. In 2017, the star and her now former partner, Joel Schiffman, adopted their daughter, Haley, and then went on to welcome a second daughter through adoption when Hope was welcomed into the family in 2019. Kotb was with Schiffman for more than eight years, but the now former couple went their separate ways in early 2022.
Kotb started wearing the 'M' necklace in 2021, causing a lot of speculation about what the initial could stand for. Many even believed the letter could have been the first initial of Kotb's potential third child after she announced she was looking to adopt for the third time, though the process had been pushed back due to the Coronavirus pandemic.
Hoda Kotb's homemade jewelry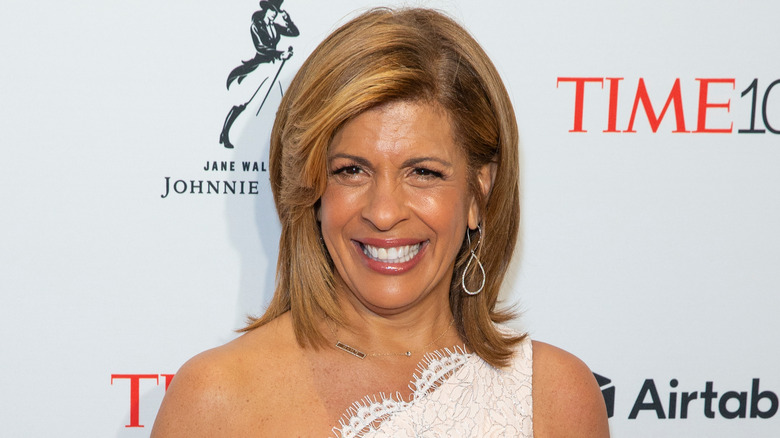 Lev Radin/Shutterstock
It's not all about the pricey stuff for Hoda Kotb, though. The star has some equally sentimental jewelry she didn't have to (probably!) shell out thousands for, as she showed Jenna Bush Hager an adorable bracelet made by her daughters Haley and Hope on "Today" in January 2021. That super cute piece featured beads spelling out "Mommy" on a string, which she proudly wore on her wrist. "I gotta tell you, I love it," she gushed.
While there's no way Kotb's super sentimental pieces could possibly be mistaken for someone else's, there actually was a time the "Today" anchor found herself in the middle of a pretty awkward jewelry mix-up on the NBC morning show. That one involved Bush Hager and Kotb's former co-star, Kathie Lee Gifford, as the former revealed in 2019 on "Today" (via Daily Mail) how she found a present from the latter in her dressing room. Bush Hager found a stunning bracelet in her dressing room and thought it was a good look gift from Gifford, who she replaced on the morning show. Only, it turns out the bracelet was actually for Kotb and was even inscribed with her daughter Haley's name. Awkward! "It looks beautiful on you. I think it was meant for you," Bush Hager told Kotb as she handed the gift over live on air, to which she replied, "It was meant for me. I love it. Thank you."