Emmy Rossum Shares Gnarly Details About Her Grueling Character Transformation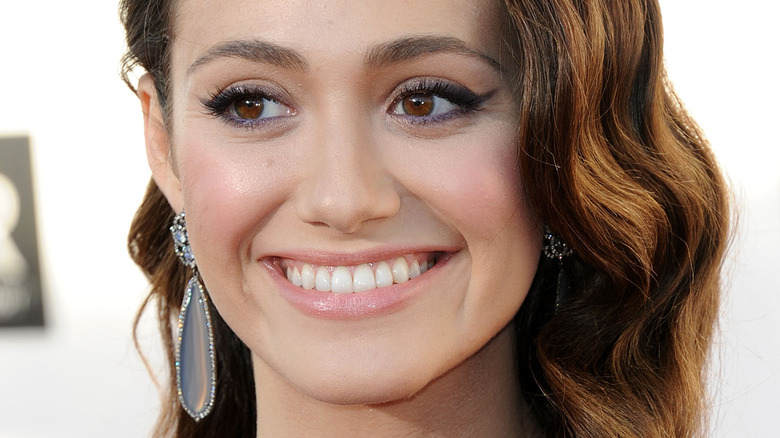 DFree/Shutterstock
Though Emmy Rossum has played several roles throughout her career, she's probably most well-known for playing Fiona Gallagher on the hit show "Shameless." Rossum began starring in the show in 2011, per IMDb, but in 2018, she announced that she would be leaving to pursue other projects. "I know you will continue on without me, for now. There is much more Gallagher story to be told. I will always be rooting for my family," Rossum wrote on Facebook in August 2018.
Now, Rossum stars in the Peacock series "Angelyne," one of her most prominent roles since leaving "Shameless," and it has garnered plenty of buzz. According to the New York Post, Rossum plays the blonde '80s sensation Angelyne, who appeared on billboards around the Los Angeles area. In an interview with The Hollywood Reporter, the actor talked about how great it was to play a part that was so different from what she typically plays. "I found it to be completely liberating to look in the mirror and not see myself at all," she told the outlet. "At first, it's unnerving. But feeling lost gives way to this real liberation — from myself and the hang-ups that can impede a performance." Another plus? Rossum shared that she loved "eating in scenes."
But, with all the good came a lot of challenges for Rossum. In another interview, Rossum talked about how grueling the transformation into Angelyne really was.
Emmy Rossum sat in makeup for 7 hours
Actors are like chameleons in the sense that they have to morph into their roles as different characters. Emmy Rossum plays Angelyne in the eponymous Peacock series, and she talked about the transformation in an interview with Hoda Kotb and Jenna Bush Hager on "TODAY." The star said she had to sit in makeup for seven hours per day — yes, you read that right — and she also had to undergo a physical transformation. "Being in this hair and makeup, on some moments, I had so much latex and PVP piping up my nose, and there were moments where I was like this is physically and emotionally harder than my 26-hour medicated labor," she confessed.
When Bush Hager asked her about getting blisters on her breats from the get-up, she admitted the harsh reality. "Yeah they kind of glue everything on you, and as you're kind of in it and moving for hours and hours and hours, it does chaff in your skin," she explained. "But you know, your boobs are always going through it as a mom!"
On Instagram, Rossum shared a few photos of herself in the makeup chair as she underwent the intense transformation for the series. Rather than making the post about herself, she raved about the team of makeup artists. ​​"These artists are a gift. It allowed me to disappear, to imagine, to create," she wrote in the caption, adding that "It was humbling to watch them work." Now, that's a nice tribute.