Emmy Rossum Nearly Experienced Her Nightmare Scenario While Giving Birth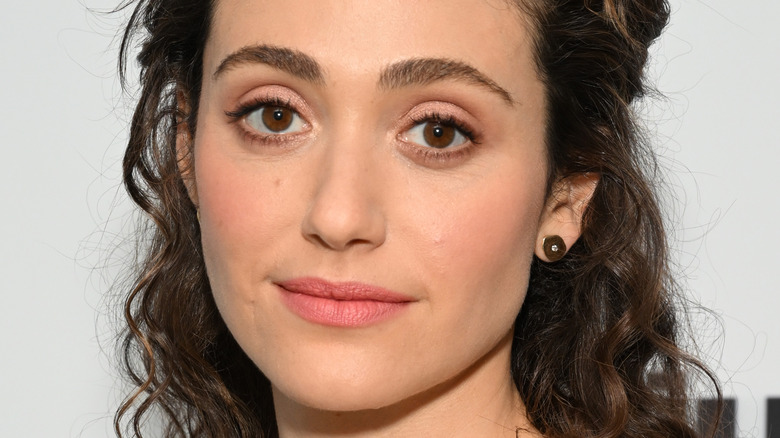 Slaven Vlasic/Getty Images
Emmy Rossum is most well known for playing Fiona Gallagher on the Showtime hit "Shameless." After eight years on the series, Rossum announced she was walking away from "Shameless" and her decision to leave came as a surprise to many. On August 30, 2018, the star took her Facebook page to share that she would be exiting the series to work on other projects. "The opportunity to play Fiona has been a gift. There are few characters — female or otherwise — as layered and dynamic," she wrote on the lengthy post. "She is a mother lion, fierce, flawed, and sexually liberated." She also told fans to "just think of me as moving down the block." Since leaving, Rossum has worked in new roles, including the titular character in the Peacock series "Angelyne."
The star also has a lot going on in her personal life. According to People, Rossum married director Sam Esmail in 2017. In 2021, Rossum and Esmail welcomed their first child, Samantha. Rossum remained tight-lipped about her pregnancy, and it wasn't until after Samantha's birth that she posted a photo of her baby bump on Instagram. "5.24.21 On a sunny Monday morning, at 8:13AM, we welcomed our daughter into the world," she wrote on the post without giving any further details.
Rossum has only shared a few photos of her daughter on Instagram, and she seems to keep that part of her life private. However, she recently shared her birth story with fans and the details are wild.
Emmy Rossum says she almost gave birth in an Uber
Emmy Rossum has kind of a crazy birth story for her daughter. During an appearance on "Live With Kelly and Ryan" on May 19, the "Shameless" star explained that she nearly had her nightmare scenario with the birth of her baby girl, Samantha. "I gave birth almost a year ago today in New York and went into labor and took an Uber to the hospital," she told the hosts, per Us Weekly. "My worst nightmare would be, I had this [mental] picture of my holding on [to the handle above the door] in the car with the baby coming out in the Uber." Can you even imagine?
Rossum joked that her Uber driver was "lovely and very conscientious," which is the opposite of what she wanted when heading to the hospital with contractions. "We were driving, and we were a couple of minutes away from the hospital, and I was fully in contractions, and I didn't realize I was actually nine centimeters dilated at that point, so real close," she explained. Luckily, the driver got her to the hospital safely, preventing her from giving birth in an Uber. 
On her first Mother's Day, Rossum celebrated by sharing a series of adorable photos on Instagram. The actor shared that the first year was filled with "playing, crawling, eating, carrying pacifiers in mouths and holding hands." She also expressed how grateful she was to be Samantha's mom. How sweet!