Whoopi Goldberg's Surprising On-Air Defense Of Kellyanne Conway Has Twitter Divided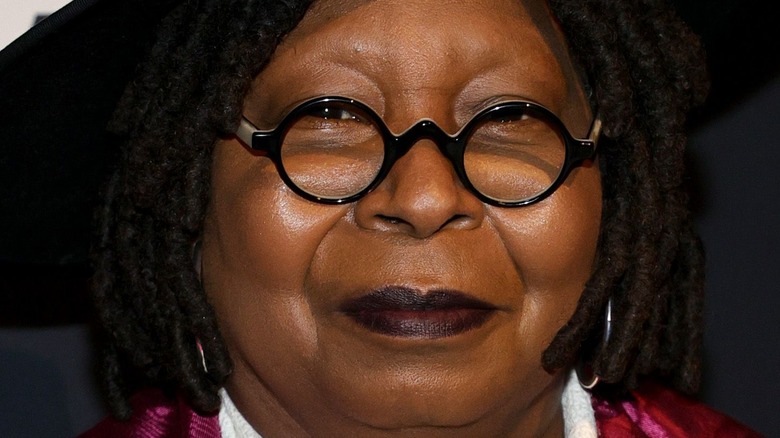 Jamie Mccarthy/Getty Images
Whoopi Goldberg has been co-host of "The View" for what seems like forever. According to IMDb, the actor first appeared on the series in 2005 and began co-hosting in 2007. Believe it or not, she's filmed over 2,000 episodes of the show. Yep, that's a whole lot of catfights that she's witnessed. In 2021, The Hollywood Reporter shared that the "Ghost" actor remained committed to the show, signing a deal for four more years. The exact details of the contract are unknown, but it's safe to say that along with Joy Behar, Goldberg has become one of the most recognizable faces of the daytime show. 
The star has had her fair share of good and bad moments on the show, including as recently as February. According to The Hollywood Reporter, Goldberg made remarks about the Holocaust, stating that it was "not about race." She immediately received backlash for her words, and it didn't take long for Goldberg to issue an apology. "The Jewish people around the world have always had my support and that will never waiver," she wrote in a tweet. "I'm sorry for the hurt I have caused."
But Goldberg's apology seemed to be too little, too late. ABC News President Kim Godwin released a statement that announced her suspension. "While Whoopi has apologized, I've asked her to take time to reflect and learn about the impact of her comments," she wrote. On May 24, Goldberg came under fire once again, but this time for her defense of guest Kellyanne Conway.
Whoopi Goldberg told fans not to boo Kellyanne Conway
.@KellyannePolls tells #TheView she "never" lied to former Pres. Trump about the outcome of the 2020 presidential election.

"I'm the closest person to Donald Trump to tell him the earliest that he came up short. It broke my heart, I wanted him to get reelected," she adds. pic.twitter.com/EfzfNh0FiX

— The View (@TheView) May 24, 2022
In a very surprising moment, Whoopi Goldberg stood up for Kellyanne Conway on an episode of "The View." While the ladies on the panel interviewed the former White House counselor, Conway made a diss against President Joe Biden. Some of the crowd did not take kindly to Conway's dig and made sure to let her know by booing. That's when normally Democratic Goldberg came to Republican Conway's defense. "Listen, this is her view. And she's on 'The View.' And she's talking about what she knows and how she feels. Please don't boo her," Goldberg said.
It didn't take long for fans to take to Twitter and express their opinion on Goldberg's surprising stance with some in support of her. "Good for @WhoopiGoldberg to defend @KellyannePolls's point of 'view' to the audience," one person tweeted. "I appreciate that @WhoopiGoldberg told the audience not to boo @KellyannePolls," another wrote. "Thank you @WhoopiGoldberg for letting @kellyannepolls speak and explain her side," a third supporter added. 
Others slammed Goldberg. "Very unnecessary for Whoopi to tell the audience not to boo Kellyanne Conway. REALLY?! They were victims of that racist, lying, and corrupt administration as well. They have EVERY right!!!" one person commented. Another also disagreed with Goldberg stating, "Sorry, @WhoopiGoldberg she DESERVES to be boo'd. She is a serial liar who was an integral part of a criminal administration." A third pointed out that despite her initial defense, Goldberg still "interrupt[ed] Kellyanne by laughing in her face." Totally mixed reviews!