We Might Know Why Rob Kardashian Skipped Kourtney And Travis' Wedding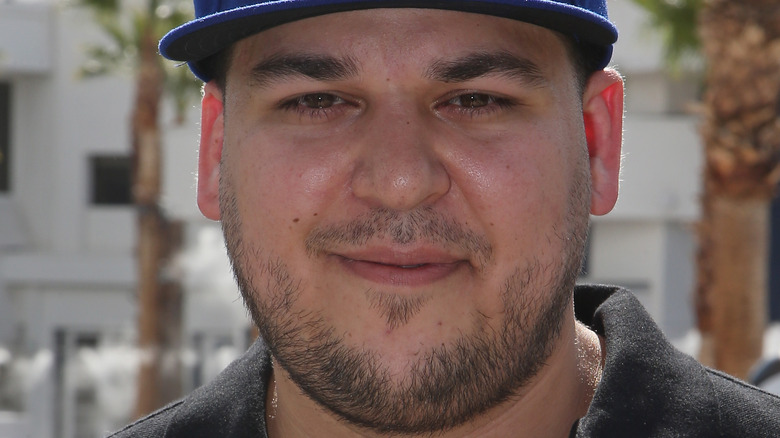 Gabe Ginsberg/Getty Images
Unlike his famous sisters, it's common knowledge that Rob Kardashian hates the limelight. This has been especially true following the end of his explosive relationship with Blac Chyna — and in 2019, Radar even posted a report that the Arthur George sock designer hadn't been seen "in public for over 800 days." A source claimed that while Rob said he wanted to return to life in the spotlight, he refused to leave the house. "His family loves him but at this point, they're at a loss over what to do," the insider added.
Rob's reticence to be photographed stemmed from his weight gain, which began in the early 2010s. Per Us Weekly, Rob posted a since-deleted throwback photo to Instagram in 2015, which blamed his weight gain on "these milkshakes." After Rob skipped his sister Kim Kardashian's 2014 wedding to Kanye "Ye" West because of his reluctance to be photographed, Kim shared her thoughts with Matt Lauer on "Today" (via People). "I think [Rob's] just going through a phase where he's not comfortable in his own skin," Kim said. "He is working really hard to get back to where he really wants to be." She further added that she believed her brother's struggles to be because of "circumstances in his life that he just hasn't really dealt with." Whatever the reason, Rob has largely eschewed the cameras for the past decade. Most recently, he even skipped out on big sister Kourtney Kardashian's wedding to Travis Barker.
Rob Kardashian is uncomfortable at high-profile events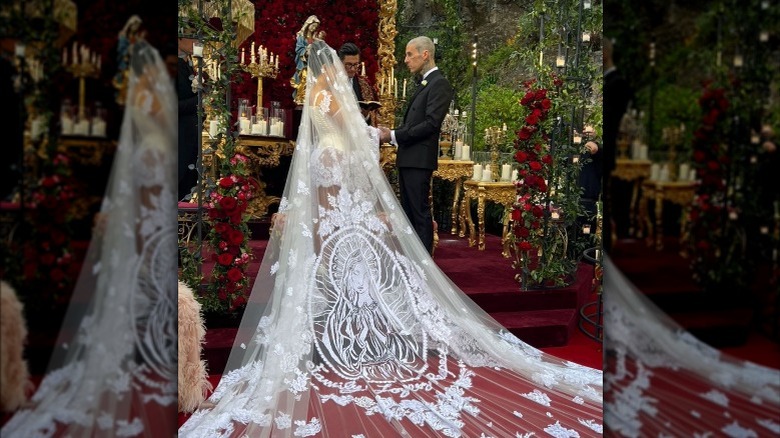 Instagram
Kourtney Kardashian and Travis Barker's lavish Italian wedding has been the talk of the tabloids, and media have also covered the fact that Scott Disick, Tristan Thompson, Kanye "Ye" West, and Rob Kardashian weren't in attendance. While it's likely that exes Disick, Thompson, and West were not invited, Rob's absence was harder to explain. But, given his penchant for ducking the cameras, perhaps he was simply uncomfortable at the thought of attending a ceremony that was sure to be a media frenzy. A source confirmed as much to Page Six, telling the outlet, "Rob prefers to stay out of the spotlight, so he would've been uncomfortable going to such a high-profile party, even though it was for his sister." Kourtney — who received support in the form of her momager Kris Jenner, sisters Kylie and Kendall Jenner, and sisters Kim and Khloé Kardashian — was said to be "understanding."
Instead of jetting off to Portofino with the rest of his family, Rob opted to "support Kourtney from afar," according to Us Weekly. "He is still very much private and prefers low-key celebrations where there aren't a lot of photographers," a source shared. "He doesn't like being in the spotlight. The whole affair would have been too much for him." That said, Rob is still planning to celebrate with his sister when she's back in LA. The source added, "He loves his sister very much and is so happy for her and Travis."