Teresa Giudice's Fiance Has A Disturbing Past With His Ex-Wife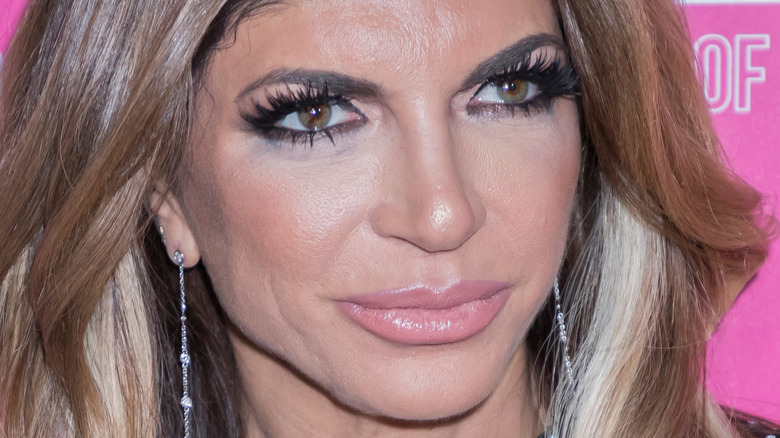 Sam Aronov/Shutterstock
After going through a rather public divorce from Joe Giudice, "Real Housewives of New Jersey" star Teresa Giudice has found love again, and fast. Joe and Teresa's 20-year marriage was officially over in September 2020, Page Six reported. By November 2020, she was teasing a new relationship. "Excited to reveal my new boyfriend," Giudice wrote on Facebook, captioning a photo that showed her and her new guy from behind. People identified the mystery beau as Luis "Louie" Ruelas that same day, information Teresa confirmed the following month by making the relationship Instagram official. "The BEST thing that came out of 2020," she wrote.
The relationship evolved quickly from there. Less than a year later, Ruelas and Teresa were engaged. Throughout 2021, Teresa often compared her relationship with Ruelas to that she had with Joe. "Me and my ex, we didn't like the same things. We were two opposites ... But now I've found my true match — my soulmate. He's really amazing," Teresa told People that February.
Teresa and Joe's divorce was marked by legal trouble, beginning when both were sentenced to prison for committing fraud in October 2014, People reported. Their marriage withstood lockup but it all eventually proved to be too much, especially after Joe was deported to Italy in 2019, People noted. Her ex-husband and Ruelas may be very different in Teresa's eyes, but a rap sheet is something all three have in common. The accusations made by Ruelas's ex-wife are different — and very disturbing.
Louie Ruelas's ex-wife accused him of violence several times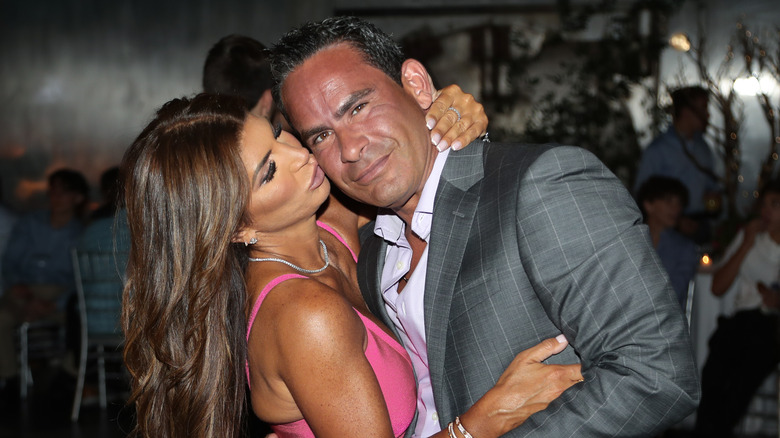 Manny Carabel/Getty Images
Louie Ruelas was married to Marisa DiMartino, from whom he divorced in 2011, according to Distractify. Ruelas and DiMartino, who have two sons together, appeared to have a tumultuous relationship, as Page Six reported on May 24. In 2012, DiMartino went to the police after she and her estranged husband had a fight over money. "The dispute became heated and culminated with [Ruelas] pushing [DiMartino] into a metal support pole in the garage," documents show.
That wasn't the first time DiMartino turned to authorities. In 2010, she filed a report accusing Ruelas of verbally abusing her to the point she had to leave their home, as per Page Six. In 2016, DiMartino again accused Ruelas of violence during a custody exchange. She also contended Ruelas had previously threatened her and the children's lives. On all three occasions, DiMartino declined to press charges and Ruelas was never arrested.
Despite their history, DiMartino appears to hold no grudge against Ruelas, telling InTouch Weekly (via Heavy) that she is happy for him and Giudice. "He's a really good person," she said. "In general, we got married, we were very young and had babies and then it fell apart. As normal things happen. We're very good with each other, and that's basically it."
If you or someone you know is dealing with domestic abuse, call the National Domestic Violence Hotline at 1−800−799−7233. Find more information, resources, and support on their website.