Kourtney Kardashian And Travis Barker's Wedding Rings Are Just As Extravagant As Their Italy Nuptials – Exclusive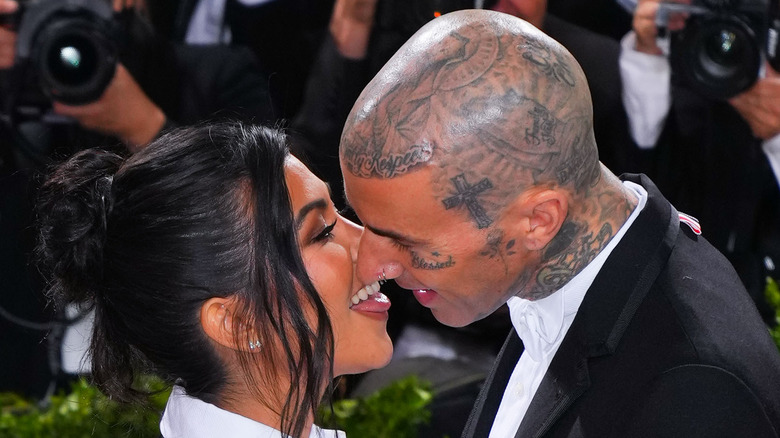 Gotham/Getty Images
The Kardashians are not known for doing things in half measure; they tend to go big or go home. The family also puts the pedal to the metal when it comes to relationships. Kris Jenner married Caitlyn Jenner after just five months. Kylie Jenner was pregnant by Travis Scott within four weeks of their first meeting. So, it was a change of pace when Travis Barker waited a year to propose to Kourtney Kardashian, who immediately said "Yes!"
In April 2022, the engaged couple headed to the chapel to go and get married. Elvis officiated the secret (non-legally binding) Sin City ceremony. They made it official on May 15 on the steps of a Santa Barbara courthouse. Then, in hope that the third time is a charm, they had an Italian wedding weekend which was elaborate, extravagant, hugely expensive –- and sponsored by Dolce & Gabanna.
This time, Kardashian and Barker married at Castello Brown, a 15th-century Genovese fort, high on a clifftop overlooking the sweeping Portofino coastline. The food at their wedding was reportedly in scant supply and a matter of contention. However, per Life & Style, the champagne and wine flowed all night, contributing to the big fat European wedding's estimated cost of over $2 million. And, it transpires that Kardashian and Barker's wedding rings are just as extravagant as their Italy nuptials, according to a diamond expert who spoke exclusively to Nicki Swift.
Kourtney Kardashian and Travis Barker's serious bling bands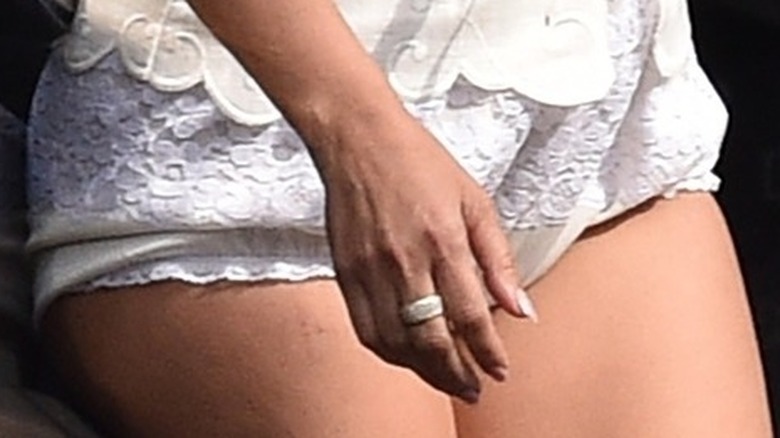 Cobra Team / BACKGRID
Is anybody surprised Kourtney Kardashian and Travis Barker's wedding rings are just as extravagant as their Italy wedding? Those in the bling biz certainly aren't. CEO of The Diamond Pro, Mike Fried, knows a thing or two about the three Cs — cut, clarity, and carat weight — which, when combined in the correct measures, make the most spectacular sparklers. Kardashian's bling includes the trio in abundance. "The couple's rings are a stunning pair, thanks to coordinating features but unique details," Fried exclusively told Nicki Swift.
"Kourtney's band appears to be an eternity ring, with diamonds circling her whole finger. Depending on the carat weight and quality of the diamonds, her band is likely worth $100,000," Fried estimated. "It adds to her oval-cut engagement ring without overpowering it." As for her husband, "Travis' band appears to have fine detailing, such as milgrain or filigree," Fried said. "Due to the thickness of his ring, I'd estimate the value is at least $30,000, but it could be worth even more if it includes small diamonds." 
For non-jewelry aficionados, milgrain is the technique of adding tiny metal beads to the crown and sides of a ring, creating an elaborate center and ornate border. Filigree is similar but incorporates "twisted metal threads throughout the setting" as well as or in place of metal beads, per The Diamond Pro. Both add an antique, vintage look to modern wedding bands, transforming them from regular, mainstream, and pricey to edgy, unique, and priceless — just like Kardashian and Barker.