Queen Elizabeth Is About To Share A Very Intimate Glimpse Into Her Family Life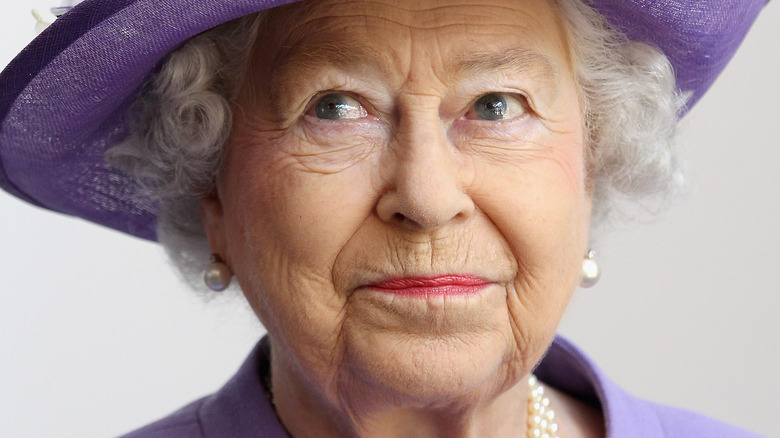 Chris Jackson/Getty Images
Queen Elizabeth is celebrating her Platinum Jubilee in a special way.
Town & Country reports that there are tons of activities in store to celebrate the queen's 70th year on the throne from both the palace and outside parties. Barbie manufacturer Mattel has reportedly created a doll made after Queen Elizabeth's likeness, and bars all over the UK are creating special cocktails to commemorate the queen. Meanwhile, according a the statement from the royal family, there will be four days of celebrations that will take place in June, which include public events, community activities, and "national moments of reflection." On top of the Queen's Birthday Parade, there will also be a lighting of beacons, a Service of Thanksgiving, a Big Jubilee Lunch, and a pageant.
This particular celebration is significant and considered a once-in-a-lifetime occasion, as Queen Elizabeth is the first British monarch to reach their Platinum Jubilee. In line with this, BBC will also be releasing a documentary containing never-before-seen footage of the royal.
BBC will reveal unseen footage of the queen
The Unseen Queen on @BBCOne this Sunday features remarkable home movie footage taken by the Royal Family and a rare voice-over narrated by the monarch herself. It was recorded at Windsor last week. Here she can be seen at Balmoral in the 1930s #HM70 #PlatinumJubilee pic.twitter.com/tqyoOFG9yv

— Rebecca English (@RE_DailyMail) May 26, 2022
On Sunday, May 29, BBC One will be premiering "Elizabeth: The Unseen Queen," and per People, it will feature home movies dating back to the 1920s that were recorded by the members of the royal family themselves. All footage has been kept private by the British Film Institute and would be unveiled to the public in time for the Platinum Jubilee celebrations.
"Just seen a preview of Elizabeth: The Unseen Queen, airing Sunday on @BBCOne and...wow. The most extraordinary, intimate, moving and revealing previously unseen home-movie footage makes up almost all the film," tweeted The Sunday Times royal editor Roya Nikkhah. "Viewers will get a much deeper sense of the Queen's life and journey."
Per BBC, Queen Elizabeth recorded a personal message to preface the documentary, saying how much she enjoyed recording intimate moments of her life over the years. "Cameras have always been part of our lives. I think there's a difference to watching a home-movie when you know who it is on the other side of the lens, holding the camera. It adds to the sense of intimacy," she said. "Like many families, my parents wanted to keep a record of our precious moments together ... You always hope that future generations will find them interesting, and perhaps be surprised that you too were young once."