What's The Real Meaning Of Hold My Hand By Lady Gaga? Here's What We Think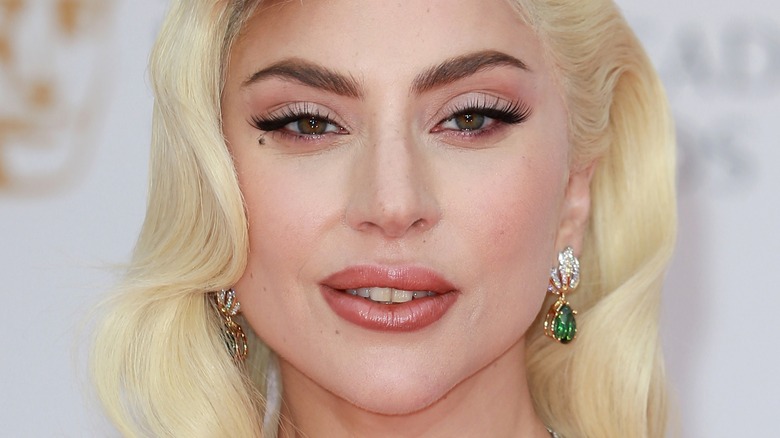 Cubankite/Shutterstock
Lady Gaga has lent her renowned music skills to a new movie sequel. This isn't the first time the pop star has penned popular music for a film, as she co-wote 12 songs for the "A Star Is Born" album in 2018, per PopSugar. This list includes the smash hit, "Shallow," which resulted in Gaga scoring an Academy Award for best original song alongside her co-writers in 2019, per IndieWire. Music producer Mark Ronson later discussed writing the song with Gaga and detailed how she channeled her personal feelings for "Shallow," which led to its success.
"Everybody, even if you're writing for the film, is drawing from something in their own life, and that's what makes people feel it in their gut when they hear that song," Ronson said during a 2019 roundtable discussion with The Hollywood Reporter. In a 2011 interview with the Wall Street Journal, Gaga described writing songs as a process that feels "like a big rainbow across [her] brain" and is similar to a painter at work. "I do hear my music all at once and in lots of colors," Gaga said. "It's like a painting, and as I finish it, I'm just adding in all of the colors, filling in the lines." 
Gaga has now used her award-winning songwriting talents for the new installment of the '80s classic film, "Top Gun." 
Lady Gaga's Hold My Hand is about the desire to 'be understood'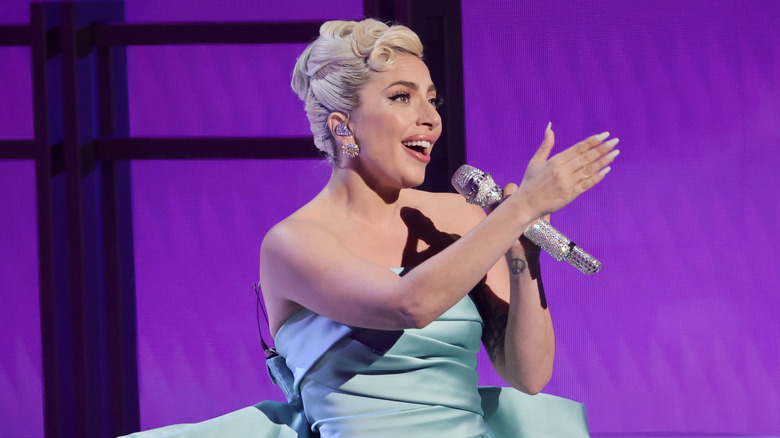 Matt Winkelmeyer/Getty Images
Lady Gaga's latest song is a powerful ballad about the universal yearning for connection. The track, called "Hold My Hand," is the theme song of the 2022 "Top Gun" reboot, "Top Gun: Maverick." In a series of tweets from April, Gaga detailed the process of creating the song and said she's been "working on it for years, perfecting it, trying to make it ours." The pop star wrote, "This song is a love letter to the world during and after a very hard time," and also shared that her goal was to make a song representative of "our deep need to both be understood and try to understand each other — a longing to be close when we feel so far away and an ability to celebrate life's heroes."
The touching lyrics of "Hold My Hand" reflect this theme, including the words, "So cry tonight / But don't you let go of my hand / You can cry every last tear / I won't leave 'til I understand / Promise me, just hold my hand." As noted by Genius, the song also sought inspiration from '80s sounds reminiscent of the original "Top Gun" soundtrack, which was released in 1986. With Gaga's fresh take on a nostalgic sound, performers involved in both of the "Top Gun" films have displayed an overwhelmingly positive reception to the track.
Hold My Hand became 'the heartbeat' of Top Gun: Maverick
"Hold My Hand" is an impressive ballad written and sung by Lady Gaga for "Top Gun: Maverick" that has earned the respect of many music listeners. This includes a member of Berlin, the group who sang the theme song for the original "Top Gun," called "Take My Breath Away." The band's vocalist, Terri Nunn, spoke to the New York Post about "Hold My Hand" on May 6. "What I love about it is that nod to Giorgio Moroder's production, because the drums are so big and reverbed," Nunn said of the song. "[Gaga's] a great writer, she's a great artist. If they can get her to do it, yeah, it's a good choice."
"Top Gun: Maverick" cast members have likewise been loving the new track. When he appeared on "The Late Late Show with James Corden" in May, star Tom Cruise praised Gaga for her contributions to the film, which he said "opened up the whole movie." He added that he thinks Gaga is "amazing" and her song "just fell right in and became really the underlying score and the heartbeat of our film." Fans also can't seem to get enough of "Hold My Hand," as its cinematic music video has received nearly 18 million clicks since its debut on YouTube in early May. Gaga flies high with "Hold My Hand," a moving ballad that has clearly resonated with a wide audience.