Why Jason Sudeikis' Career Wouldn't Be The Same Without Olivia Wilde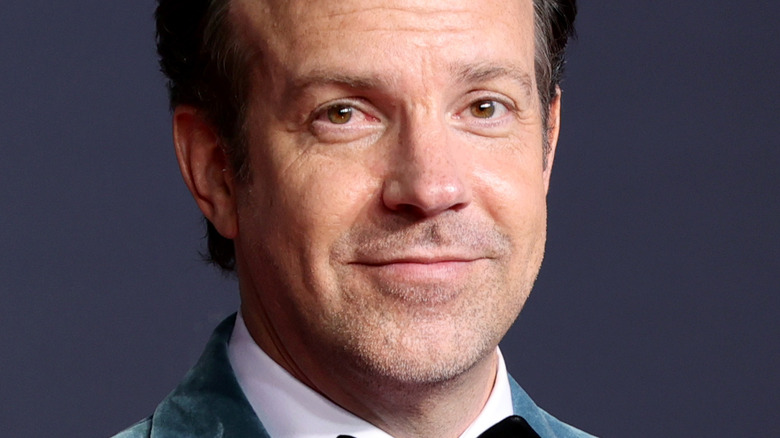 Rich Fury/Getty Images
If there's one thing to know about the highly-acclaimed "Ted Lasso," it's that it started as a quick skit. Fresh off his exit from "Saturday Night Live," Jason Sudeikis first played the clueless football coach in 2013, when he participated in a series of commercials for NBC Sports to promote their Premier League coverage.
The following year, the actor ended up playing the Lasso character again in the same series of commercials much to the delight of fans who had enjoyed the first bit. Come 2017, Sudeikis pitched the idea to series co-creator Bill Lawrence, and the rest, as they say, is history. The show has enjoyed two seasons as of this writing and won Sudeikis his first Emmy. It also reportedly earned him a massive pay bump, with sources telling The Hollywood Reporter that he inked a deal that will pay him $1 million per episode in the next season.
This all wouldn't have been possible, though, if someone hadn't encouraged Sudeikis to turn the skit into a show. And apparently, that someone was his ex, Olivia Wilde.
Olivia Wilde encouraged Jason Sudeikis to turn Ted Lasso into a TV show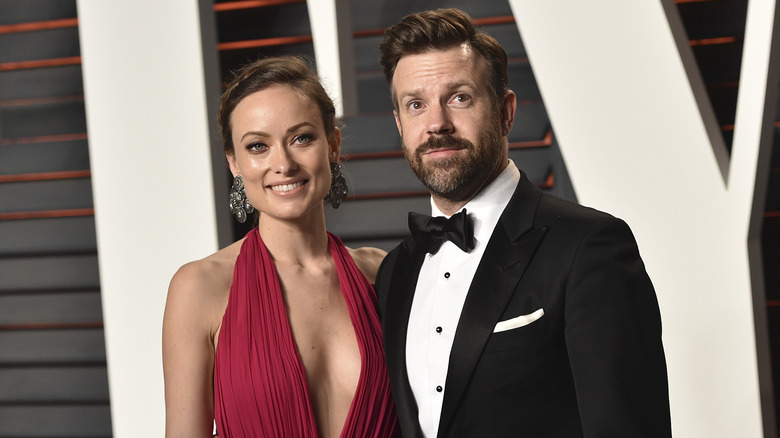 John Shearer/Getty Images
Olivia Wilde, whom Jason Sudeikis dated from 2011 to 2020, played a big part in propelling Sudeikis' career even further. In an interview with Sports Illustrated, he said that it was Wilde who floated the idea that he should explore the possibility of making something bigger out of the "Ted Lasso" skits.
"I guess it's a dozen little things that go right that you're willing and ready to receive," he said. "After doing the second video (in 2014), it really unlocked elements of the character that we found very, very fun to write and portray and view the world through," he explained. "So, one day in 2015, my partner Olivia came up to me one day and said, 'You know, you should do Ted Lasso as a show,' and I said, 'I don't know,' but then after marinating on it, I thought maybe this could happen."
In his July 2021 cover story with GQ, he also shared how they had discussed the plot over dinner. He said that they pondered about the character's motivation to fly across the pond. "'Okay, but why would he take this job? Why would a guy at this age take this job to leave? Maybe he's having marital strife. Maybe things aren't good back home, so he needs space,'" he explained. "And I just riffed it at dinner in 2015 or whenever, late 2014. But it had to be that way. That's what the show is about."
Jason Sudeikis and Olivia Wilde remain supportive of each other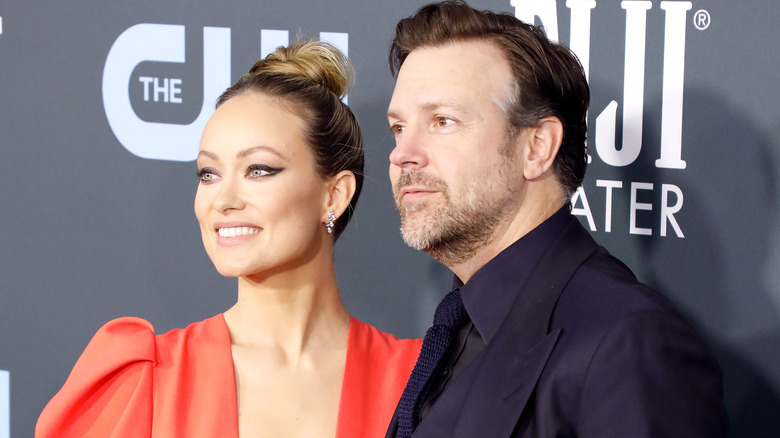 Taylor Hill/Getty Images
Jason Sudeikis bagged the Best Actor in a Comedy Series statue at the Critics' Choice Awards in March 2021, and by that time, he had already split from Olivia Wilde a little over a year earlier. Still, that didn't stop him from thanking her in his acceptance speech.
"I want to thank my kids, Otis and Daisy. I want to thank their mom, Otis and Daisy's mom, Olivia, who had the initial idea for this as a TV show," he said, per Vulture. "She was like, 'You and Brendan [Hunt] and Joe [Kelly] like doing that so much, you should do it as a movie or a TV show.' I was like, 'No.' She was right." Meanwhile, Wilde congratulated the whole team via Twitter. "Congrats to Jason and the entire Ted Lasso family on your @CriticsChoice wins!" she wrote. "So happy for you guys. I hope this means we all keep wearing hoodies when the ceremonies are in person next year."
Even though they had parted ways, it's not surprising that they remain supportive of one another. In the past, Wilde raved about how much she admired Sudeikis' talent, and that probably hasn't changed to this day. "His skill level is so high," she told FASHION in 2013. "I really have learned a lot from him, especially when it comes to being bold and taking risks as an actor within a role. Comedians are so great about trying things, like doing seven takes in seven different ways and really not being afraid to stumble."