Inside Joan Rivers' Tense Relationship With Her Daughter Melissa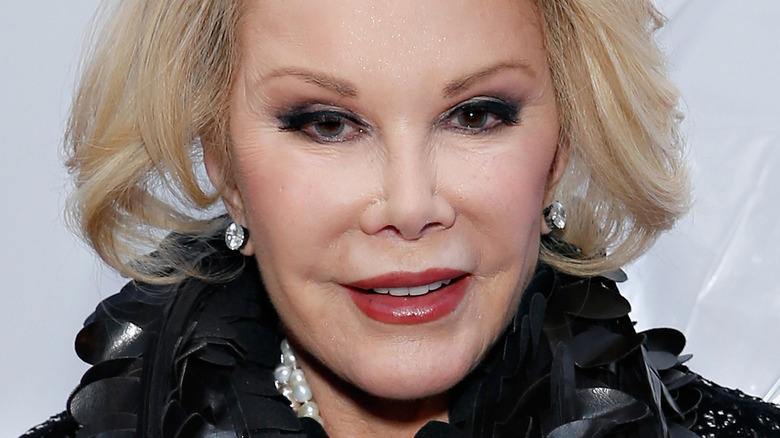 Cindy Ord/Getty Images
Hearts broke everywhere when Melissa Rivers revealed that her mother, famous comedian Joan Rivers, had died. 
"It is with great sadness that I announce the death of my mother, Joan Rivers," Melissa Rivers penned in a statement on September 4, 2014, via ABC News. "She passed peacefully at 1:17 p.m. surrounded by family and close friends. My son and I would like to thank the doctors, nurses, and staff of Mount Sinai Hospital for the amazing care they provided for my mother," she continued. "My mother's greatest joy in life was to make people laugh. Although that is difficult to do right now, I know her final wish would be that we return to laughing soon," she added.
As you may recall, Joan and Melissa had a remarkable mother-daughter relationship — one that differed from many other mothers and daughters. "We actually have a really good relationship for people who live in extraordinary circumstances... We have a real relationship," Melissa told LAist in 2011 while doing press for their WeTV reality show "Joan & Melissa: Joan Knows Best." But what was their dynamic really like? The answer just might surprise you... 
Melissa Rivers had a 'traditional' upbringing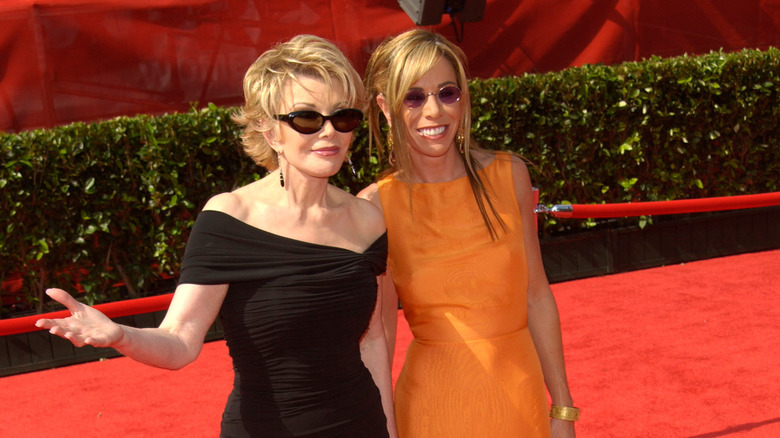 Featureflash Photo Agency/Shutterstock
While many might assume that Melissa Rivers' childhood was all feather boas, fur coats, and lavish parties with her famous mother cackling in the background, Melissa is adamant that her upbringing was actually pretty tame. 
"People are always shocked to find that I had a very traditional childhood where it was always very clear that what [my parents] did for a living was completely separate," she maintained during an episode of the "Divorced Not Dead" podcast with reality television star Caroline Stanbury. "I always understood that who my mother was on stage was not who my mother was, and my father was very grounding," she continued. But don't worry — there were still hints and glimmers of Joan Rivers' stage presence every now and then. "Once I [became] an adult, my mom's like, 'Girl, shorten that skirt, push up those boobs, put on some lifts,'" Melissa revealed. Well, alrighty then...
Melissa Rivers worked hard to forge her own path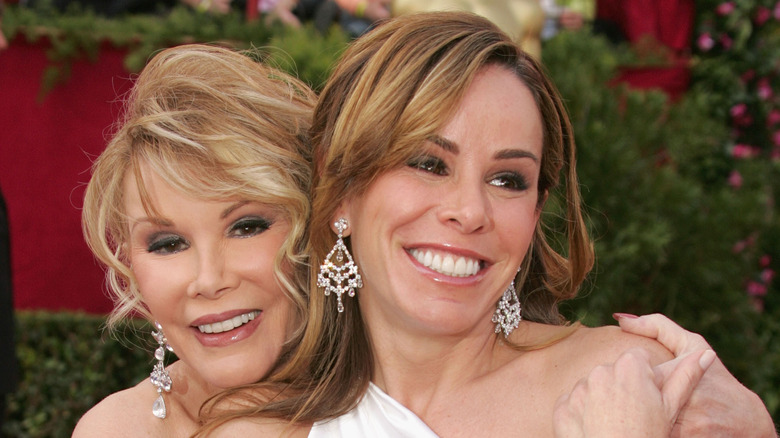 Carlo Allegri/Getty Images
Unsolicited advice aside, mother-daughter duo Joan and Melissa Rivers were closer than close — so much so that Melissa often felt that she was living in her larger-than-life mother's shadow. 
"My whole life cannot be about my mother's legacy," she declared to the Los Angeles Times in 2015. "I cannot let it consume my entire life," she added. And it appears that Joan would agree. "I don't want to ever come out brighter than Melissa or smarter than Melissa," she once said while gearing up to compete against her daughter on Season 8 of "Celebrity Apprentice 2" (via MTV News). "I don't compete with her on that level," she added. According to Joan, it would break her heart if Melissa was sent home first. Alas, Melissa did get sent home and Joan did take home the W.
Perhaps, however, there's one area where Melissa outshone her mother in spades. "My mother always told me she thought I was a much better parent than she ever was, which is very funny yet perhaps accurate," Melissa once told Fox News. "I think I did what everybody does [when it comes to parenting], which is, you take your childhood, throw out the worst, keep the best and try to parent your child that way." RIP Joan Rivers.