Kim Kardashian Proves The Latest Theory About Her Completely Wrong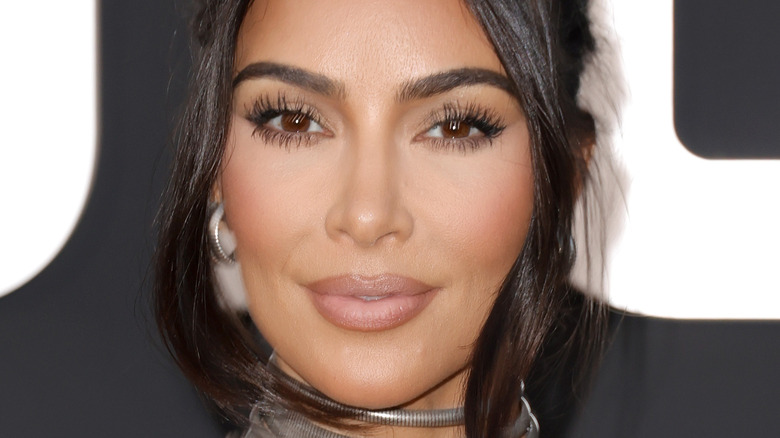 Frazer Harrison/Getty Images
Another day, another Kardashian drama.
Kim Kardashian, the influencer of all influencers, found herself in a pot of boiling hot water after she revealed that she had gone on a very strict diet and exercise regimen to fit into Marilyn Monroe's original dress for the 2022 Met Gala. "It was this or nothing," she declared to Vogue. "I would wear a sauna suit twice a day, run on the treadmill, completely cut out all sugar and all carbs, and just eat the cleanest veggies and protein," she divulged. "I didn't starve myself, but I was so strict," she added. Cue the backlash. But now, she's facing scrutiny for an all-new situation that feels eerily similar.
On May 24, Kim announced her brand new partnership with Beyond Meat, a plant-based vegan meat company, on Instagram. "I'm so inspired by @beyondmeat's mission and excited to share their delicious plant-based products with all of you as their Chief Taste Consultant," she penned in the caption of the post along with a commercial of her sampling the goods. There was only one little problem... many viewers thought she wasn't actually eating the said plant-based meat. Kardashian, however, begged to differ.
Kim Kardashian's got the receipts
Beyond Meat Chief Taste Consultant Kim Kardashian does eat! And she's got the receipts!
Shortly after Kardashian posted a commercial of herself seemingly tasting all of the brand's plant-based meat, many flooded the comments section to cry foul... not to be confused with fowl. "I don't believe you ate any of that miss starvation one Instagram user wrote. Meanwhile, another commented "I ain't buying it cause you ain't really eating it" along with a rolling on the floor laughing emoji. A third Instagram user piled on as well with a comment that read "She ain't even eating the food that hamburger isn't even bit into."
Kim, however, wasn't willing to take the criticism lying down. On May 31, the media mogul took to her Instagram Stories to set the record straight with a blooper reel that clearly shows her putting the food in question in her mouth — not once, not twice, but several times. She did, however, remove pieces of bread in one outtake. "I'm getting rid of some of the carbs," she said as she peeled away the top layer of the bun. Stars, they really are just like us.