Halsey's Messy Feud With Her Record Label Just Took A New Turn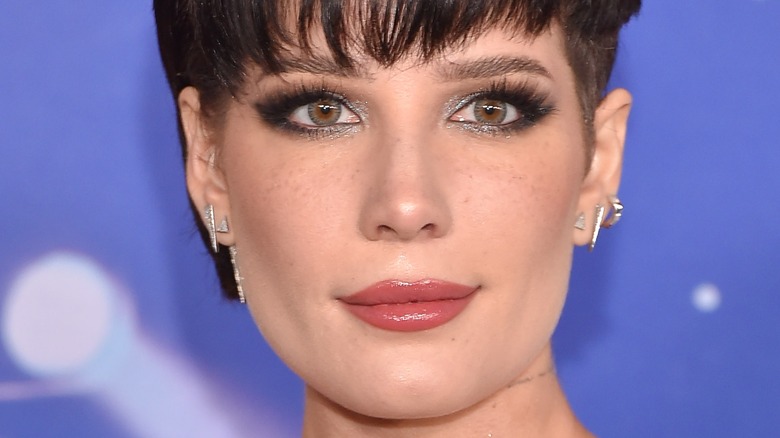 DFree/Shutterstock
Halsey just scored a huge win against her record label.
On May 22, the "Without Me" singer shared that her label, Astralwerks-Capitol, is prohibiting her from dropping a new song for marketing purposes. Despite being an award-winning artist, she said that the label is forcing her to use a certain social media app to promote a single. "Basically, I have a song that I love that I wanna release ASAP, but my record label won't let me. I've been in this industry for eight years and I've sold over 165 million records," Halsey wrote. "And my record company is saying that I can't release it unless they can fake a viral moment on TikTok. Everything is marketing."
Fans immediately rallied behind the singer, saying how ridiculous it was that the label would demand such a thing from an established artist, or any artist for that matter. But a rep for the company released a statement to express support for Halsey. "Our belief in Halsey as a singular and important artist is total and unwavering. We can't wait for the world to hear their brilliant new music," they said, per Variety.
Now it looks like the singer finally got the green light, as Capitol Music just announced the imminent release of her new single.
Halsey gets a release date for her new single
To hammer home the point that they are supportive of Halsey, Capitol Music took to Twitter to announce that they are releasing her single soon. They revealed an upcoming release date, and that they appreciate how the singer paved the way to have nuanced conversations regarding marketing in the music industry.
"@halsey, we love you and are here to support you. We are committing to a release of "So Good" on June 9th, 2022," they wrote. "We are an artist-first company that encourages open dialogue. We have nothing but a desire to help each one of our artists succeed, and hope that we can continue to have these critical conversations." Meanwhile, Halsey is just thankful that she can finally share new music and said that she never imagined that there would be controversy surrounding its release. "I didn't expect so much conversation about this record, all I know is that I wanted you guys to hear it and now you can," she wrote in a tweet.
On TikTok (seen above), the singer also thanked fans for keeping up with the whole feud. "Thanks for keeping up with this fiasco," she said. "Hope you love the song." And now that her song is ready to be released, she joked about focusing on her other agenda: world domination. "After a tremendous amount of f**k s**t, 'So Good' is finally coming out... And now I can go back to using TikTok for my real plan: Using witchcraft to take over the world."