Amy Schumer's Reaction To The Johnny Depp Amber Heard Verdict Is Turning Major Heads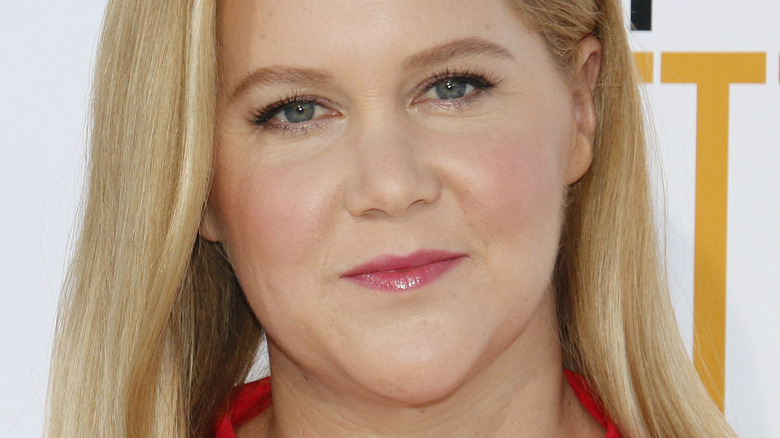 Tinseltown/Shutterstock
Johnny Depp's victory over Amber Heard in the defamation trial against his former wife broke the internet on June 1. After the actor was awarded more than $10 million in damages, Heard spoke out about the devastating legal loss, making a statement on Twitter: "I'm heartbroken that the mountain of evidence still was not enough to stand up to the disproportionate power, influence, and sway of my ex-husband." The "Aquaman" star's statement noted she was upset about the case, but was "more disappointed with what this verdict means for other women." Heard continued, noting the verdict "sets back the clock to a time when a woman who spoke up and spoke out could be publicly shamed and humiliated."
Heard's statement mirrored points her attorney Benjamin Rottenborn made in his closing argument. E! News reported the attorney advised the jury their decision would send a message to domestic abuse victims. Rottenborn said, "If you didn't take pictures, it didn't happen. If you did take pictures, they're fake. If you didn't tell your friends, you're lying. If you did tell your friends, they're part of the hoax."
Many celebrities cheered Depp's victory, and even Valerie Bertinelli weighed in on the verdict. Bertinelli tweeted: "I REALLY shouldn't be wading into this but multiple accounts that I follow & respect ... don't like this verdict ... Honest question, what am I missing?" While many celebrities supported the "Pirates of the Caribbean" star, however, comedian Amy Schumer's reaction to the Depp-Heard verdict is seriously turning heads.
Amy Schumer shares message of support for Amber Heard
Although she didn't blatantly make her stance obvious, Amy Schumer posted an Instagram message seemingly in support of Amber Heard after the June 1 verdict, writing: "Any woman who chooses to behave like a full human being should be warned that the armies of the status quo will treat her as something of a dirty joke . . . She will need her sisterhood. @gloriasteinem." The outspoken comedian received praise for her Instagram post, as one fan tweeted a screenshot of Schumer's note with the caption: "amy schumer being the only one using her brain right now..." Johnny Depp technically won, but some wonder about the overall cost to other women who've faced domestic abuse.
NBC tech reporter Kat Tenbarge posted a Twitter thread about the trial, writing: "For people who have been studying the misinformation campaign around the Depp v Heard trial, this verdict is chilling." The reporter claimed that negative social media takes on Heard increased "views and earnings." 
The day before the verdict, Monica Lewinsky (who knows something about public shaming) weighed in on the Depp-Heard trial for Vanity Fair. Lewinsky wrote, "I wasn't surprised that the memes about Amber Heard far outnumbered those about Johnny Depp. I wasn't surprised that the cruel and vitriolic discourse was predominantly aimed at the woman."  Like Tenbarge, Lewinsky called out social media's influence, and the "obsessive chatter around the Depp–Heard trial" as part of Americans watching real lives for entertainment. Lewinsky said it was a symptom of the "ever-demanding search for schadenfreude and titillation."