The Truth About Adam Sandler And Chris Rock's Friendship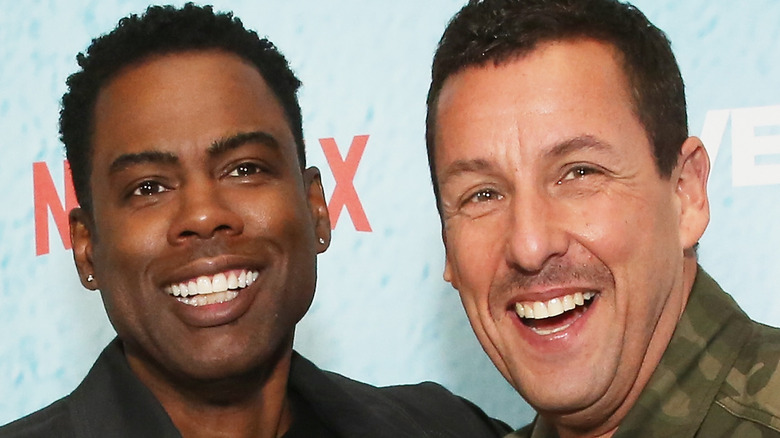 Monica Schipper/Getty Images
From "The Longest Yard," to "Grown Ups" and "The Week Of," Adam Sandler and Chris Rock have starred in a ton of feel-good movies together, and their onscreen dynamic never disappoints. A major reason for that dynamic? They truly respect each other's talents.
Rock, for one, has spoken on many occasions about Sandler's abilities as writer, comedian and actor. Speaking to Howard Stern about Sandler's stand-up career prior to becoming a movie star, the "Everybody Hates Chris" alum gushed, "He was a f***ing great stand up comedian, he was a killer." Rock also has nothing but admiration for Sandler's more serious roles. In an ExtraTV interview, speaking of Sandler's part in "Uncut Gems," Rock joked, "He's so good, I forgot I knew him." Rock also joked that Sandler's role in the movie influenced him to take on a more serious role in "Fargo," saying, "I copy everything he does!" 
Sandler has also been complimentary of Rock over the years. Speaking to Jimmy Fallon on "The Tonight Show" in 2020, the "Click" actor reminisced on seeing Rock perform live in Vegas a decade prior. "I sat in between [Jack] Nicholson and Jim Brooks, watching Rock, and literally every time I looked left or right, Nicholson was doubled over, and Jim Brooks was doubled over ... Imagine getting to see Jack Nicholson and Jim Brooks thinking you're the funniest guy on the planet." Professional admiration aside, however, where do these two comedy giants stand with each other in real life?
These comedians had a rocky start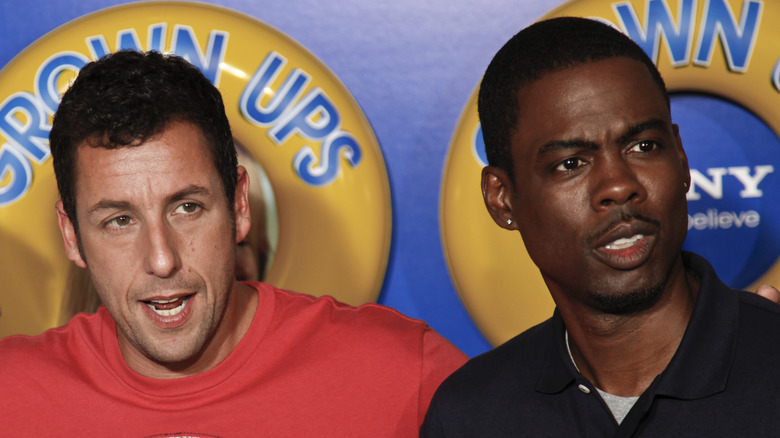 lev radin/Shutterstock
Given the kind words Adam Sandler and Chris Rock have had for one another over the years, it might come as a surprise that they weren't always each other's biggest fans. However, both comedians have been open about their initial (though short-lived) beef.
In an episode of Esquire's "Explain This," Rock explained that he had been thrown when it seemed like Sandler was climbing the comedy club ladder a little too fast. Pointing out that it was customary for comedians to start off "stacking chairs and cleaning tables" before even earning a weeknight spot, Rock was shocked to see Sandler perform on a Saturday night right off the bat. "I'm like, 'Who the f*** is this guy, that he's on, on Saturday night?'" Sandler, meanwhile, had his own jealousy towards Rock. He shared in an episode of "The Tonight Show" that things reached fever pitch when Sandler learned that Eddie Murphy was a fan of Rock's. "Eddie Murphy likes somebody ... not me? I was so upset!"
However, any tension quickly dissipated when they finally met. Recounting their first meeting, Rock joked to Esquire, "I'm supposed to hate him, and I watch his act ... and he's so funny. He's so funny I just fell in love with him." Sandler shared a similar memory on "The Tonight Show," recalling, "He came to the club and we met ... I was like, 'Oh man, this guy is funny.'" And they've been inseparable ever since.
Sandler and Rock became BFFs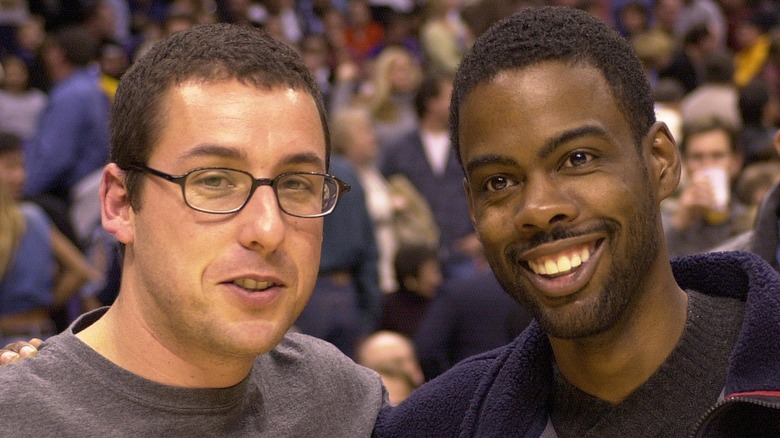 Getty Images/Getty Images
If Adam Sandler and Chris Rock's professional compliments are sweet, their personal sentiments about each other are nothing short of adorable. In fact, these two have a Hollywood bromance for the books.
After meeting at Comic Strip Live, the comedians went on to work together at "Saturday Night Live," and that's what truly cemented their friendship. As Rock recounted to Esquire, they shared an office at the show, alongside fellow "Grown Ups" actor David Spade, and the late Chris Farley. "We called it a dorm," Rock laughed. 
Even long after he and Sandler were fired from SNL, the two have remained tight. Rock once reminisced about Sandler dancing with one of his aunts at his wedding. Sandler, meanwhile, has gushed over their friendship on "Good Morning America," saying, "I just have always loved Rock, always loved being with him. It's nice to have somebody you can tell everything to." However, Sandler has also joked to ExtraTV that he knows that often, the conversations he has with Rock will end up going public. "I have phone calls with Rock and I consider them great, private, phone calls on his half, and all of a sudden I'll watch his act and say, 'You actually told the world,'" Sandler laughed. This is one onscreen duo we just can't get enough of, and knowing that Chris Rock and Adam Sandler really are as tight in real life only adds to their appeal.