Who Is Christina Hall's Best Friend, Cassie Zebisch?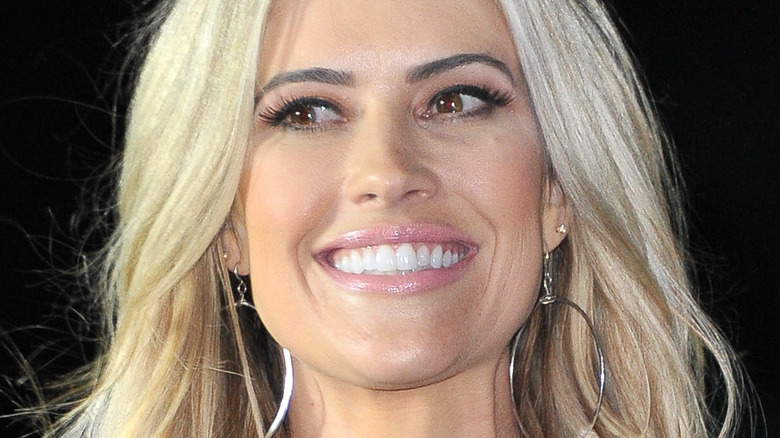 Allen Berezovsky/Getty Images
Christina Hall started out as Christina Haack. She became Christina El Moussa after marrying Tarek El Moussa in 2009. The couple, who share two children, shot to fame via their show "Flip or Flop." On camera, everything seemed harmonious, but it was a different story in real life. Per TMZ, cops were called to the El Moussa house in May 2016 after Tarek fled their home, gun in tow. Tarek insisted he hadn't intended on harming himself. However, after numerous reports of fighting, the couple announced their split in December 2016.
They continued to film the show despite how stressful it was working together. Christina wasted no time moving on after their divorce was completed in 2018. Before the ink was barely dry, she'd launched her own spin-off, "Christina on the Coast," documenting her redesigning the family house and renovating other's homes. Christina also secretly married Ant Anstead, leading to a second name change and third child. However, the couple split within two years, leading to a bitter custody battle.
Christina was spotted in a wedding dress in 2021, sparking rumors of a third marriage. And, following a whirlwind romance she wed with Joshua Hall, resulting in her current last name. In 2022, Tarek and Christina made the sad announcement about "Flip or Flop" ending. Clearly, she's gone through lots of turmoil and change over the years. However, one thing has remained constant throughout, the relationship between Christina Hall and her best friend, Cassie Zebisch.
Cassie Zebisch has always been there for Christina Hall
So, who is Christina Hall's best friend, Cassie Zebisch? The two have been BFFs since their teens. According to HGTV, their friendship spans back over 25 years. And, it's not just a "friends" friendship; It's also a working friendship, as Hall and Zebisch made the often fatal error of mixing business with pleasure. However, it works perfectly for them. Zebisch makes frequent appearances on "Christina on the Coast." In addition, she's a regular on Hall's Discovery+ show, "Christina: Stronger by Design," which premiered in January 2021.
Zebisch is as savvy a businesswoman as her designer bestie. She owns CMZPR, a company specializing in PR and media relations, crisis management, brand management, and partnerships. The PR wiz is also the senior communications director for sports and entertainment behemoth, AEG. Plus, she helped launch reBUILD20, which was formed to support the event management and entertainment industries through the COVID-19 lockdown. Not surprisingly, Zebisch handles all of Hall's PR and publicity and most likely performs a little crisis management work too from time to time.
Zebisch raved about their friendship in an interview with House Beautiful. "We've gone to junior high, high school, and college together — we even lived together in college — and we've been through everything together," she shared. Zebisch said they just click, and she thinks of her as "family." And, they kind of are family as Zebisch is the godmother to Hall's daughter, Taylor El Moussa.
Christina Hall and Cassie Zebisch are #FriendshipGoals
Christina Hall and Cassie Zebisch have always been there for each other through thick and thin. Hall was front and center when her bestie married her chef fiancé James Schienle. Zebisch announced that she'd gotten engaged in July 2020. "When you realize you want to spend the rest of your life with someone, you want the rest of your life to start as soon as possible," she captioned a cute pic of her and the hubby-to-be kissing.
Zebisch and Schienle said "I do" during an intimate wedding at the Calamigos Ranch in Malibu, California. Due to COVID restrictions, Zebisch didn't have bridesmaids, and guests were limited in numbers. However, Hall was sort of/kind of the unofficial maid of honor, giving a speech during the post-wedding reception celebrations, looking resplendent in a stunning Walter Collection gown. "Cassie, oh God, I love you. You have been my best friend through thick and thin, through all the highs and lows, and it's so obvious to everyone here how magical you two are and how perfect you two are for each other," Hall was filmed saying in an episode of "Christina on the Coast" (via People).
Hall raved about her BFF's big day on her Insta. "Most beautiful wedding EVER. So much love in the air. My best friend is married!!!!!" she captioned a pic of her standing next to the blushing bride. Hall praised Zebisch for being "the most selfless, inspirational, fun, beautiful human to exist."