Inside Erika Jayne's Connection To Kim Kardashian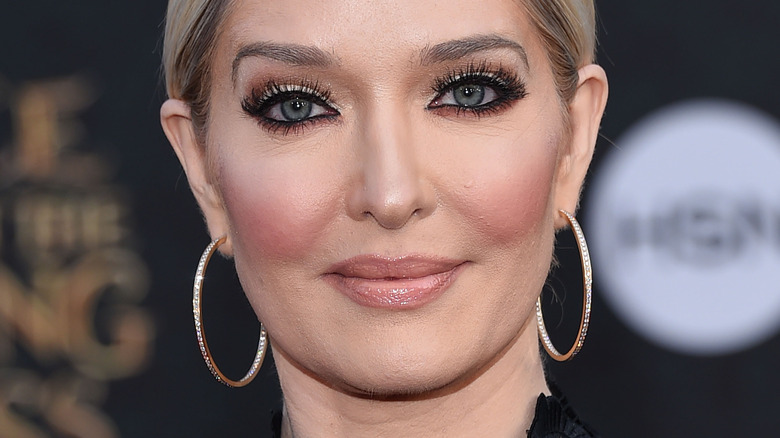 DFree/Shutterstock
The entertainment world is a small one, especially when it comes to the world of reality television stars. More often than not it seems like the stars of the "Real Housewives" franchise often cross paths with the stars of "Keeping Up With The Kardashians." It's no secret that Kyle Richards and Kris Jenner are actually good friends and at one point there were even some rumors suggesting that the Kardashian family matriarch was going to join the "Real Housewives of Beverly Hills," according to Entertainment Weekly. 
That, and Kim Kardashian has rubbed elbows with the likes of Bethenny Frankel, per the Daily Mail, while Scott Disick has dated Lisa Rinna's daughter Amelia Hamlin in the past. If that weren't enough, Kim's ex bestie Larsa Pippen sure has had a lot to say about their relationship on the "Real Housewives of Miami." Speaking about Kim's separation from Kanye West, Larsa suggested there was more to what the tabloids were reporting about her. She said (via Us Weekly), "I was best friends with Kim, and I love her and I love Kanye, and I just was the person that was stuck in the middle." She added that she "took a beating because I was the friend that was basically there and saw everything."
And while a game of "Seven Degrees of Kardashian Separation" would take a long time to complete, there's another "Real Housewives of Beverly Hills" star that has an interesting connection to Kim: Erika Jayne.
Erika Jayne and Kim Kardashian share a professional connection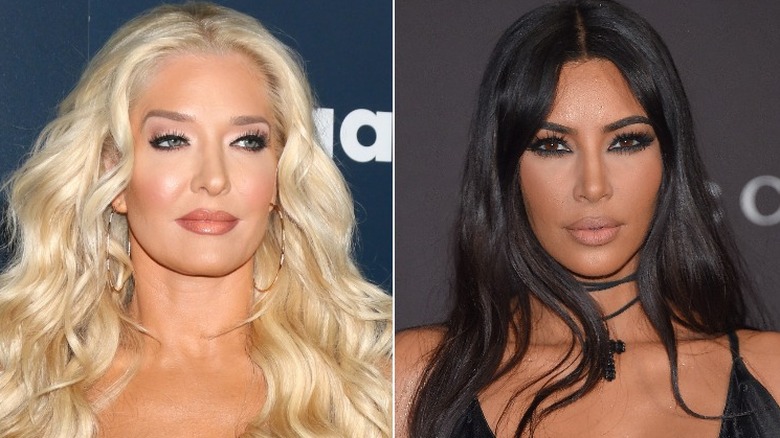 DFree & Kathy Hutchins/Shutterstock
While it's not very often that you hear Kim Kardashian and Erika Jayne's names together in the same sentence, the two are connected in a professional sense, even if it's indirectly. According to Bustle, the "XXPEN$IVE" singer once employed Kim Kardashian's assistant, Stephanie Shepherd. And apparently, it was Jayne and her choreographer Mikey Minden who gave Shepherd the start she needed to launch her career in Los Angeles.
"We traveled the world together. [Jayne and Minden] both opened my eyes to so much, about being a hard-working, meticulous assistant, yes, but also just all the things life can offer," Shepherd told Refinery29 back in 2017. She also said that before Jayne took her under her wings, she moved to L.A. from a small town where the nicest restaurant was the Olive Garden (as if that's a bad thing?). Shepherd also said that she had never seen a Range Rover before moving to California and that she didn't know how to pronounce Givenchy, which is clearly an important word in the "Real Housewives" vocabulary.
Shepherd moved on from Jayne to become Kardashian's assistant and COO of her brands until she reportedly got fired in 2017. And no, she didn't get fired because she wasn't sure where Issey Miyake was from or had trouble with her fashion ABC's (Armani, Balenciaga, Chanel, and so on), but because of a totally different reason.
Stephanie Shepherd and her impressive resume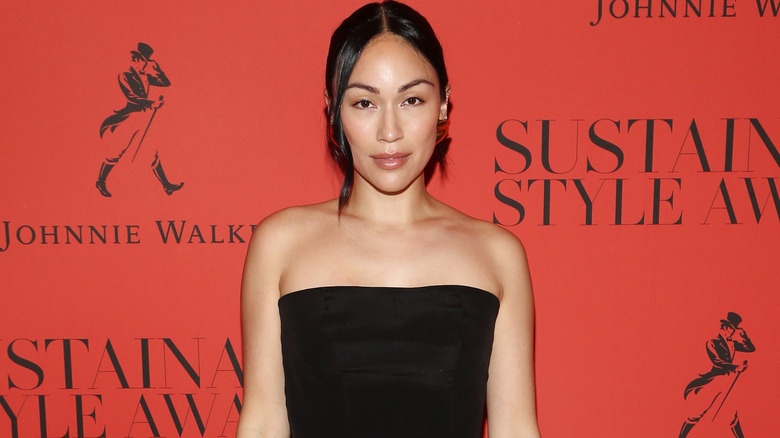 Tommaso Boddi/Getty Images
While Kim Kardashian did snip the ties loose from her working relationship with Stephanie Shepherd, she said during an episode of "Keeping Up With The Kardashians" that there was still a lot of love between them. Kardashian explained at the time (via Australian Vogue): "She wanted a different role and I was going in a different direction, so for both of us, I just felt like it wasn't the right fit anymore ... She's really been there for me. So I said, 'I love you so much, and maybe this is good to push you to figure out what you want to do.' It ended really well."
Fast forward years later and Shepherd certainly made a name for herself. She co-founded the climate club Future Earth and the beauty, cosmetic and personal care line, Plus. With over 1.8 million followers on Instagram (as of this writing), Shepherd is still part of the Kardashian's inner circle and even attended Kourtney Kardashian and Travis Barker's nuptials in Italy back in May. That, and Kim had reportedly given her former assistant a $25,000 Hermes bag back in September 2021, per Page Six. Talk about "XXPEN$IVE" taste, right?