Inside Kate Middleton's Relationship With Rose Hanbury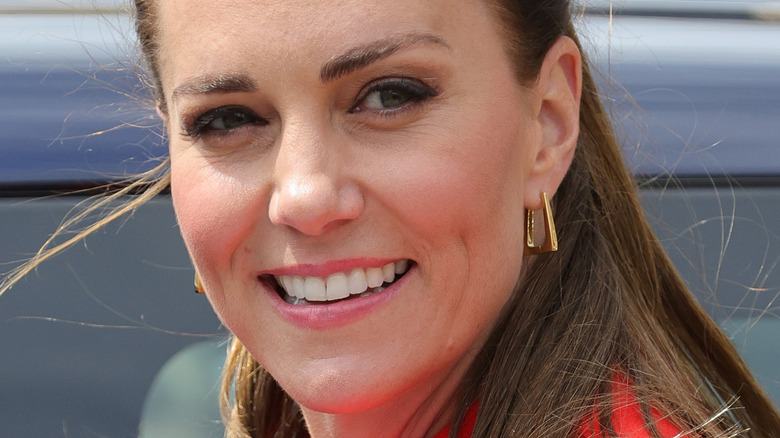 Chris Jackson/Getty Images
While a lot has been said about Meghan Markle and her tight circle of friends over the years, little is known about Kate Middleton's gal pals — or at least the ones that are still present in her life today. Even though Meghan and her husband Prince Harry can still find the time to knock back a few beers and enjoy a steak dinner with the likes of Princess Eugenie and her husband, Jack Brooksbank, Kate and her husband Prince William seem to have a much quieter social life. That is, if they can even find the time to sneak in a date night with all their royal engagements, public appearances and, of course, their parental duties at home.
And while there might be plenty of people that the Duchess of Cambridge can group text about the latest season of "Bridgerton" or an episode of "Love Island," there was one person who used to hang with the Cambridges pretty often: Rose Hanbury. In fact, a lot of people are quite curious about Kate's relationship with Rose, or lack thereof.
Are Kate Middleton and Rose Hanbury friends?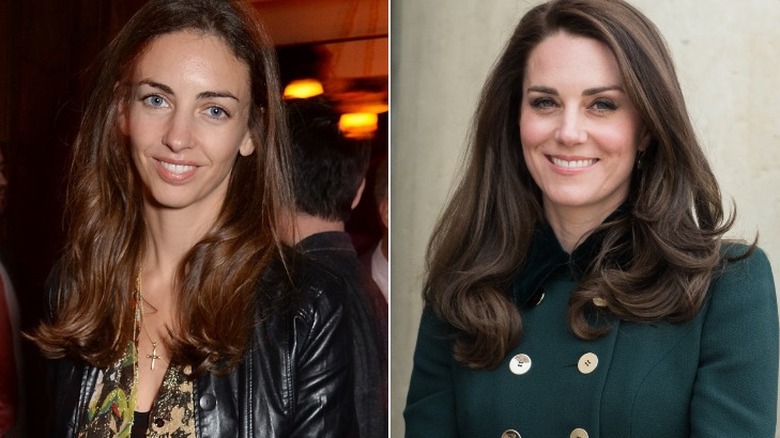 David M. Benett/Getty & Frederic Legrand - COMEO/Shutterstock
There has been plenty of gossip surrounding Rose Hanbury over the years, mostly because of all the reports and speculation of her possible affair with Prince William. And while those rumors have been discredited, a lot of people still can't help but wonder what might have happened between Kate Middleton and her supposed "rural rival." Apparently, both Kate and Rose were part of a social scene called the Turnip Toffs (no word if they wore pink on Wednesdays) in their rural town of Norfolk. A separate Daily Mail article also suggested Kate and Rose were close enough back in 2014 that Kate's son Prince George and Rose's twins, Alexander and Oliver, were "possible playmates" for the moms, who most likely "talk fashion" during their mummy and me gatherings.
That said, there's a chance that the Duchess of Cambridge might have pulled one of Mariah Carey's "I don't know her" cards when it was reported that Rose tried to put the move on William when Kate was pregnant. At least, that's what Beverly Hills psychiatrist and M.D. Carole Lieberman told Nicki Swift in 2020. She said the possible reason for this was because "there is usually less sex occurring, out of fear of hurting the baby in the womb, and because the husband sees his pregnant wife as a 'mother.'" Lieberman added, "William would have realized, before it went too far, that Rose is a lesser quality version of Kate — not as pretty or elegant, not as well-grounded or stellar in character, not as playful, and not as doting a mother or wife." Therefore, the future king "would not have traded Kate in for Rose."
Well, regardless of whether William saw Kate as a mother or not, her relationship with Rose took an interesting turn after all of the affair rumors.
Rose Hanbury might no longer be one of Kate Middleton's phone contacts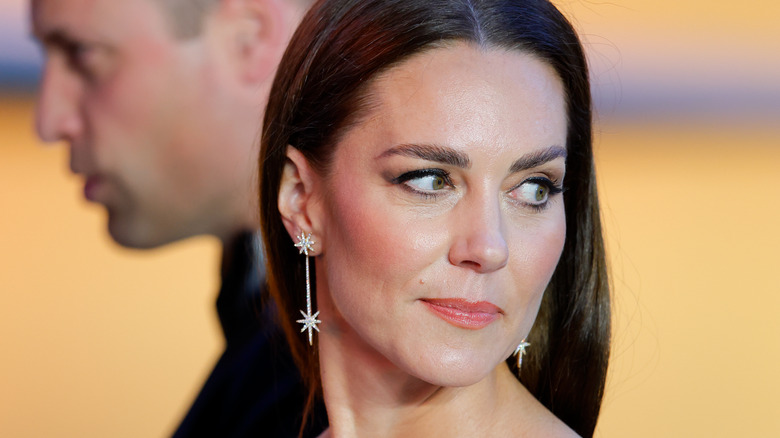 Max Mumby/indigo/Getty Images
Despite all of the Prince William and Rose Hanbury affair rumors that had surfaced back in 2019, Rose was still on Kate Middleton's birthday party guest list at her Anmer Hall home back in January 2020, according to Hello! What's more, Rose did attend a royal banquet that Queen Elizabeth II hosted during former President Donald Trump's visit to London in June 2019, as detailed by The Cut. However, she was one of the last people to arrive that night. And while there's no photographic evidence of the Duchess of Cambridge and Rose chit-chatting about their children's homework assignments or comparing notes on their latest skin care routines, Rose was also in attendance at Prince Philip's funeral in April 2021 and again at his memorial service in March, per the Daily Mail.
However, as Carole Lieberman told Nicki Swift, the rumors seemingly took their toll on Hanbury and her husband. "[i]n the photos taken before the alleged affair, Kate and Rose seem to be on very close terms — and even look remarkably alike in their features and their dress. But, in the more recent photos from the church service, Rose and her husband do look the worse for wear. They both seem to have aged at least 10 years, probably from the rumors that then caused them to quarrel, and Rose looks sad and angry."
Although Kate has apparently moved on from all the rumors about her marriage and her supposed rural rival, the internet has not. A photo of Prince William walking behind Rose's husband David Cholmondeley had some people talking about his rumored affair all over again. And because the internet has the biggest RAM memory ever, the #princewilliamaffair hashtag popped up on social media back in December 2021, after one journalist suggested that the royal family had enough leverage to make such rumors go away. Well, almost.