Who Are Kate Middleton's Best Friends?
Tim P. Whitby/Getty Images
When Prince Harry and Meghan Markle announced their engagement in 2017, many royal fans were hoping for Kate Middleton to become best friends with her future sister-in-law. Needless to say, that never happened, as Meghan herself was forced to set the record straight about a bust-up between the two women that occurred a few days before her royal wedding in 2018.
While the media reported that it was Meghan who had made Kate cry over a misunderstanding about bridesmaid dresses, the Duchess of Sussex said the opposite had happened. "It was a really hard week of the wedding and [Middleton] was upset about something, but she owned it, and she apologized, and she brought me flowers and a note," Meghan told Oprah Winfrey during their bombshell tell-all. Meghan's admission reportedly left Kate mortified, according to Page Six.
And while it's clear as day that Kate and Meghan may never be the royal BFFs the world was hoping for, at least they aren't the worst of enemies either. Reports have indicated that Kate has been trying to reach out to Meghan in the hopes that they could put the past behind them. Still, a lot of people can't help wondering exactly who the Duchess of Cambridge's best friends are, since Meghan clearly is not. Keep scrolling below to find out.
Kate Middleton's tight, but also quiet inner circle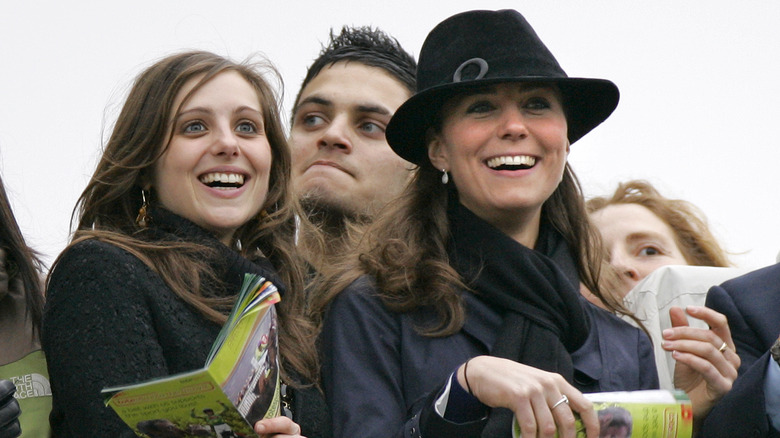 Max Mumby/indigo/Getty Images
While Meghan Markle can count people like Serena Williams, Jessica Mulroney, and Priyanka Chopra as some of her best friends, not much is known about Kate Middleton's inner circle. In fact, the Duchess of Cambridge doesn't have the kind of A-list and headline-grabbing acquaintances that Meghan has, even though it was widely reported that her relationship with Rose Hanbury was on the outs. This happened following speculation of a possible affair between the Marchioness and Prince William, who apparently "just laughed it off saying there was nothing to it" (via The Daily Beast). That, and her inner circle likes to stay just as quiet as they do tight.
Still, there are some people that Kate has in her group text that she vents to whenever those around her are being a royal pain in the you-know-what. According to Hello!, that group text possibly includes Kate's friends Lady Laura Meade, who is Prince Louis' godmother, and Zoe Warren. Zoe's daughter Zalie was a bridesmaid at Prince Harry and Meghan Markle's royal wedding in 2018. There's also Emilia Jardine-Paterson, who has been close with Kate ever since they attended Marlborough College together.
Surprisingly, there are two more friends of Kate's that a lot of people don't talk about or even know about, but who would raise eyebrows nonetheless. Keep scrolling below to find out who they are.
Kate Middleton is a homebody who prefers nights in with her friends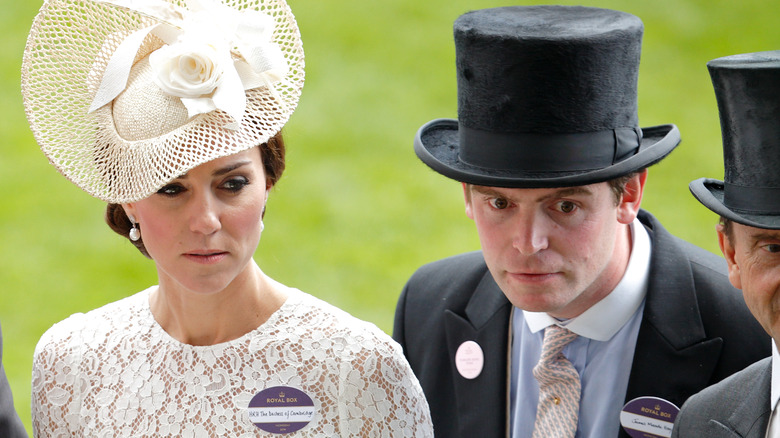 Max Mumby/indigo/Getty Images
Kate Middleton is also particularly close to some of her oldest male friends, which include James Meade, who also happens to be Princess Charlotte's godfather, and Oliver Baker, who Kate was friends with at St. Andrew's University, per Hello!. Both men also go back with Prince William during their college days. This just goes to prove that Kate's circle of friends aren't just female. Now, as far as what kind of friend the Duchess of Cambridge is behind closed doors, it sounds like she loves to sit around a fire and take part in a juicy gabfest just like the rest of us.
Sharing details from her 39th birthday get-together, one source told People, "At the end of the day, she's in training to be a future Queen, but honestly you would never know it. If you go round to her house, you get a cup of tea, and it's often William who makes it! It's a lovely, welcoming house, not a fancy, stuffy palace in any way." Sounds like an ideal evening, doesn't it?