Do William And Kate Have A Higher Net Worth Than Harry And Meghan?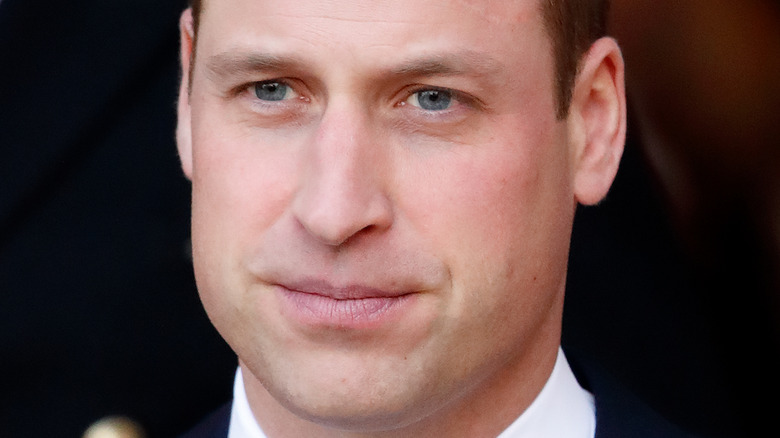 Max Mumby/indigo/Getty Images
During his seismic interview with Oprah Winfrey back in 2021, Prince Harry told the world that his father Prince Charles had cut him off both financially and emotionally. "I had three conversations with my grandmother, and two conversations with my father before he stopped taking my calls. And then he said, can you put this all in writing?" Harry told Oprah at the time, per Reuters. Harry also revealed that if it weren't for the money that his late mother Princess Diana had left him, he and his wife Meghan Markle wouldn't have made the post-Megxit move to California, where they have since settled in as a family. 
According to the BBC, both Harry and his brother Prince William received a good chunk of the $16 million fortune that was left behind by their mother. And while there's little chance that the Cambridges or the Sussexes compare the price of bread at Tesco like the rest of us, a lot of people can't help but wonder which royal couple has the higher net worth. After all, William and Harry have always lived a life of luxury thanks to their royal upbringing, while their wives Kate Middleton and Markle weren't worried about eating all-ramen diets during their college years, either. But do the Cambridges have a higher net worth than the Sussexes?
The Cambridges and Sussexes and all of their royal pounds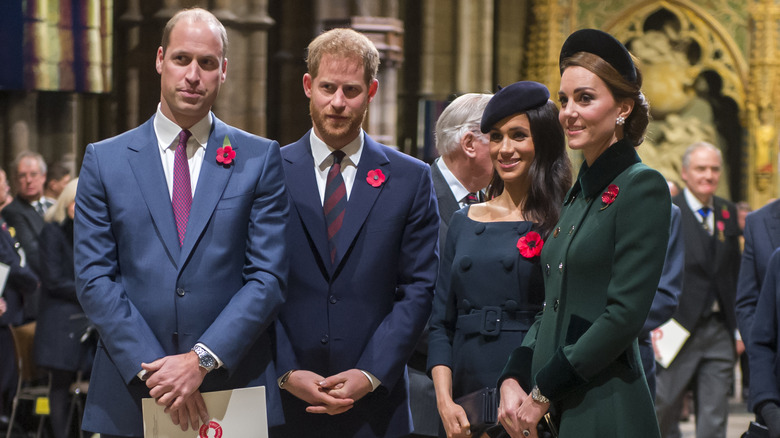 Wpa Pool/Getty Images
From lavish getaways to the Swiss alps and the Caribbean, to real estate portfolios that include multiple royal palaces, the British royal family's vast fortune has afforded them the kind of lifestyle that even Hollywood hasn't seen in their own movies. Even Queen Elizabeth's net worth is an estimated $530 million alone, per Parade. But as far as which royal couple has the highest net worth, it all depends on the nitty gritty. 
Prince Harry is estimated to be worth around $25 million and $40 million, per Money, while Prince William is in about the $40 million ballpark. William's wife Kate Middleton is worth between $7 million and $10 million, thanks to her marriage and her family's Party Pieces business. Meghan Markle, meanwhile, had an estimated worth of about $2 million back in 2019, according to Forbes. Along with their upcoming lucrative business deals, it is estimated that the Duke and Duchess of Sussex might have a combined worth of about $60 million, as detailed by Parade, which is more than enough to cover their mortgage payments in Montecito and all of Meg's famous avocado toast for breakfast. This could be just about $10 million more than William and Kate's combined net worth.
That said, reports have indicated that William might be looking to use his fortune to make a difference in the U.K., too.
Prince William wants to use his properties to help homelessness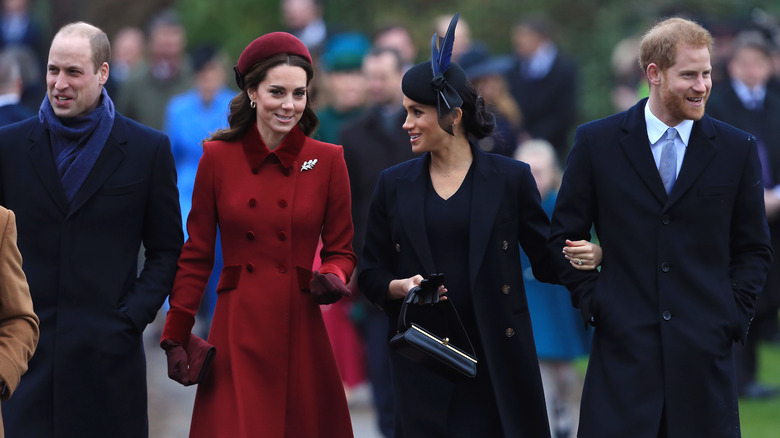 Stephen Pond/Getty Images
According to Harper's Bazaar, the bulk of Prince William's income comes from the Duchy of Cornwall, which was established centuries ago by Edward III to provide income for the heir to the throne, according to the Chicago Tribune. Thanks to Prince Charles and some clever business moves, the Duchy of Cornwall has expanded into an enterprise worth millions that includes over 130,000 acres of land. Back in 2021, it was reported that the Duke of Cambridge wanted to use properties that are part of the Duchy of Cornwall portfolio to help tackle widespread homelessness in the U.K., says The Telegraph. One source close to the situation said, "The Duke is interested in finding ways to help alleviate the homelessness situation in any way he can." 
As far as Prince Harry and Meghan Markle's fortune is concerned, the couple is reportedly working on a reality-based series with Netflix and is scheduled to air their first podcast on Spotify during summer 2022. It would be nice if the two wealthy royal couples joined forces in their endeavors; the Sussexes could do a documentary about the Duchy of Cornwall, or maybe a podcast on the Middleton family's Party Pieces business. Who wouldn't want to hear the Sussexes and Cambridges discuss their favorite brand of bread on a podcast episode? Wishful thinking aside, one thing is clear when it comes to these dukes and duchesses: they've got a whole lot of British pounds between them.