Who Is The Father Of Heidi Klum's Oldest Daughter, Leni?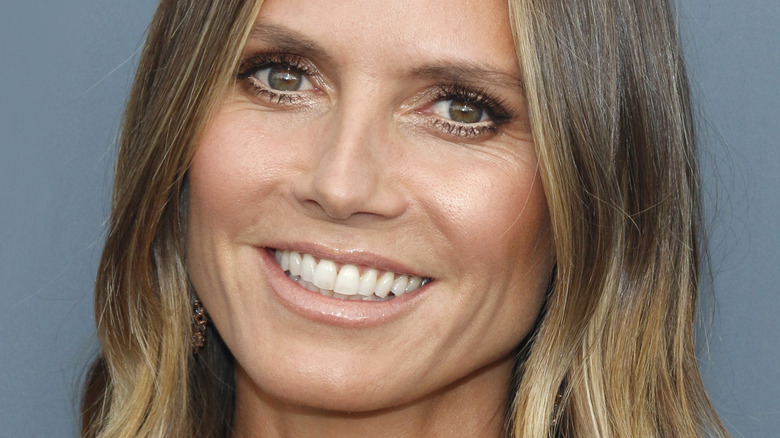 Tinseltown/Shutterstock
Heidi Klum is a woman of many talents. She started modeling in 1992 after winning a competition (per NBC) and never looked back when she moved to the USA and worked her way up to the top. Heidi was a Sports Illustrated swimsuit cover girl and Victoria's Secret catwalk staple and spokesperson before turning in her diamond-studded bras and feather wings in 2010. At the height of her modeling career, Forbes named her one of the highest-earning supermodels.
Heidi parlayed her looks, talent, and personality into becoming a presenter, producer, and renowned party-thrower, courtesy of her obsession with Halloween. She launched a successful TV career, hosting the Bravo show "Project Runway" from its premiere episode in 2004 until 2017. Heidi's also a savvy and successful businesswoman, fashion designer, screenwriter, artist, and even a singer, according to Celebrity Net Worth, and she has her own clothing and perfume line, in addition to creating paintings and sculptures, all leading to her amassing a fortune of $160 million. Not bad for a girl from small-town Germany who's now a self-made multi-millionaire.
Heidi's proudest achievement, however, is her kids, who are growing up fast! She's mom to daughters Leni Klum and Lou Samuel and sons Henry Samuel and Johan Samuel. Heidi shares the latter three with her ex-husband, the British-born singer Seal, whose full name is Seal Henry Olusegun Olumide Adeola Samuel. But what about her first child? Who is the father of Heidi's oldest daughter, Leni?
Leni's father wasn't around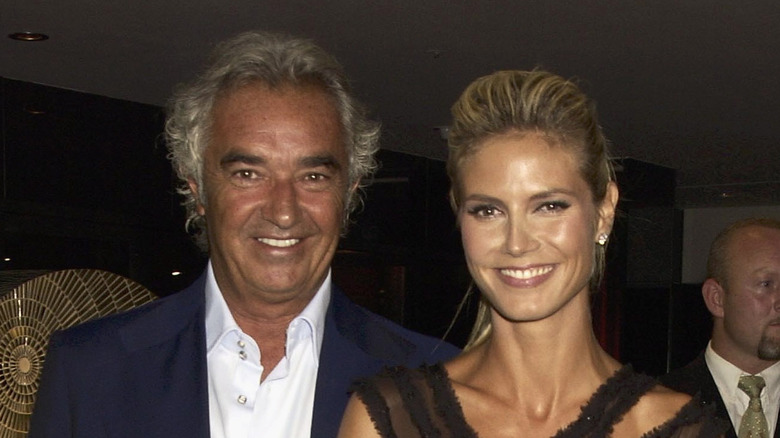 Dave Benett/Getty Images
Between Heidi Klum splitting from her first husband in 2002 and meeting Seal in 2004, Heidi dated Italian businessman Flavio Briatore. The couple met in March 2003 and Heidi announced she was pregnant in December, per Wonderwall. However, they split soon after when Heidi discovered he'd been cheating. She wasted no time crying into a pint of Ben and Jerry's Chunky Monkey, though, and within weeks she started dating Seal.
Heidi told Seal she was pregnant the first time they slept together. "I laughed and said, 'Already? That's amazing!' She said, 'Not with you stupid,'" Seal told the Daily Mirror. He raised Leni Klum as his own, and Briatore permitted Seal to adopt her. "Leni is my natural daughter, but the three of us happily agreed that it made more sense if Seal adopted her because a child needs to grow up in a family," Briatore told Il Corriere della Sera in 2016, via The Express.
Briatore shared that he hadn't really seen Leni in her twelve years of life at the time, and they had no kind of relationship. Briatore admitted he didn't feel any sense of loss over not being in contact with Leni. "It's hard to miss a baby that you never see," he explained. However, it seems Leni's father is back in her life.
Heidi Klum's oldest daughter Leni reunited with her biological dad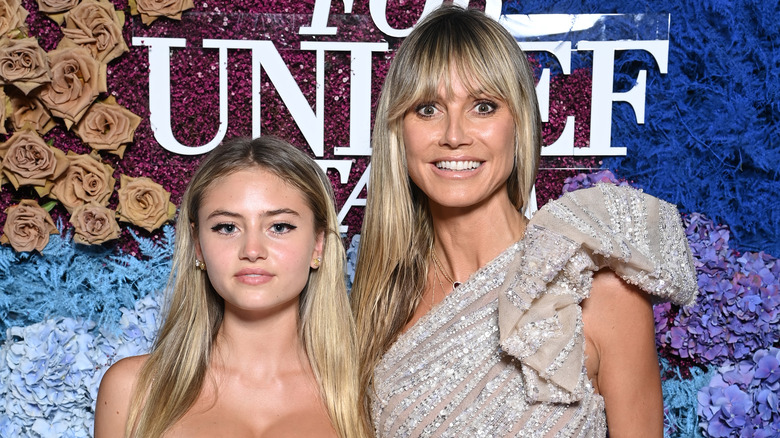 Daniele Venturelli/Getty Images
Heidi Klum's daughter, Leni Klum, is back in contact with her biological father, Flavio Briatore, following years of estrangement. TMZ reported that the daughter and dad reunited in Porto Cervo, Italy, in 2018. According to the outlet, Heidi was also there with her and Seal's three kids and her parents to join Briatore and Leni for lunch. The Italian previously admitted to playing no part in his daughter's life, but said he was happy that Seal raised her, per the Daily Mail.
Though Heidi and Seal broke up in 2014, and she married Tom Kaulitz in 2019, Leni has remained super close to her adopted dad. She was at Seal's side for the premiere of his brother's movie, "The Harder They Fall," in 2021. Seal spoke to Entertainment Tonight about his and Leni's special relationship. "It's everything, and it has always been like that, from the day I met her mother," he said. "We have always had that bond."
Meanwhile, despite Heidi's hectic career, her kids remain the top priority. "Family comes first. You're the only thing they have," she told Good Housekeeping in 2011. As for achieving a work-family balance? "Women are capable of juggling a lot of balls — we do things that guys just cannot do," Heidi told Redbook in 2015. When it comes to juggling their one-of-a-kind family dynamic, it seems Heidi and her brood are doing just fine.