Here's What Irina Shayk Really Looks Like Without Makeup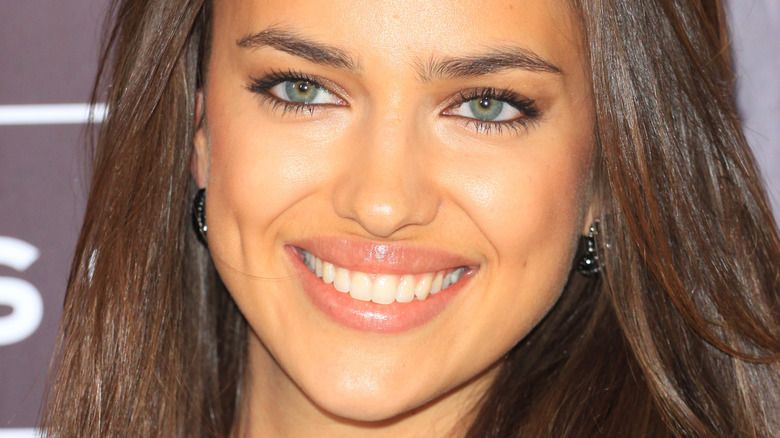 Featureflash Photo Agency/Shutterstock
Irina Shayk is one of the most in demand models in the game right now for a reason. The star is seriously stunning, which she's proven time and time again modeling for some of the most prestigious brands in the world, like Burberry, Versace, and Valentino. Not only that, but she really proved her chops back in 2016 when she walked the runway at the infamous Victoria's Secret Fashion Show while six months pregnant with her and her former partner Bradley Cooper's baby girl. Impressive!
You might be surprised then to hear that modeling was never actually on Shayk's radar. She told Vogue in January 2021 that she actually kind of fell into the profession after being scouted while visiting a beauty school next door to the college she studied marketing at. Her big break then came more out of desperation for cash than a dream gig. "I went to Spain and booked a catalogue for Lacoste, went to the Caribbean to shoot it, and I made, I don't know, €4,000? My mom cried for days," she recalled. "In America my first break was 'Sports Illustrated.'"
But what probably won't come as much of a surprise to hear that the supermodel is just as stunning after a few hours in the makeup chair as she is when she skips the cosmetics for the day. But what does she actually look like without makeup?
Irina Shayk's makeup-free Vogue cover
Vogue might not be the first outlet you think of when you think of a makeup-free cover, but Irina Shayk did just that. In April 2018, the stunning superstar went barefaced on the cover of the German edition of the fashion bible and proved once and for all that she's seriously naturally gorgeous. The star confirmed she ditched the cosmetics for the shoot when she shared a look at the cover on Instagram, writing, "No Hair, No makeup, just me and [Daniel Jackson Photography] in the studio."
So, if she's willing to go without makeup on the cover of Vogue, she's probably shared a few cosmetic-free snaps on social media, right? Right! In December 2021, the beauty slipped into a bright green swimwear to show off her glowing, blemish-free skin on Instagram as she soaked up the sun somewhere very tropical. Shayk didn't confirm where she was enjoying some downtime, but simply captioned the gorgeous shot by tagging the beauty and wellness brand Alo Wellness.
Another time she appeared to ditch the cosmetics? In June 2021 when she took another sunny trip to the beach. That time, she seemingly forgot her bikini top as she covered her bare chest with her hands in a sultry Instagram snap, but we barely even noticed. We were looking at her flawless skin as she crouched down by the sand in heels to prove she can nail even the most vulnerable of photo shoots without makeup. Gorgeous!
Irina Shayk loves a no makeup look
So now we know Irina Shayk isn't afraid to go makeup-free (and who could blame her looking like that?) it's no shock to learn that even when she does opt for a few cosmetics she likes to keep things pretty fresh and natural looking. The supermodel revealed her makeup secrets to Vogue in September 2020 when she took us through her beauty routine. "I love makeup, but I think you should wear [the makeup]. Makeup should not be wearing you," she shared at the time, also revealing that when she's ready to go all out for a glam nighttime look she loves to opt for a bold red lip.
Shayk doubled down on her desire to keep things simple while chatting with Vogue France in April 2019, telling the outlet that she opts for a dialed back routine when it comes to her daytime look. She explained she ditches the foundation but uses a small amount of concealer (well, she does have perfect skin already!) admitting, "You don't have to use lot of makeup to create a look." She also dished on how she manages to keep her skin glowing and blemish free, telling the outlet, "It's very simple. I wash my face twice a day, with water in the morning and face wash at night" while she also highlighted the importance of powder sunscreen. Excuse us while we stock up so we can get that Shayk glow too...