Inside Britney Spears And Katy Perry's Complicated Relationship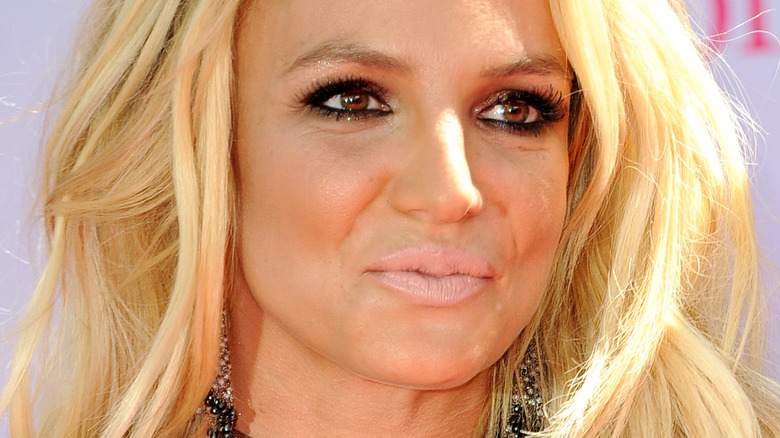 Tinseltown/Shutterstock
Britney Spears and Katy Perry are both among the most well-renowned artists of their era; Spears has come to be known as the "Queen of Pop" since she made her big break in the late '90s with her smash hit "...Baby One More Time." Since then, she has been nominated for eight Grammy Awards, dozens of MTV Video Music Awards, and even became the youngest person in the recording industry to be awarded a star on the Hollywood Walk of Fame in 2003 at the age of 21. She also became the best selling teenage artist of all time around the same time, according to Guinness World Records. 
Perry, on the other hand, has also been referred to as the "Pop Princess," and has been honored with a number of prestigious music awards over her career, as well. And, despite coming onto the scene a little later than Spears, her popularity is nothing to scoff at. In 2013, she received her own Guinness World Record for the highest number of Twitter followers of all time. (That record has since been surpassed by pop star Justin Bieber and former President Barack Obama.) Given the huge platform held by these two icons of American pop, fans might be curious to know whether they have ever interacted themselves. And as it turns out, the reality of the two stars' relationship is rather complicated. 
Katy Perry and Britney Spears first met in 2013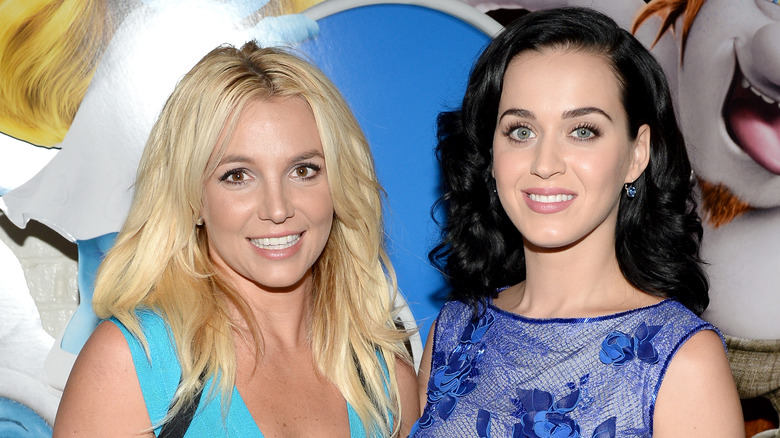 Michael Buckner/Getty Images
Britney Spears and Katy Perry's relationship seemingly began in 2013 during production for Spears' song "Ooh La La" as part of the soundtrack for the 2013 film, "The Smurfs 2." Though she was not credited, Perry told E! News at the time that she provided some background vocals for the song. She added of meeting the pop superstar for the first time, "I can't wait to meet her." 
According to ABC News, Perry appeared to be quite excited upon her first encounter with Spears, tweeting, "OMG!!!!! I CAN'T IM CRYING." Spears seemed to return the affection, tweeting shortly thereafter, "So great to see you Smurfette [Katy Perry]! Can't wait for our Vegas date..." 
For the next few years, Spears and Perry appeared to be on relatively good terms. In 2014, Perry responded to a video of Spears doing a humorous Woody Woodpecker impression, writing, "This is the best thing I've seen all day bb." Spears responded to Perry in kind, telling her, "You're up next. #Noexcuses. You have 24 hours to do your best impression." Perry responded by saying that she would give "my best impression on the red carpet at the [Video Music Awards] tomorrow... Wait for it bb." As it turned out, Perry did indeed pay homage to the pop icon, wearing a denim outfit that matched Spears' own at the 2001 American Music Awards. It was after this that things began to get a bit complicated. 
Katy Perry made fun of Britney Spears' breakdown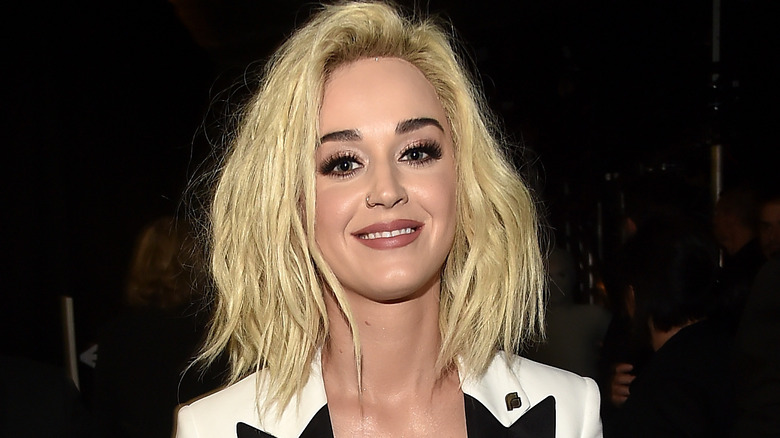 Alberto E. Rodriguez/Getty Images
Britney Spears and Katy Perry's relationship became a bit complicated in February 2015, when Perry, apparently out of nowhere, tweeted, "*SHAVES HEAD OVER DRESS*" in obvious reference to Spears shaving her head in early 2007. In a 2016 radio interview, she made a similar joke, saying, "Being number one and being hot is a lot to live up to. I'm gonna shave my head next year. I can't handle the pressure, beating up your car with an umbrella." 
Perry continued to joke about Spears' 2007 mental breakdown at the 2017 Grammy Awards, where she even mentioned that taking a break from performing was a way of "taking care of your mental health." Perry's apparent inability to refrain from making fun of Spears caused quite a bit of backlash from fans, with the hashtag #KatyPerryIsOverParty" trending on Twitter the following day. In an apparent response to Perry's comments the following day, Spears only tweeted a Bible verse reading, "Her mouth speaks from that which fills her heart." 
Perry, for her part, never directly apologized for the insensitive comments, but did tell The Guardian in 2020 that, "I have used [humor] as a mechanism for coping and for my own fear, and have said things that have been sloppy or insensitive." Clearly, fans have no doubt of that. It remains to be seen whether her apparent sloppiness is a dealbreaker for her complicated friendships.