Did Tiger Woods Just Walk Away From A Massive Paycheck?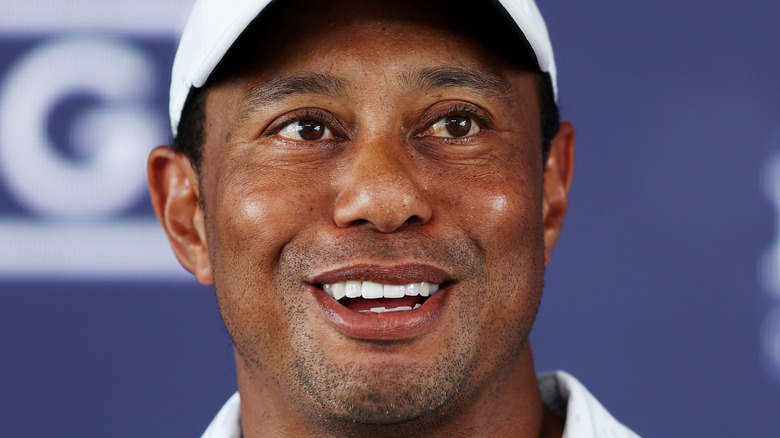 Richard Heathcote/Getty Images
It isn't a stretch to say that Tiger Woods is one of the most celebrated athletes of all time. He's tied for most wins in the PGA Tour, had video games named after him, and is one of the few golfers known by people who don't pay attention to the sport (even if it's more for his off-the-course behavior). In a true testament to his abilities, at one point golf organizers were attempting to "Tiger-proof" courses such as Augusta National to make tournaments harder for Woods and give his competition a better chance. Needless to say, it didn't work against the GOAT.
Over the past decade, Woods has faced several injuries, including a widely-publicized car accident. During his recovery, he didn't have the most optimistic view about recapturing his former glory. In 2021, he told Golf Digest, "I think something that is realistic is playing the tour one day — never full time, ever again — but pick and choose [...] Pick and choose a few events a year." The golf legend continued, "It's an unfortunate reality, but it's my reality. And I understand it, and I accept it."
Woods returned to the field in April for the Masters Tournament, coming in 47th place, and recently pulled out of the U.S. Open. That said, he's still recognized as one of the most prolific golfers alive. Just this year, he turned down an exorbitant amount of money for a new venture that would surely reinvigorate things for him, but not without some controversy.
Tiger Woods turned down hundreds of millions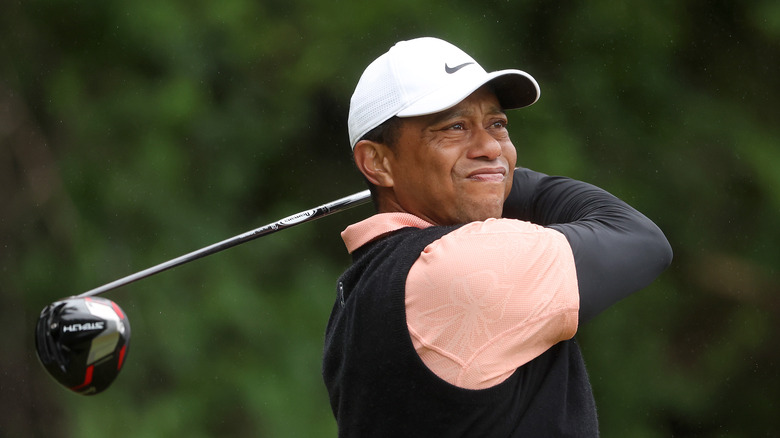 Christian Petersen/Getty Images
Even as a part-time player, Tiger Woods is in more demand than ever. After all, no matter how he performs, he doesn't just stop being Tiger Woods. Despite his accident, he was recently approached about a deal to join LIV Golf, an upcoming pro golf league financed by Saudi Arabia. Another former golf legend, Greg Norman of Australia, is the company's CEO. The PGA Tour has mostly gone unrivaled throughout its tenure, and the new league poses a threat; Norman has approached several legendary players to leave PGA and sign with LIV, including Woods.
In an exclusive interview with the Washington Post, Norman revealed a ballpark (or golf-course) estimate of how much he offered Woods to put down his PGA club and join the new Saudi-backed league, sharing, "Mind-blowingly enormous ... We're talking about high nine digits." Woods hasn't publicly commented on LIV Golf yet, but it's safe to say his loyalties are to the PGA Tour, where he's been a member for the entirety of his professional career.
Some have deemed the new golf league a case of sportswashing, when a country uses involvement in sports to distract from its more unsavory aspects. Saudi Arabia is not exactly known for its equitable human rights, and Norman himself has struggled to answer for doing business with them. In fact, his best defense was, "We've all made mistakes," when the Washington Post's own Jamal Khashoggi was assassinated on a 2018 trip to the Saudi consulate in Istanbul.
Some of Woods' peers are accepting offers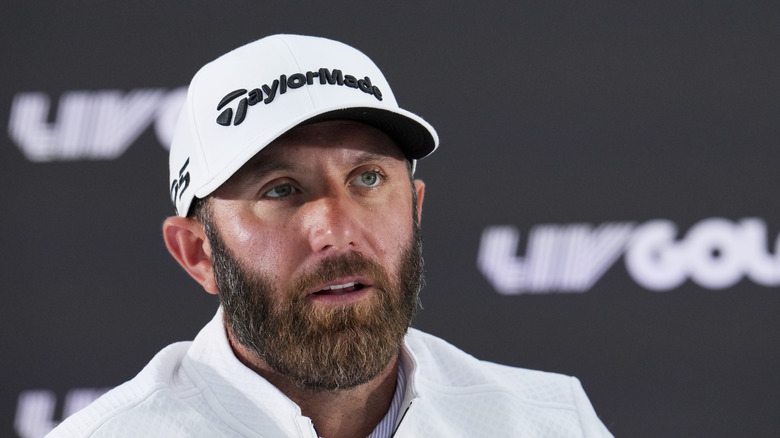 Aitor Alcalde/liv Golf/Getty Images
Despite the controversy, some pro golfers are welcoming LIV with open arms. Dustin Johnson accepted a deal to leave the PGA for the new Saudi league, garnering plenty of backlash. In a press conference on the morning of Tuesday, June 7, a reporter asked Johnson (per the New York Post), "There are plenty of people on social media and even here who said you chose money over country. What would be your reply to that?"
Johnson defended his decision, saying, "I chose what's best for me and my family." He has two children with Paulina Gretzky, the daughter of Canadian hockey legend Wayne Gretzky, and his own deal with LIV is worth $125 million. Other players joining LIV include Kevin Na and Phil Mickelson, with the latter receiving $200 million.
In contrast, people are praising Tiger Woods for rejecting the deal. One Twitter user argued, "Few things test moral character like money. For all of Tiger Woods' flaws, the fact he turned down a near BILLION dollars just to sign on says a lot." While Woods hasn't publicly explained his reasoning, joining LIV could be seen as selling out. The PGA Tour has nearly a century of history behind it, and has no public connections to the Saudi government. Besides, Woods has a net worth of $800 million already, most of it coming from his endorsement deals. He doesn't need to join a new league at this stage, especially one that could tarnish his legacy.