Snoop Dogg's Law And Order: SVU Appearance You Might Have Missed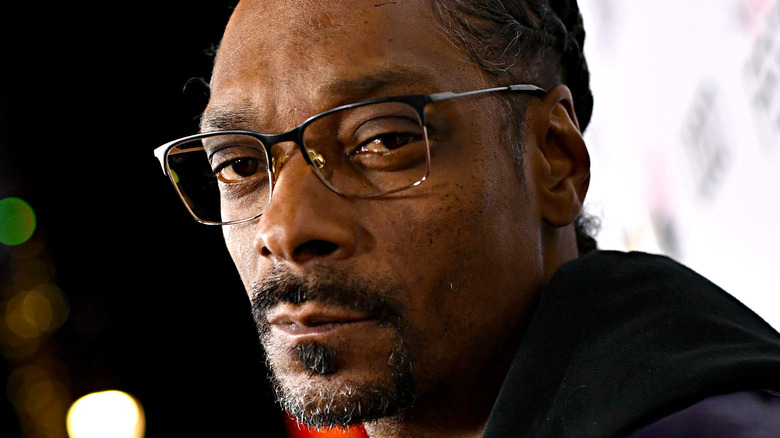 Emma Mcintyre/Getty Images
If there's anything you should know about Snoop Dogg, it's that he's a multi-hyphenate. He may be primarily known as a rapper, but he has managed to establish himself in a lot of places, including the acting industry, cannabis industry, crypto space, and even the food industry.
In January, it was reported that the hip-hop legend was planning on putting up a hot dog business, years after swearing he would never eat one again. Billboard noted that the star applied for a trademark registration on "Snoop Doggs," which he will apparently use to sell branded hot dogs and sausages. He also runs a successful beverage business, a cannabis investment fund, and is rapidly growing a crypto empire.
Snoop Dogg continues to prove that he's more than just your average rapper, and as it turns out, he has dabbled in acting, too. He had been already credited in a lot of titles over the years thanks to cameos, but in 2019, the hip-hop icon impressed audiences with a guest appearance on "Law & Order: Special Victims Unit."
Snoop Dogg starred in a 2019 episode of Law & Order: SVU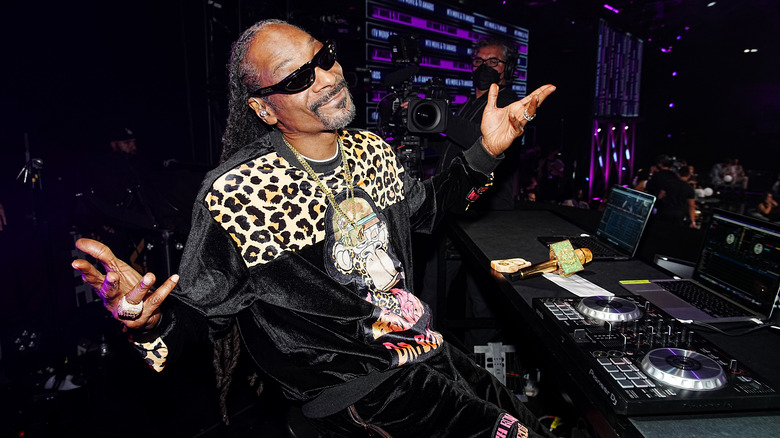 Jeff Kravitz/Getty Images
Who would have thought that Snoop Dogg had hidden acting chops?
In an episode of "Law & Order: Special Victims Unit" titled "Diss," Snoop Dogg played P.T. Banks, the rival of Orlando Jones' Justin "Snake Eye" Anderson. His character became a suspect in the assault of Snake Eye's wife, pop star Dallas Monroe, who was played by Amber Stevens West. Per Entertainment Weekly, he became a potential suspect when it was found out that he had beef with Snake Eye online. He got arrested by Olivia Benson herself, but eventually got cleared when he offered an alibi. 
While Snoop Dogg only had a small role, fans still praised him for his efforts, with some saying how impressed they were that he starred on the show. "Snoop Dogg was really fun on #SnoopVU #SVU," one fan said. "Snoop Dogg in SVU is actually such a good actor wtf????" another fan tweeted. Some fans even said that he never imagined Snoop Dogg to harbor such cinematic prowess. "snoop dogg on SVU is something else I'll tell ya what, a man of many talents," a fan shared. The best part is Snoop's involvement with "SVU" didn't end with this cameo. The show even got him to record his own version of the iconic opening monologue. 
The SVU cast loved Snoop Dogg
Snoop Dogg isn't a professional actor by any means, but the cast loved working with him, especially Mariska Hargitay. In an interview on "The Late Show with Stephen Colbert," the actor gushed about what it's like acting with the rapper.
"He's doing amazing things in the world and he's just Snoop, which is the coolest thing ever," Hargitay shared. "So, I'm doing this thing. I'm arresting him, I'm giving him the old one-two, as I like to say. And I think we're besties." She even attempted to make a joke to impress Snoop, but it came up short. "So, I had this idea on set. My friend, my co-star, came up with the idea [to rap], 'Double O-G in the 1 PP.'" During filming, Metro also reported how he maintained his professionalism on set. He appeared determined to do a great job while the cameras were rolling, but remained friendly and exchanged jokes with everyone in between takes.
The word is still out whether Snoop Dogg would take on more acting projects, but he has an idea of whom he wants to play him in a future biopic. "It would have to be someone who could win me over," he told AP Entertainment. "When I think of someone playing you, I think of how Jamie Foxx played Ray. That was, like, spot on," he added. "So I would have to find me a Jamie Foxx or someone that could actually become Snoop Dogg on screen and give me all of that element."