Matthew McConaughey's Work At The White House Earns Rave Reviews From Fans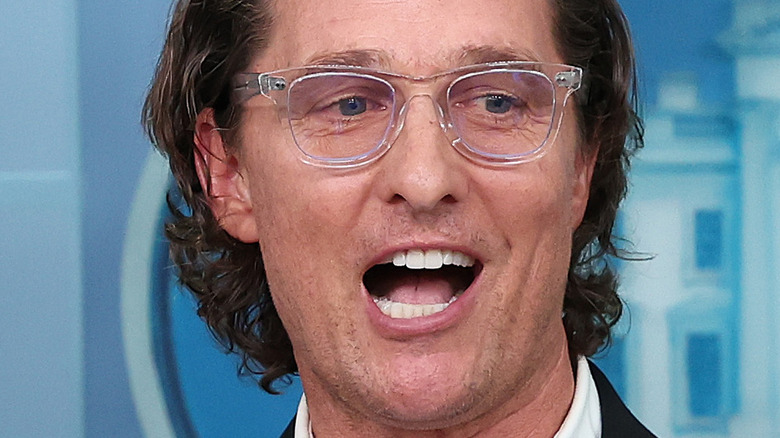 Win Mcnamee/Getty Images
Actor Matthew McConaughey is not afraid to speak his mind. Although the native Texan did not end up running for governor of his home state — as he hinted he might — in 2022, that does not mean he will shy away when it comes to politics. 
In light of the May 24 Robb Elementary School shooting in Uvalde, Texas, McConaughey has publicly come out in favor of gun control legislation pushed for by President Joe Biden, appearing at a White House press briefing to advocate for the issue on June 7. "We need responsible gun ownership," he declared, per HuffPost. "We need background checks. We need to raise the minimum age to purchase an AR-15 rifle to 21. We need a waiting period for those rifles. We need red flag laws and consequences for those who abuse them." 
Despite his strict religious upbringing in a solidly Republican part of the country, McConaughey's work should not be taken lightly. Not only does he have three young children, aged 13, 12, and 9, but he was born and raised in Uvalde himself; in fact, his mother, according to People, taught at a school only about a mile away from the site of the massacre. It is no surprise then, that McConaughey's work with the White House has already earned rave reviews from fans, who are not typically predisposed to seeing him discuss serious issues like this. 
Matthew McConaughey calls for common sense gun laws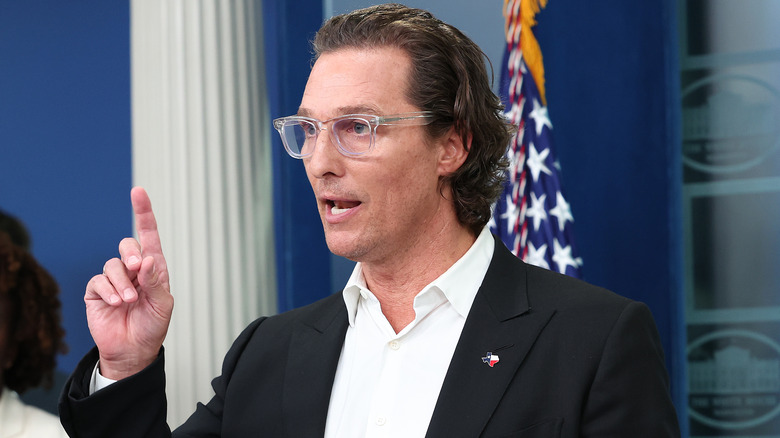 Win Mcnamee/Getty Images
During an impassioned 20-minute speech at the White House press briefing on June 7, Matthew McConaughey called for what he described as "common sense gun laws" meant to protect children and adults in the United States from gun violence. He said that people are "fed up with the Second Amendment being abused and hijacked by some deranged individual," per Reuters, and got emotional multiple times while discussing the tragedy in his hometown. The shooting last month killed 21 people, including 19 children, according to The New York Times. 
On June 8, Matthew McConaughey's name began trending on Twitter, boosting President Joe Biden's efforts to raise awareness and pressure on lawmakers to pass gun control measures. Republican Representative Adam Kinzinger tweeted, "Couldn't agree more ... Thank you [Matthew McConaughey] for giving a voice to the voiceless. Gun owners like yourself are the best advocates for action on gun responsibility."
Among the positive reviews were many from the public, with one user writing, "Matthew McConaughey spoke for millions of Americans today. As a parent of three young children, I couldn't agree with him more." Another fan slammed Republican lawmakers for their inaction, writing, "I don't care how Matthew McConaughey votes. He did more today for those innocent children than the entire Republican Party has done in two weeks." In the end, however, McConaughey is not a lawmaker, and fans can only hope that with this continued pressure and publicity, action will soon be taken.