Todd Chrisley's Daughter Lindsie Takes To Social Media After Trial Verdict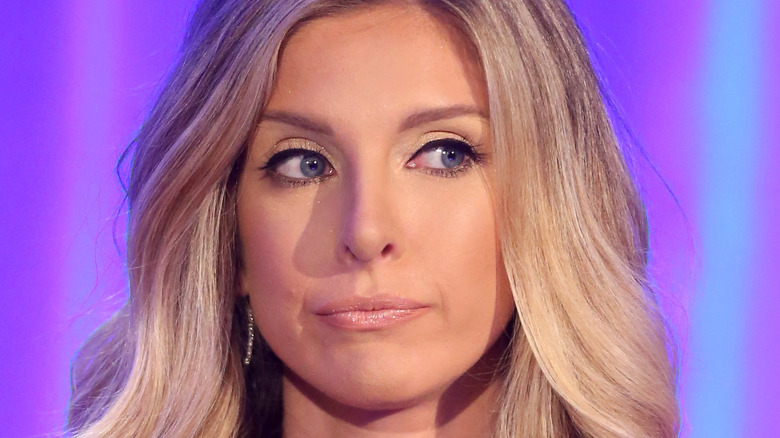 Frederick M. Brown/Getty Images
Todd and Julie Chrisley's reality careers are in jeopardy, and one member of the family who hasn't appeared on their show in years, Todd's oldest child, Lindsie Chrisley, isn't remaining silent in the wake of their guilty verdict.
According to ABC News, a federal jury in Atlanta found Todd and Julie guilty of a litany of charges, including tax evasion, wire fraud, and bank fraud. The "Chrisley Knows Best" stars were accused of committing the financial crimes to fund the lavish lifestyle that they flaunted on their USA Network reality series. Lindsie, whose mother is Todd's first wife, Teresa Terry, appeared on five seasons of the show and was often shown putting up with her dad's zany antics, like being presented with a globular cake to celebrate her breast augmentation surgery. Todd paid for the pricey procedure, per the Daily Mail.
Lindsie left "Chrisley Knows Best" in 2017, with Todd alleging to Entertainment Tonight that she had complained about not getting enough screen time. He also claimed that Lindsie was jealous of her half-sister, Savannah Chrisley, being more popular on social media. However, in a 2019 appearance on "Dr. Phil," Lindsie said that her departure was due to an unfilmed incident involving Julie. "I felt like the environment was volatile, and I didn't want to be around it," she said. However, Lindsie was forced to become part of her family's circus again when she testified in Todd and Julie's trial, and now she's seeking solace in her faith.
Lindsie Chrisley desires protection
After her father and stepmother were found guilty of fraud, Lindsie Chrisley took to Instagram to show her followers that she's been reading her Bible. In a photo on her Story, she had the book turned to a page with a Psalm verse underlined. It read in part (per In Touch), "Do not let me be put to shame, nor let my enemies triumph over me." Lindsie had also written, "Asking God for protection & peace." Another note in the margin read, "The devil knows exactly when to pounce," and at the top of the page, she had scrawled, "Don't magnify someone else's problems while minimizing yours."
Lindsie's feud with Todd has been extremely contentious; in 2019, she accused her father of using a sex tape to blackmail her into lying when she was called to testify in the trial, per TMZ. It was speculated that Todd's daughter played a role in the investigation into his finances, but Lindsie's attorney denied this in a statement shared by USA Today. 
During her trial testimony, Lindsie walked back the sex tape claim, per Insider, seemingly saving her vitriol for Mark Braddock, Todd's business partner who allegedly reported the Chrisleys to the FBI. Todd and Julie are each facing a potential 30-year prison sentence, per The New York Times. "The verdict is not what I hoped or prayed for, and I am deeply saddened for myself, my son and my family as whole," Lindsie wrote on her Instagram Story.