The Teen Movie You Forgot Chicago P.D.'s Patrick Flueger Is In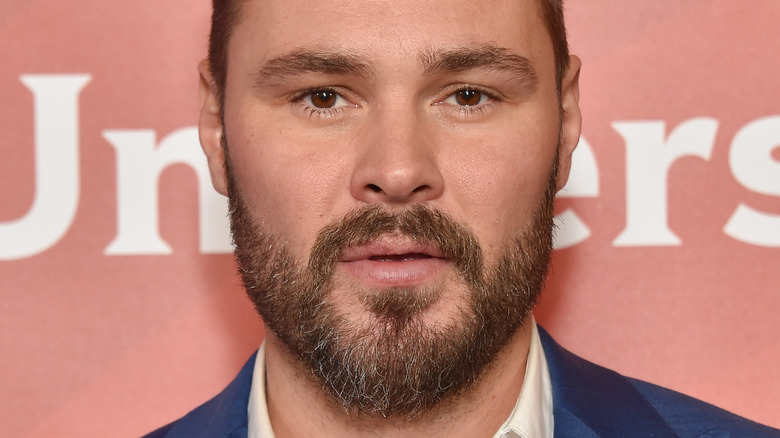 DFree/Shutterstock
Patrick Flueger may be best known for his role on "Chicago P.D." but we've seen him before, and chances are, one of his earlier roles made a major mark on many of us, years back.
Audiences just can't get enough of "Chicago P.D." in part because of the tumultuous relationship between Flueger's character, Adam Ruzek, and Marina Squerciati. After all, the actor once quipped to Us Weekly that their unconventional and constantly shifting dynamic was almost a novelty. "I don't think you see relationships like this on TV all the time," he acknowledged.
However, we have a hunch that somewhere, deep in our communal subconscious, there's another reason why fans are so drawn to Flueger and his presence in the "One Chicago" franchise. And no — it's not because he starred in the 2011 remake of "Footloose." As the actor chuckled to ClevverTV at the film's premiere, "I ... play Chuck Cranston. I'm the bad guy, essentially." So, if it's not "Footloose," where might we be remembering the TV detective from? Well, here's a hint: Once upon a time, Flueger was rocking a very different, very bright hairdo.
A red-headed Flueger kept us in stitches in The Princess Diaries
While Patrick Flueger plays the brunette Detective Adam Ruzek on "Chicago P.D." a little over 20 years ago, he was a redhead – and in "The Princess Diaries."
Flueger played Jeremiah Hart in the 2001 smash hit. As a refresher for the few who haven't had routine re-viewings of the film in the years since, Hart was one of the goofier characters in the film that ultimately propelled Anne Hathaway to superstardom. Still not ringing a bell? He's the one who prompted the iconic line from Heather Matarazzo's Lilly Moscovitz when Princess Mia failed to show up to her cable show, "Shut Up And Listen." The line? "Thank you, Jeremiah, for your potpourri of prestidigitation for the past hour" (via ET).
It's worth noting that Heather Matarazzo has since gone on to recreate her character's cable show in real life, in podcast form. However, as MTV noted shortly after the podcast was announced, Flueger hadn't been invited back to expand on those "prestidigitations." Perhaps Matarazzo was left too exhausted by the hour-long magic show to try it again, even two decades down the line. That said, it may have been down to a schedule clash. After all, having joined the cast of "Chicago P.D." in 2013, he's been one busy actor!
... but initially, his character didn't even exist
It's tough to imagine "The Princess Diaries" without Jeremiah Hart, but in 2007, Patrick Flueger himself revealed that initially, the character didn't exist.
Speaking to BuddyTV, Flueger shared that he'd initially auditioned for "the main guy role" — a part that ultimately went to Robert Schwartzman. However, not all was lost when he didn't get that part. Quite the contrary, after meeting the film's director, the late Gary Marshall. "I'd like to think that some of [my] talent was a part of the reason, but a huge part of the reason was definitely [that] I stood out from the crowd with that bright red hair," he joked. As for why he'd picked that particular hue, Flueger explained that he did it for his band. "I used to dye my hair a different color every time we'd play, and it happened to be nuclear red at the time."
Whether it was the hair, the talent, or his personality, Marshall warmed to the actor. "Gary Marshall was nice enough to write me in a role," Flueger said. Given the big things Flueger has gone on to do, we think this is an appropriate time to say the rest is history.