Inside Emilia Clarke's Relationship With Seth MacFarlane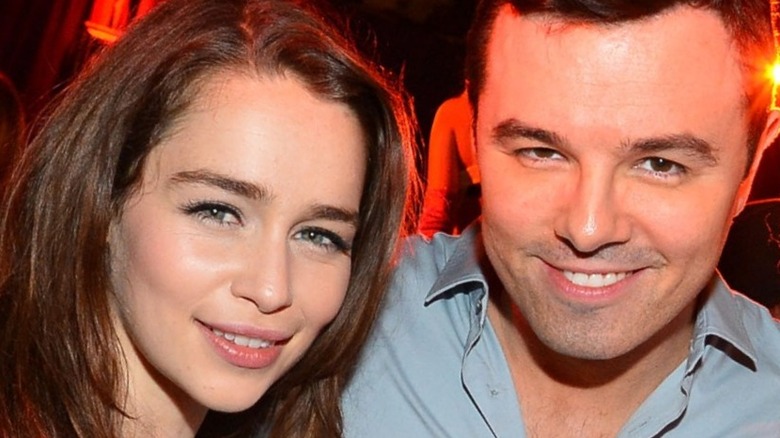 Frazer Harrison/Getty Images
Seth MacFarlane and Emilia Clarke are nothing short of two giants in the entertainment world. In 1999, MacFarlane created the long-running adult cartoon "Family Guy," and has been serving as its lead voice actor and executive producer ever since. He has also written, directed, and starred in a number of feature films, including "Ted," its sequel "Ted 2," and "A Million Ways to Die in the West." 
A talented singer, MacFarlane has even released a number of personal albums. For his work in the entertainment industry, MacFarlane has received numerous accolades. This includes dozens of Primetime Emmy nominations (including five wins), five Grammy nominations for both his personal work and work on "Family Guy," and even an Oscar nod for Best Original Song, honoring a musical number from "Ted" he wrote the lyrics for. 
Clarke, for her part, skyrocketed to fame as a lead in HBO's "Game of Thrones," in which she starred as "Mother of Dragons" Daenerys Targaryen from 2011 to 2019. For this, she was nominated for a plethora of awards herself, including four Emmy nominations. However, what many fans of Clarke and MacFarlane may not know is that, despite their very different backgrounds and roles in Hollywood, the two talented actors were actually in a relationship for a time.
Emilia Clarke had awkward interactions with fans while dating Seth MacFarlane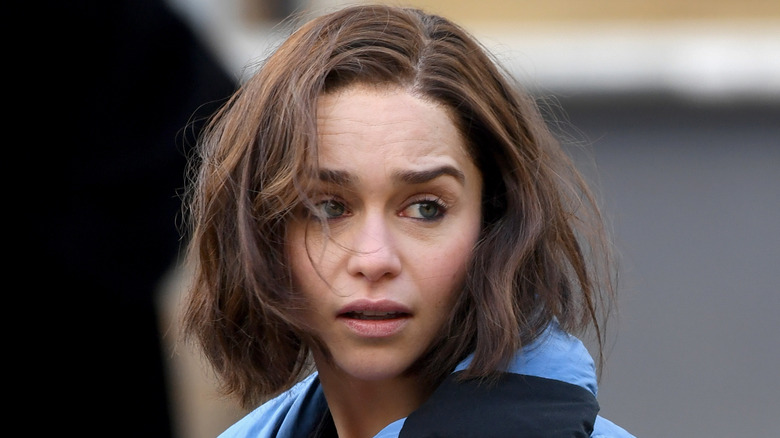 Gerard Binks/Getty Images
Although it was reported by Us Weekly back in 2012 that Seth MacFarlane and Emilia Clarke were dating, neither of the two actors made much of a big deal about it before their breakup less than a year later in 2013. In fact, their relationship only lasted around six months, according to the Daily Mail. However, in the years since, Clarke has not been shy about sharing the details of their brief fling.
Clarke opened up to Glamour in 2016 and spoke out about what it was like dating an A-list celebrity. "You have strangers giving you love-life advice," she revealed, providing an example of a man coming up to MacFarlane and her in public and saying, "I'm a big fan of the show, and I'm not sure what you're doing with that guy," which she said she did not respond well to. She went on, "This guy started to give me advice: 'Can I get a selfie? And by the way...' Unh-unh, bro."
Emilia Clarke and Seth MacFarlane's relationship ended because of long-distance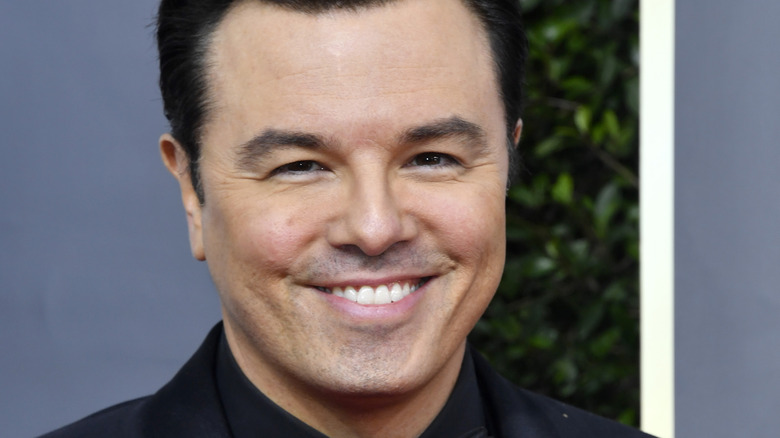 Frazer Harrison/Getty Images
According to a source close to Seth MacFarlane and Emilia Clarke, it appears as though their relationship ended because they could not make a long-distance connection work. "It was really a location challenge, the source told E! News in 2013. "It was hard to make it work despite the distance." This was largely because she was shooting "Game of Thrones" in Europe, while he was based on California. However, the source added that the two had "remained friends." Whether they are still friends today is unknown. 
Despite the fact that the two seemed to get along well as a couple, it appears as though their relationship ending was for the best. MacFarlane, who turned 48 in 2021, is a lifelong bachelor and hasn't expressed much desire to settle down, get married, or have children. Clarke, on the other hand, has all but said she wants as large a traditional family as possible. 
"Personally, I'd like as many children as I can pop out, I reckon," Clarke told Marie Claire, per E! Online, in 2014, only a year after her breakup with MacFarlane. "You come from a happy family; you want to create a happy family." Whether or not this difference in life goals played a role in their breakup is not known, but it seems safe to say that in the end, the two talented entertainers were simply not meant to be.