Kourtney Kardashain Is Not Happy With The Kardashians' Production Team
Kourtney Kardashian and Travis Barker are thrice-married after having their dream wedding in Portofino, Italy. Page Six revealed that after their quick Vegas wedding and an intimate legal ceremony in Santa Barbara, the couple pulled out all the stops for their extravagant European celebration. The nuptials were several days long, with family and friends joining in as the eldest Kardashian sister finally tied the knot. 
However, Kardashian took to Instagram to reveal that Kravis' Italian wedding was only the pinnacle of their celebration of love for each other. She shared some of their joint bachelor and bachelorette party photos. In her caption, she noted that they had "Romeo and Juliet vibes for the Bach" and added a heart and a skull emoji. Their Goth-inspired theme was moody and evocative, with the first snap showing the couple wearing black outfits. Kardashian also wore crucifix necklaces and a small, sheer black veil. A video showed a table with an elaborate setup including red flowers, gold-plated angels, and candelabras. They even had a dark red heart-shaped "Kravis 4Ever" cake for the feast.
The newlyweds may have skipped the fanfare before their Vegas "I dos," but they certainly have made up for it in the months since then. And since Kardashian herself is floating after her romantic Italian wedding, she seemingly expects everyone around her to be happy for her too.
Kourtney Kardashian wanted to be able to celebrate her 'moment'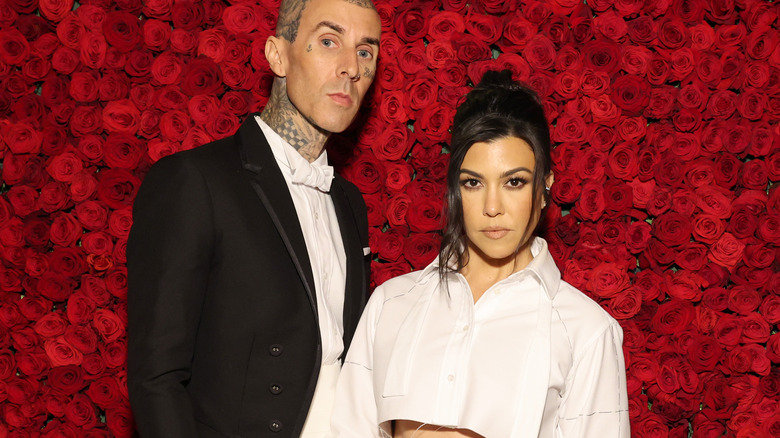 Cindy Ord/mg22/Getty Images
The new Hulu series "The Kardashians" has been documenting the lives of one of the most famous families on the planet. It has also provided a behind-the-scenes glimpse of Kourtney Kardashian and Travis Barker's relationship. But, that doesn't mean the eldest Kardashian sister likes the way that they are being portrayed. She blasted the Hulu producers on a recent episode for not focusing on her "fairytale love story" and engagement to Barker.
Instead, Kardashian felt that the producers were highlighting Scott Disick's narrative of him and their kids not being invited to the celebration. After seeing the cut of Disick's response to being excluded from the engagement party, she was livid. Kardashian ranted (via Page Six), "That night I wasn't like, 'God, everyone's such f**king a** for bringing up this,' because it wasn't a part of the night. It was like two seconds of the night." She continued, "I didn't even remember it until I saw the cut of the episode. I wish they would take that out, put it in the next episode and give us our respect. Let us have our moment."
In the meantime, Disick's love life seems to be falling apart. Us Weekly reported that the father-of-three and Rebecca Donaldson have parted ways. Apparently, they were only "casually dating" and their relationship was "never serious to begin with." Perhaps, Kardashian can sprinkle some magic love dust Disick's way, so that they both can get their happy ending.