The Real Reason Salma Hayek Rejected Her Husband's Proposal Twice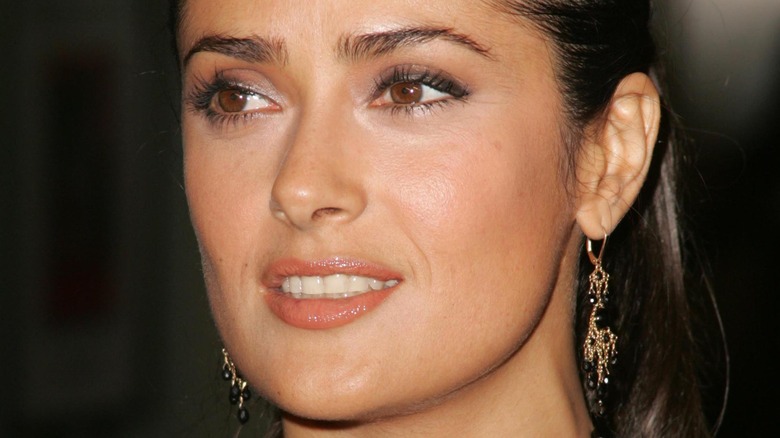 s_bukley/Shutterstock
Salma Hayek and Francois-Henri Pinault may be happily married and proud parents to daughter Valentina now, but did you know that the latter actually had to ask the former a whopping three times to marry her before she actually said yes? Being turned down once is one thing, but being turned down twice and still asking again is pretty darn crazy!
Of course, the two eventually tied the knot in a lavish and romantic ceremony on Valentine's Day 2009 in Paris, with French outlet Le Point (which is owned by the Pinaults) confirming the big news. The big day came just under two years after the two announced their engagement in a statement while also confirming some other huge news at the same time. "Businessman, François-Henri Pinault, and his fiancée, Salma Hayek, are happy to announce they are expecting the arrival of their first child," the statement read (via People).
But why exactly did it take so long for Hayek to finally agree to walk down the aisle with her beloved?
Salma Hayek was scared of marriage
It turns out that Salma Hayek has a pretty valid reason for turning down two of Francois-Henri Pinault's three proposals — she was terrified! The star opened up about Pinault's long wait to see her walk down the aisle in 2015, telling Entertainment Times, "You must overcome fear to feel free and discover your strengths. I used to have a phobia of snakes and you can see me dancing with my biggest fear in 'From Dusk Till Dawn'. I was also afraid of the dark. And of marriage. And here I am, married." She then admitted she felt pretty embarrassed by how many times her now husband had to ask for her hand in marriage, adding, "That was the biggest fear I've ever overcome."
But it seems like it was most certainly worth overcoming her fear, as the couple celebrated their 13th wedding anniversary on Valentine's Day 2022 — quite the feat! Hayek has also been vocal about what's helped to make their marriage last (even if she won't reveal how she met Pinault), sharing exactly why they work so well together. "When there is conflict, we put all the energy in solving the problem. Never finding who to blame or, 'You should have done this or that.' No. All our energy goes into, 'How do we solve this?'" she revealed on Jada Pinkett Smith's "Red Table Talk" in 2021. "We've never said anything nasty to each other. No resentment."
Salma Hayek married Francois-Henri Pinault twice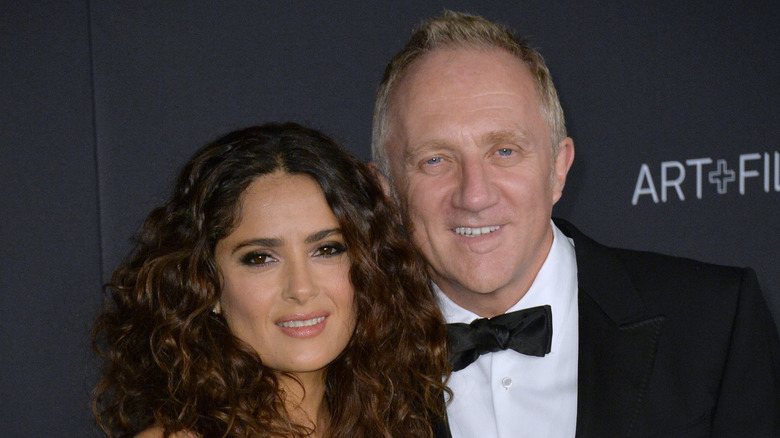 Featureflash Photo Agency/Shutterstock
It seems like Francois-Henri Pinault very much helped melt away Salma Hayek's marriage fears and all those attempts at proposing were worth it, as not only did Hayek marry him once but she actually did it twice! In 2009, the couple had a second wedding in Italy and didn't hold back, inviting more than 150 guests to a whole weekend long celebration that even included a masked ball, per People. How fancy!
That's not all, though. In 2018, they thenrenewed their vows when Pinault surprised his love with a ceremony in tropical Bora Bora. Hayek — who has been forced to deny she married her businessman husband for money — shared some snaps from their third big day on Instagram and joked in the caption she wasn't exactly prepared to head down the aisle to her husband for a third time. "The summer is coming to an end and my best moment was when my husband surprised me with a vow renewal," she captioned the series of photos, which showed the happy couple and their nearest and dearest celebrating at the beach. "It was not what I would have chosen to wear to my wedding but I was told I was going to the spa!" she added. It's a good thing Hayek is already such a natural beauty who looks gorgeous in everything she wears!