Inside Awkwafina's Tragic Loss At Age 4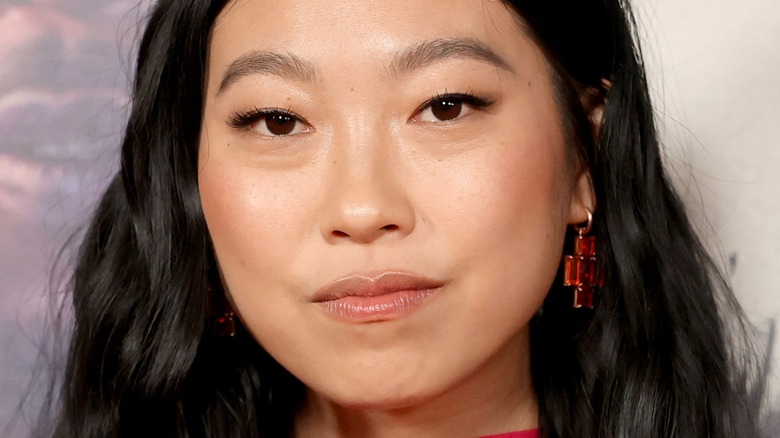 Emma Mcintyre/Getty Images
Awkwafina's career didn't start like most people in Hollywood. Before she became a renowned comedian and actor, she was first a musician — a trumpet player, to be specific.
The "Ocean's 8" star, whose real name is Nora Lum, was first drawn to playing the drums, but all the spots in the band were taken, leading her to play the trumpet. "My relationship with the trumpet was really the start of things, a way that, like, I could command my own destiny," she told The Hollywood Reporter. "The trumpet was extremely a self-guided journey for me and one that tested my creative abilities, that tested my discipline." Awkwafina then tried her luck at auditioning for the arts school LaGuardia High and, at the time, she didn't think she would make it because she thought she botched her audition. "All these trumpet players were going in before me and they were playing classical ballads. I went in and played a Beatles song, 'I Want to Hold Your Hand,' and I remember thinking, 'There is no way I'm going to make it in this school by playing a Beatles song.'" She did get in and found a love for music production during her time there.
She went on to pursue journalism and women's studies at university, but admitted that it was not her first choice. "I knew I didn't have the correct passion for it, but I loved writing and I loved like learning about new stuff," she added. Her passion, as we know, lies in performing, and according to the star, a certain tragedy during her childhood served as her fuel to make it big.
Awkwafina lost her mother at a young age
Amy Sussman/Getty Images
Awkwafina can trace her comedic roots back to when she lost her mother. In an interview with The Guardian from 2018, she revealed that her mother had been diagnosed with pulmonary hypertension after Awkwafina was born and then died when she was 4 years old. At the time, Awkwafina said she didn't like when adults around her expressed sadness.
"It was a very slow illness and she lived for four more years. I remember her, but I remember mostly when she passed... Obviously it was a very tragic situation, but I felt odd and uncomfortable when adults cried to me," she recalled. "One of the first emotions I ever felt was embarrassment. So I started trying to make them laugh." Speaking with People, she also said that she felt the urge to lighten people's moods. "I needed people to feel joy. That's [how] all this began. I was the class clown all the way."
To this day, she wonders if she would have be able to achieve all the things she did if her mom hadn't died. "I think all the time, what would I have been doing if my mom hadn't passed?" the comedian added. "I don't think I'd be here, because I think that I had to face a certain level of trauma to be so joyously self-deprecating and so free."
Awkwafina learned to turn tragedy into laughter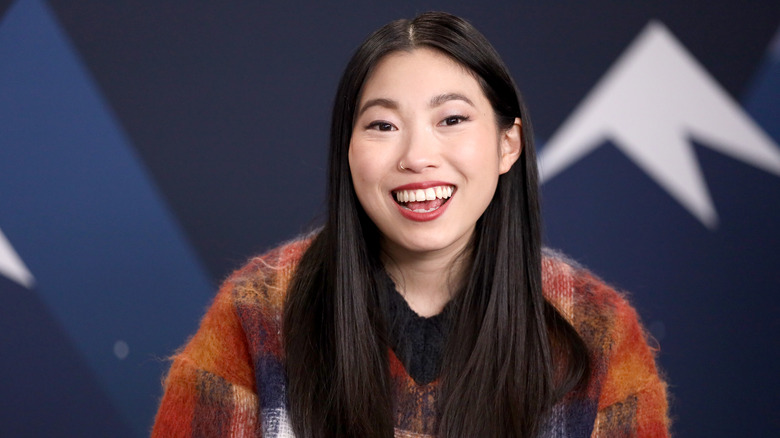 Rich Polk/Getty Images
Awkwafina has long accepted that tragedy is a part of life, but she eventually learned to translate that into humor and creativity. As an only child, she confessed to being "super lonely growing up," but it also made her resourceful. "I used to bring people into my house and say that there was a hole in my closet that would lead to, like, another world," she told The Hollywood Reporter. "It just made stupid things like that seem a lot more viable. I think it really did allow you to become crazily creative in your own room, like, freaking out your friends."
And even though it's unfortunate that she lost her mom so early on in her life, Awkwafina believes that her death was a pivotal moment in her career — and life in general. "Her passing has shaped who I am in every way. Nobody knew what to say to a young kid who has experienced that kind of a loss, so all I wanted to do was make people laugh," she wrote in an essay for InStyle in 2021. "In some odd way, it put me on this career track of comedy."
She continues to do the same to this day, especially during the times when she doesn't want to appear weak. "In my normal life, I like to keep things light. When my mother passed, that was how I dealt with it: 'I don't want you to cry right now I don't want to be someone you feel bad for,'" she told the Los Angeles Times. "So I carry that with me into my adult life to prevent myself from being vulnerable."