James Corden Is Going To Make A Huge Move When The Late Late Show Ends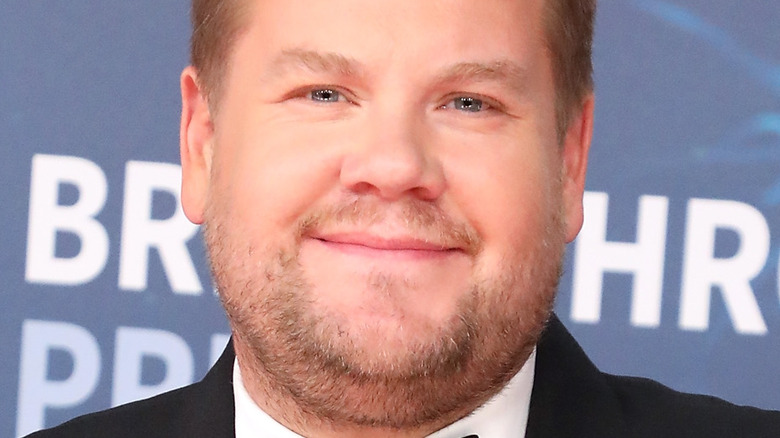 Taylor Hill/Getty Images
During his time as host of "The Late Late Show," James Corden has made a name for himself among the greats thanks to standout segments like Carpool Karaoke. Corden's favorite Carpool Karaoke guest was Paul McCartney, as he and his wife Julia Carey are huge Beatles fans. In fact, the family man and his wife named their firstborn Max McCartney Corden, per Closer Weekly. The British host and his wife share three kids: Max, 11; daughter Carey, 7; and youngest daughter Charlotte, 4. During a pandemic interview on "The Ellen DeGeneres Show," Corden proved he was like most parents during the lockdown. Corden said, "It's hard to know who's being homeschooled — whether it's me or my son. I find myself going, 'Wow, I did not know that.'" The British comedian joked, "I find myself — and this is deeply irresponsible — going ... 'You don't need to know this. Do you know what? It's recess. Daddy needs a drink.'"
Yet, while Corden and Carey have called America home during his tenure, the comedian's heart belongs at home. In a 2019 interview with The U.K. Sun, Corden admitted, "We're a long way from home, my wife and I, and our children, and there are people at home that we miss deeply and we care about and they're getting older." But some were surprised by the news that Corden plans to make a big move after his show ends.
James Corden will move back to the United Kingdom
Kathy Hutchins/Shutterstock
Once James Corden leaves his gig on "The Late Late Show," he'll be leaving the country, too, as he plans to return to the United Kingdom. Variety reported the late-night host will move back across the pond to be closer to family. Ben Turner, a founding partner of Corden's production company, told Variety, "We're just really excited about having him back in the U.K., and all the stuff that entails, but it is a big moment for us." Corden announced that it would be his last year hosting the show in April. "When I started this journey, it was always going to be just that. It was going to be a journey, an adventure. I never saw it as my final destination, you know? And I never want this show to overstay its welcome in any way," Corden explained. The British actor and comedian told his audience it was "the hardest decision I've ever had to make."
A source close to Corden told The U.S. Sun it was a "joint decision from James and his wife, Jules." The insider explained, "James and Jules have had barely any time to see their families in the U.K. over the past few years due to his work schedule." Another source shared with the Sun, "The pandemic put everything into perspective, and basically he wanted his and Jules's parents to spend more time with their grandkids." The second source added that Corden "can't wait to watch West Ham. He's the biggest Irons fan out there."