The Real Story Behind Taylor Armstrong's Famous Cat Meme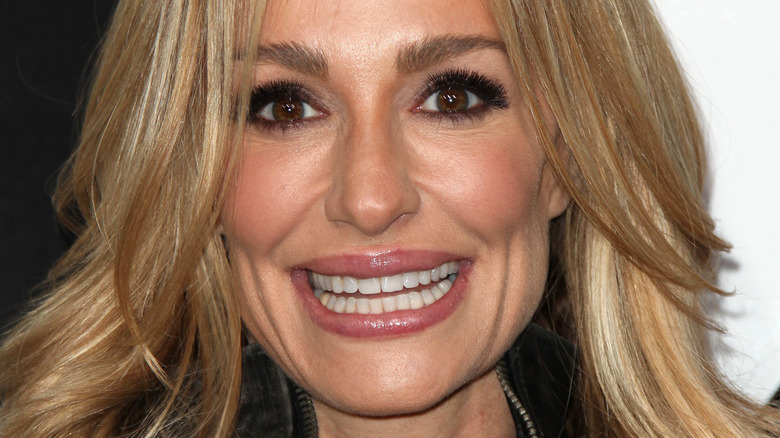 DFree/Shutterstock
Few memes have the kind of longevity as the side-by-side images of an emotional Taylor Armstrong and an equally incensed cat — but what's the real story behind the meme?
For those who aren't familiar (read: have lived under an impenetrable rock for the past three years), the now-infamous meme features two frames. The first is a still of a blond woman being comforted (or held back ... or both?) by a brunette friend. Visibly crying and pointing aggressively at someone outside of the frame, it's clear that the pictured woman has been upset. So, naturally, what better image to combine it with than that of a similarly enraged feline foe? Pictured seated at a table, behind a salad, the cat in question appears to be equally emotional, as though screaming at someone off-camera. Both images are solid meme material on their own. However, as The Daily Dish has pointed out, meme history was made when @MISSINGEGIRL combined the two images for the very first time in a 2019 Twitter post.
That said, as longtime "The Real Housewives of Beverly Hills" fans will be aware, the pictured blond woman is not just anyone, but former RHOBH star, Taylor Armstrong. As for the brunette friend, that's none other than show OG, Kyle Richards. While reality TV may be known for some outlandish moments, the cranky kitty was not present for Armstrong's screaming match. So, what really prompted the reality star's rage?
A wine tasting gone wrong
While the now-infamous catfight meme only began making the rounds in 2019, the still of Taylor Armstrong dates all the way back to a 2011 episode of "The Real Housewives of Beverly Hills."
Titled "Malibu Beach Party From Hell," the Season 2 episode saw the RHOBH cast visit Brandi Glanville's Malibu beach house for a wine tasting. The premise sounds innocent enough — however, things went south when Camille Grammer's friend, Dedra Whitt, approached Armstrong. As a refresher, a few episodes prior, Grammer had revealed that Armstrong was in an abusive relationship. Armstrong later confirmed that she was in an abusive marriage in interviews with both ET and OWN. 
However, at the time, it wasn't public knowledge. As such, Grammer's on-camera revelation was a source of tension between the co-stars. Whitt's repeated attempts at getting Armstrong to talk to Grammer at the wine tasting only added fuel to the fire, and Grammer herself has admitted to trying to de-escalate the situation. Taking to her blog after the episode aired, she reflected that, "At one point, I remember trying to 'shush' Dedra because the more Dedra pushed, it became apparent that Taylor did not want to participate. It just exacerbated the situation and made it more volatile." Ultimately, the drama reached fever pitch, with Armstrong screaming at Whitt, "You have no idea what she's done to me!" Who would have thought that nearly a decade later, a still of that very moment would become a meme?
Taylor loves the meme as much as we do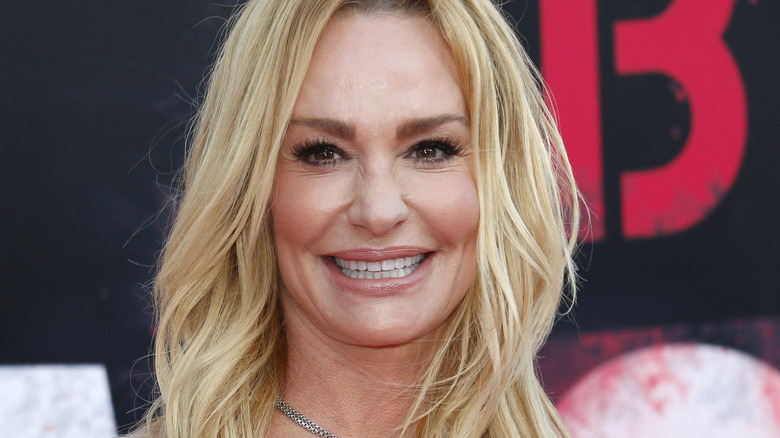 Tinseltown/Shutterstock
Given what had prompted Taylor Armstrong's outburst in the first place, it would make sense if "The Real Housewives of Beverly Hills" alum was frustrated that a serious moment had become a meme. After all, per People, shortly after the episode aired, she explained on "Watch What Happens Live with Andy Cohen" that the incident had been "horrifying to watch." She explained, "I really see a woman who was out of control, a woman who was terrified." However, as it turns out, she's just as big a fan as we are!
As Oprah Daily has pointed out, Armstrong has been known to joke around with those who share the meme, though she told the publication, "I never expected" it to last quite as long as it has. Surprise aside, she's taken many opportunities to play around with those who reference the meme. "I ran into someone at a Halloween party dressed as the cat so, of course, we took the photo op for me to 'yell' at him," she joked.
As for how she feels, knowing how serious the origin story of the meme was, Armstrong shared with Oprah Daily that she can't even relate to it anymore. "During the screaming scene, I was truly terrified for my life and my safety. When I look back now, that life seems like someone else's." We couldn't be happier for her, and knowing that the meme has her stamp of approval is just the cherry on top.