Jennifer Aniston Sets The Record Straight About A Huge TikTok Trend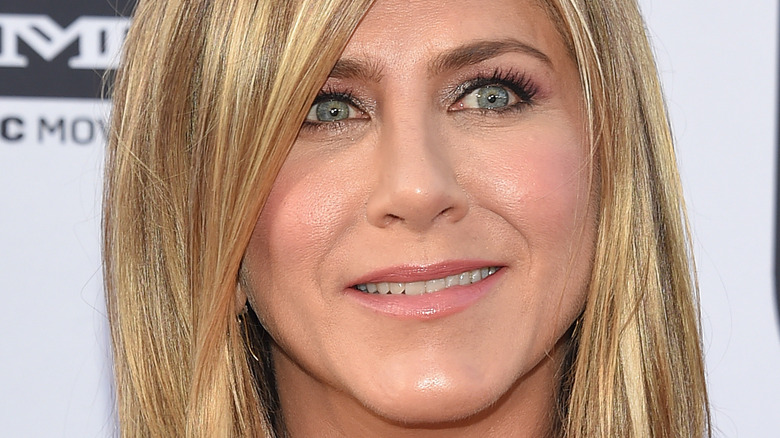 DFree/Shutterstock
"Friends" has been off the air for 18 years, but we still cannot get enough of the iconic sitcom, and of its heroine who launched a thousand haircuts, Rachel Greene, played by Jennifer Aniston. We all went bananas for the "Friends" reunion in 2021 that saw all the gang reunite at Central Perk, and even more gaga for the fact that Aniston still owns a particular dress from the show, and she continues to wear it! According to Us Weekly, she posted to her Instagram feed on June 13 a pic of her wearing a dress that Courteney Cox wore during the show, and then in her IG Stories she included a pic of Cox wearing it on set, writing in the text overlay, "Does the dress look familiar? Still got it!" Now we're wondering if she can "PIVOT!" in that dress.
While Aniston has revealed her stress-eating habits (spoiler alert: she eats one measly potato chip, per In Style), she probably doesn't make that trifle that tastes like feet, or drink the fat. But one iconic culinary delight from her days on the show has recently become somewhat of a TikTok trend: the famous Cobb salad she ate backstage with Cox and Lisa Kudrow every day for lunch. Gen Z has discovered it and they are obsessed, per The New York Post. But according to a new interview, Aniston is debunking the Cobb salad legend. Could we BE any more shocked?
Jennifer Aniston says she would never eat that many chickpeas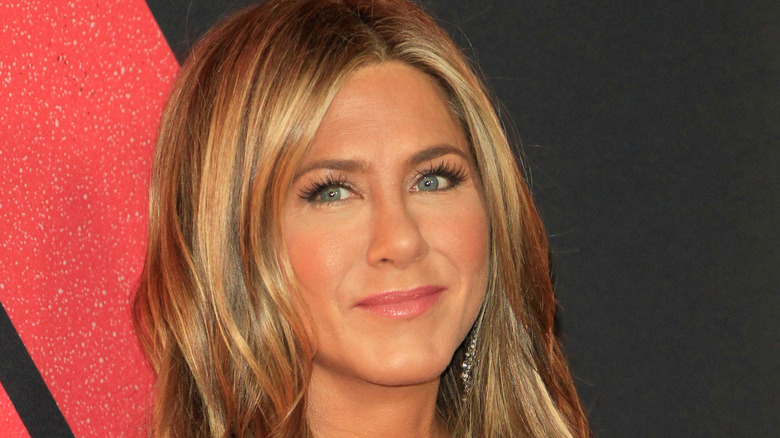 Kathy Hutchins/Shutterstock
Back in 2010, "Friends" star Courteney Cox told The LA Times that she, Jennifer Aniston, and Lisa Kudrow ate the same Cobb salad every day for lunch during the 10-season run of the iconic show. "It was a Cobb salad that Jennifer doctored up with turkey bacon and garbanzo beans and I don't know what," the Monica Gellar actor claimed. By 2015, the legend had taken hold when People reported on the "Along Came Polly" star's Instagram takeover of Living Proof, where she posted that her "perfect salad," included "bulgar, cucumbers, parsley, mint, red onion, garbanzo beans, feta cheese, & pistachios."
Now, in a new Elle interview, she is claiming that the Cobb salad trend that has taken TikTok by storm is something she would never eat ... because of the chickpeas (aka garbanzo beans). "Well, that salad, dare I debunk that?" she said over Zoom to the outlet. "That's not the salad that I had every day on 'Friends.' I feel terrible because it's literally taken off like crazy, and it looks like a delicious salad, by the way, but that's not the one that I had on 'Friends.'"
She then added, "I would never have that much chickpea in a salad, to be honest. Not good for the digestive tract." Contrasting these comments with her 2015 "perfect salad" post, we're giving Aniston's salad confession some side-eye.