What's The Real Meaning Behind Drake's Massive? Here's What We Think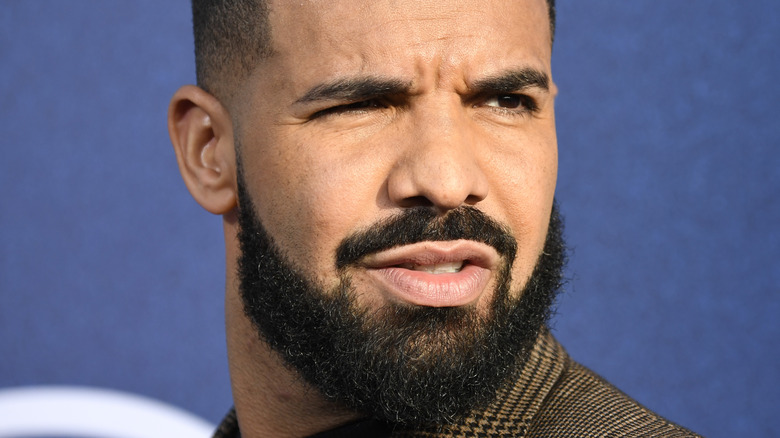 Frazer Harrison/Getty Images
When it comes to hip-hop heavyweights, an array of artists comes to mind. From Ye and Jay-Z, to Kendrick Lamar and J. Cole, the list is full of talented lyricists that have dominated the music industry. However, one of the biggest artists to change the rap landscape is Grammy-winning artist Drake. Having made his debut in the 2010s, the former "Degrassi" actor has captivated music enthusiasts with his love-sick lyrics and impeccable flow. Over the years, Drake's music and social influence have skyrocketed to unimaginable heights.
On June 16, Drake shocked his millions of social media followers when he announced the release date for his highly anticipated seventh album, "Honestly, Nevermind." Taking to Instagram, the "Views" artists wrote: "7th studio album 'HONESTLY, NEVERMIND' out at midnight." After announcing the news, fans expressed excitement over the surprise release. One fan wrote, "Drake dropping a surprise album 9 months after CLB which had pregnant women on the cover art is just next level s**t." Another fan added, "Drake surprise album tonight I just jumped in the air and clicked my heels."
However, since its release, "Honestly, Nevermind" has received mixed reviews from critics. In a review from Clash, the album was described as "a puzzle that will take a long time to fully unlock." While Clash was a bit more positive, the Evening Standard described the album as "summery background music." Even though reviews for the album have been lackluster, fans have still taken to social media to dissect each song, including the House-inspired "Massive."
Drake steps into the world of House Music with Massive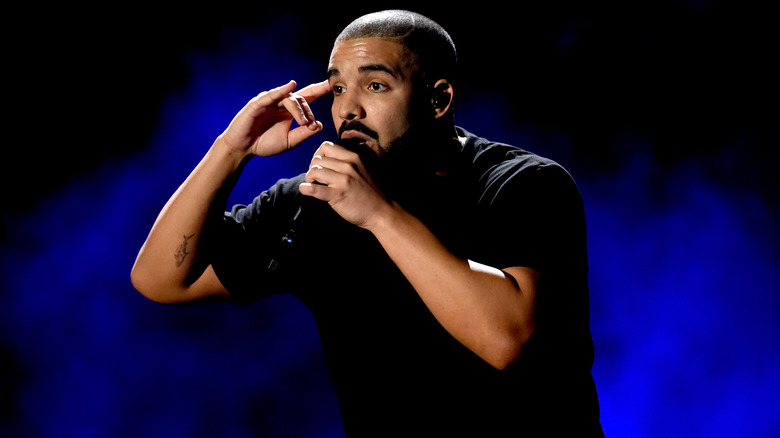 Kevin Winter/Getty Images
Shortly after Drake announced his new album "Honestly, Nevermind," fans were eager to hear what the Canadian artist cooked up. However, upon its midnight release, music enthusiasts were introduced to a new sound from Drake. Infused with elements of House, techno, and his signature hybrid R&B-Rap sound, "Honestly, Nevermind" is a far step away from his previous releases. One track on the album that truly encompasses the House sound is "Massive."
At the start of the track, a lone beeping noise can be heard before Drake's love-lorn vocals appear. "I've been alone in my thoughts. Can't fill this void between. I cannot stand losin' you," he sings (via Genius). As the record progresses, the Toronto native sings about his past mistakes, while also begging his lover to give him another chance. "We can put this behind us. Baby, we can find us again, I know," he croons.
While the exact meaning behind "Massive" is unknown, the "Pound Cake" artist may have been referencing one of his many past relationships, specifically his alleged affair with pop legend Rihanna. Throughout the 2010s, the two were linked in a "will they, won't they" situation. "She's someone I've been in love with since I was 22 years old," he said while presenting her the Vanguard Award at the 2016 MTV Music Video Awards. However, in 2018, the "Kiss It Better" artist revealed the two no longer "had a friendship" in an interview with Vogue. "It is what it is," she added.
Drake's already planning his follow-up album to Honestly, Nevermind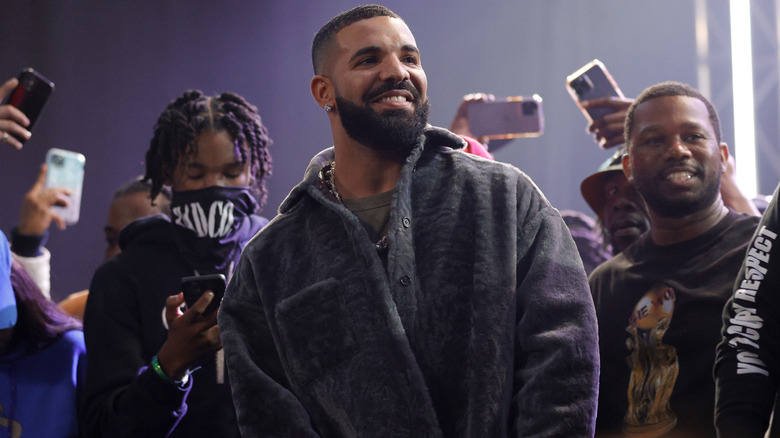 Amy Sussman/Getty Images
Even though Drake just released his seventh album, "Honestly, Nevermind," the Grammy award-winning artist is already gearing up for his next few projects. During the first episode of his new SiriusXM show "Table For One", he revealed that a poetry book is on the way. "Thank you to everybody who helped me with this," he said (via Billboard). "Shout out to Kenza. Kenza, I love you. I want to send you some love. Me and Kenza have a book coming out this year — we have a book coming out this year, a poetry book."
Alongside his literary debut, the singer also revealed a follow-up to his 2021 EP, "Scary Hours 2." "I got another 'Scary Hours' pack coming, too, in a little bit. Maybe not right now; I need you to just take [Honestly, Nevermind] in right now," he said. "But I have 'Scary Hours' — I'm gonna slap some head tops off with the 'Scary Hours' pack."
The release of "Honestly, Nevermind" comes nine months after he dropped his sixth album, "Certified Lover Boy." Unlike his House and Techno-inspired record, the extensive project was billed as a hip-hop album that featured an array of high-profile rappers, including Nicki Minaj, Future, Rick Ross, and Kid Cudi.