The Truth About Sam Waterston's Wife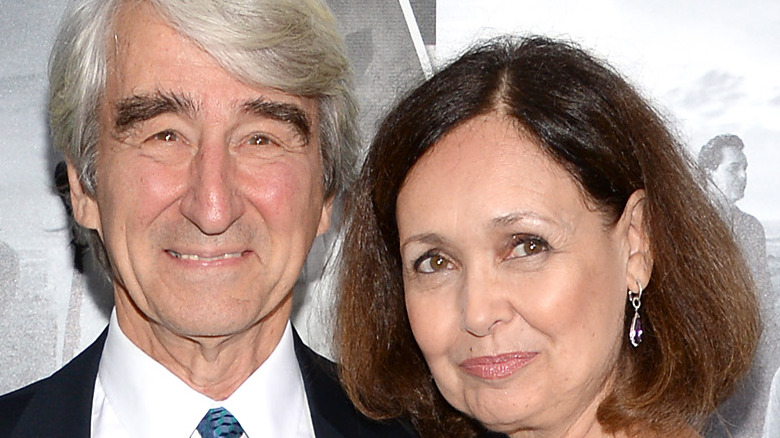 Jason Kempin/Getty Images
Over his nearly six-decade career in the public eye, American actor Sam Waterston has become one of the most recognizable faces on television. After his first major film appearance in James Salter's 1969 drama "Three," Waterston achieved international recognition in 1973 when he starred alongside Katherine Hepburn in an ABC made-for-TV film adaptation of Tennessee Williams' "The Glass Menagerie." For his portrayal of Tom Wingfield, the male protagonist, in this film, both he and Hepburn were nominated for Primetime Emmy awards – Waterston's first major award nomination of any kind. 
Since then, Waterston has appeared in a number of high-profile roles, most notably as District Attorney Jack McCoy in NBC's "Law & Order," a role which he has held on and off since the early '90s, as well as legendary American journalist Sydney Schanberg in Roland Joffé's "The Killing Fields," for which he received critical acclaim and his sole Oscar nomination. But who is Sam Waterston behind-the-scenes? Is he married? Well, the truth is that Waterston has been married to the same woman for nearly half a century now, and the two of them seem to be among Hollywood's happiest couples and are the parents of a number of prolific actors.
Sam Waterston has been married twice and has four children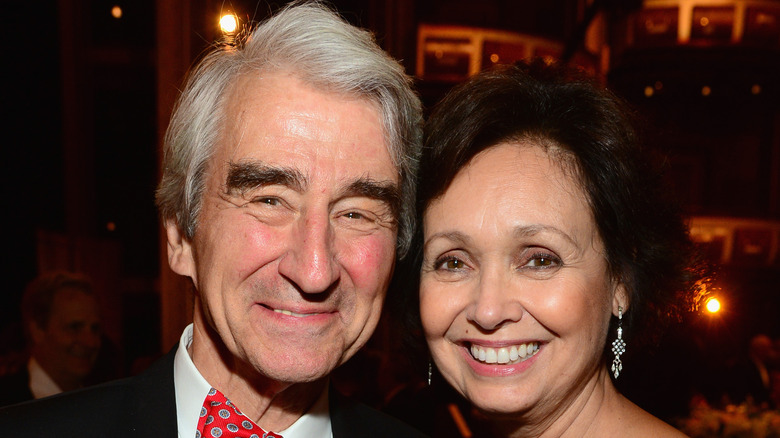 Frazer Harrison/Getty Images
Unlike many actors, both Sam Waterston and his wife have chosen to keep their family life private. There are a few things we do know about the couple. Waterston married his current wife, Lynn Louisa Woodruff, a former model, in 1976, and the two have been together ever since. Before Woodruff, Waterston was married to his first wife, Barbara Rutledge Johns, from 1964 to 1975 (a year before he married Woodruff), and the two had a son together, actor James Waterston, born in 1969. 
According to the New York Times, Waterston and Woodruff first met on a blind date in New York City in 1972 (around the time Waterston was performing in a number of Broadway and Off-Broadway productions), while Waterston was still married to Johns. The two hit it off as Waterston's first marriage was falling apart, and it is no surprise that the two have remained so tight ever since, given how Waterston has made clear the impact his wife has had on him and his career. 
"When there were days that he didn't feel like getting up to go to work, she encouraged him," sources close to the couple said, per HitBerry. "When he was about to give up, she motivated him to keep going. She supported him through his worst days and she has been with him through thick and thin." Since then, the couple has remained happily married and have three children together. 
Sam Waterston comes from a very artistic family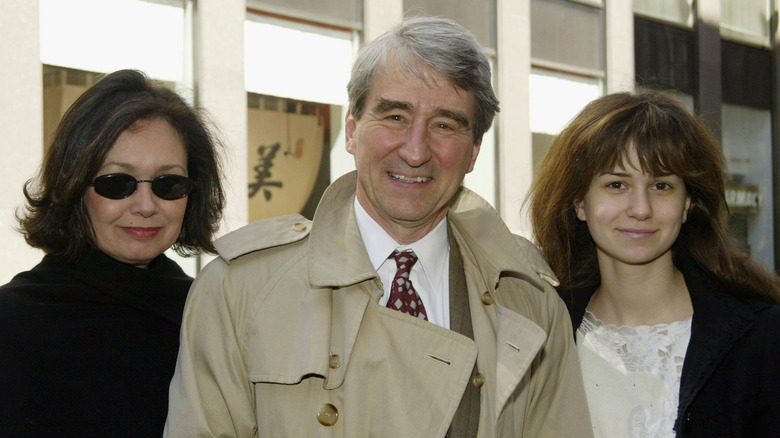 Bruce Glikas/Getty Images
Sam Waterston is not the only actor in his family. According to a New York Times profile in 2004, all four of his children have pursued careers in the film industry in one way or another. His oldest son, James, has an impressive television résumé, including at least four separate appearances and roles (both alongside and without his father) in NBC's "Law & Order," spanning from 1999 to 2017. 
His oldest daughter, Katherine, has appeared in multiple films and television series, and is perhaps best known for her leading role as Shasta Fay Hepworth in the 2014 Paul Thomas Anderson film, "Inherent Vice," as well as Tina Goldstein in the 2016 Harry Potter spinoff film, "Fantastic Beasts and Where to Find Them." Waterston's second daughter, Elisabeth, is a stage actor in her own right, starring as Hero alongside her father in a 2004 rendition of Shakespeare's "Much Ado About Nothing" in Central Park's open-air Delacorte Theater, per the Times. Finally, Graham, Waterston's youngest, was studying film at New York University in 2004 and has since made a number of short films, one of which won the Spirit Award at the 2015 Brooklyn Film Festival.
Although his wife may not be in the show business herself, she sure seems to be happy with the arrangement, and it appears as though she and her husband will be together for a long time to come.