Why Robert Pattinson Was Warned About Dating Kristen Stewart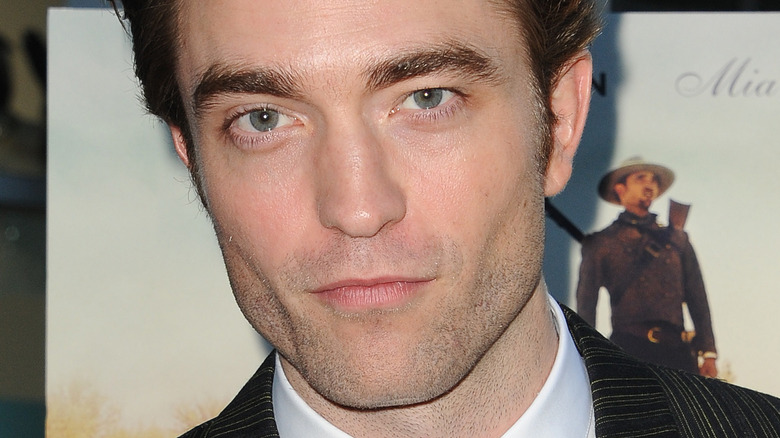 Tinseltown/Shutterstock
Robert Pattinson and Kristen Stewart started dating after meeting during the first "Twilight" movie in 2007. Excitement about the "Twilight" stars' real-life romance was off the charts, but they were overwhelmed by fans. An insider told Digital Spy Pattinson was "terrified" of fans, and "he's afraid that if he gives a hand, they'll take the whole arm."
Stewart and Pattinson were private about the relationship, trying to keep their romance out of the spotlight. "When I was dating Rob, the public were the enemy — and that is no way to live." Stewart recalled to The Sunday Times in 2017. The woman who brought Bella to the big screen said, "I didn't talk about my first relationships that went public [like with Rob] because I wanted things that are mine to be mine," Stewart recalled. "I hated it — that details of my life were being turned into a commodity and peddled around the world." The first movie hit theaters in 2008, and the final movie, "Breaking Dawn: Part 2," premiered in 2012. The "Twilight" movies are based on Stephenie Meyer's young adult books, so the fans were passionate about the movies.
After their relationship ended, Stewart reflected on her romance with Pattinson. The "Twilight" star told The New Yorker about the experience, "And, whatever, we were young and stupid and, not to say that we made it so much better, but that's what it needed, and that's what anybody playing those parts needed to feel." But why was Pattinson warned about dating Stewart?
Twilight director warned Robert Pattinson about Kristen Stewart because of her age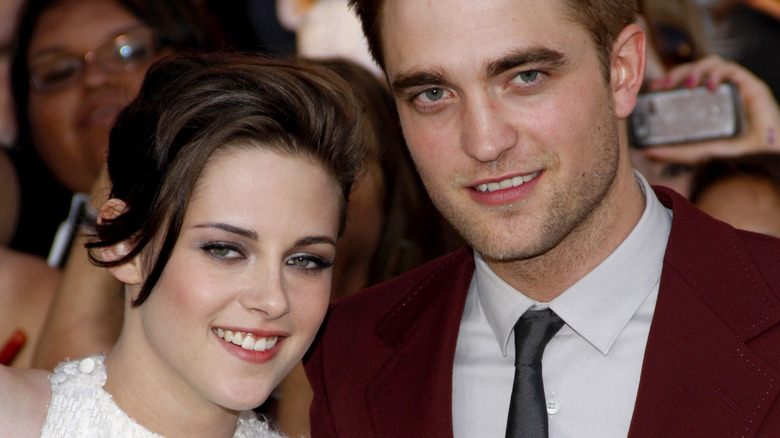 Tinseltown/Shutterstock
"Twilight" director Catherine Hardwicke was nervous about Robert Pattinson and Kristen Stewart's on-set connection because Stewart was only 17 when they shot the first film. In an interview on "The Big Hit Show" podcast, Hardwicke explained, "I could tell they had a lot of chemistry, and I'm like, 'Oh my God.' I thought, Kristen was 17. I don't want to get in some illegal things." Hardwicke continued, "So I remember I told Rob, 'By the way, Kristen is 17. In our country, it's illegal to have a sexual...' And he's like, 'Oh, okay, whatever.'" The "Twilight" director added that Pattinson "was so into" his audition kissing scene with Stewart that "he fell off the bed." 
After kissing Pattinson during his audition, Stewart told The New Yorker that she knew he was the one to play Edward Cullen. Stewart said, "It was so clear who worked. I was literally just, like ..." The "Spencer" star described Pattinson's acting as an "intellectual approach that was combined with 'I don't give a f**k about this, but I'm going to make this sing.'"
A Summit Entertainment executive told Fandom that Pattinson was smitten with Stewart. Nancy Kirkpatrick said the actor told her, "I was in love with Kristen from the very first time I saw her in the audition." But Kirkpatrick said, after Hardwicke warned Pattinson about Stewart's age, the actor told her, "'I had to wait.' That was a very real relationship."
Inside Kristen Stewart and Robert Pattinson's romance after Twilight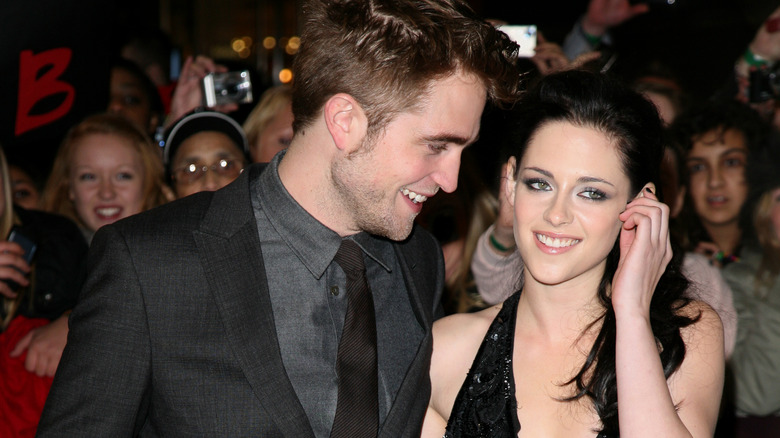 Featureflash Photo Agency/Shutterstock
It was complicated when Robert Pattinson and Kristen Steward broke up. The two actors dated from 2008 to 2013, but the romance got messy in 2012 after photos of Stewart kissing the married director of "Snow White and the Huntsman" went public. When the pictures of Stewart and Rupert Sanders surfaced, a source told People, "Kristen is absolutely devastated ... It was a mistake and a complete lapse in judgment." The inside source revealed, "She wasn't having an affair with Rupert. It was just a fleeting moment that shouldn't have happened." Pattinson moved out of the house he shared with his "Twilight" co-star, but in September 2012, People reported the couple was working on their relationship. 
In a statement, Stewart said, "This momentary indiscretion has jeopardized the most important thing in my life, the person I love and respect the most, Rob ... I love him, I love him, I'm so sorry."
Stewart's kissing scandal happened a few months before the final "Twilight" movie premiere, so some were cynical when news outlets reported the celebrity couple got back together. The real-life Bella and Edward were together during the final "Twilight" movie, but it didn't last. A source told Us Weekly that Pattinson broke up with Stewart after fighting "about the cheating, about how selfish she always is, about how moody she always is." But, in a 2014 interview, Pattinson was zen about the drama. The actor told Esquire (via Entertainment Tonight), "It's just young people... it's normal!"