Inside Elle Fanning's Infatuation With Marilyn Monroe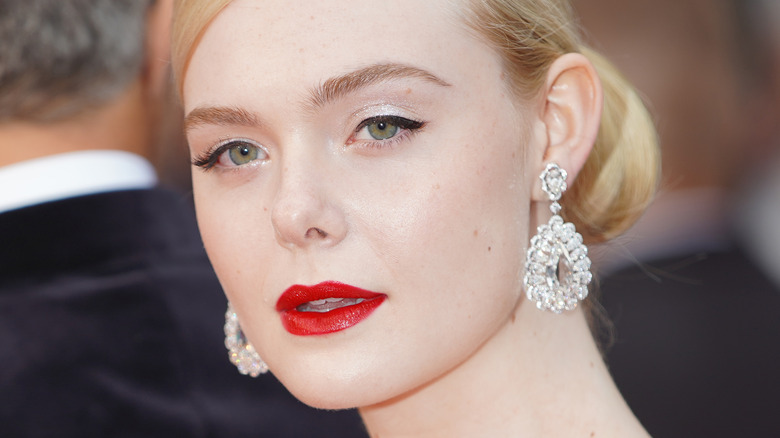 Denis Makarenko/Shutterstock
The entertainment industry's endless fascination with Marilyn Monroe is a true testament to the late icon's star power. Elle Fanning is among the many modern-day celebs who hold the "Gentlemen Prefer Blondes" actor in high esteem, and if Hollywood had a Monroe fan club, Fanning would face some stiff competition in its presidential race.
Something about Monroe — be it her legendary beauty, vulnerability, or captivating screen presence — appeals to a wide array of celebrities. Pop queen Madonna made her case that she reigns supreme over the Monroe acolytes by recreating the actor's famous "Diamonds Are a Girl's Best Friend" musical number in her music video for "Material Girl," and reality star Kim Kardashian sparkled like she was dripping in diamonds decades later at the Met Gala when she walked the red carpet in Monroe's glittering "Happy Birthday, Mr. President" dress.
Megan Fox used to have a tattoo of Monroe's face on her right forearm, but she decided to have it removed in 2011. "[Monroe] was a negative person, she was disturbed, bipolar. I do not want to attract this kind of negative energy in my life," Fox explained to Amica magazine, via Marie Claire UK. Lindsay Lohan also has a tattoo tribute to Monroe in the form of a quote, and she recreated the silver screen legend's final photo shoot for New York magazine in 2008. Not to be outdone, Fanning proved that she can also pull off Monroe's platinum curls in two different tributes to her idol.
Elle Fanning became a Marilyn Monroe fangirl at a young age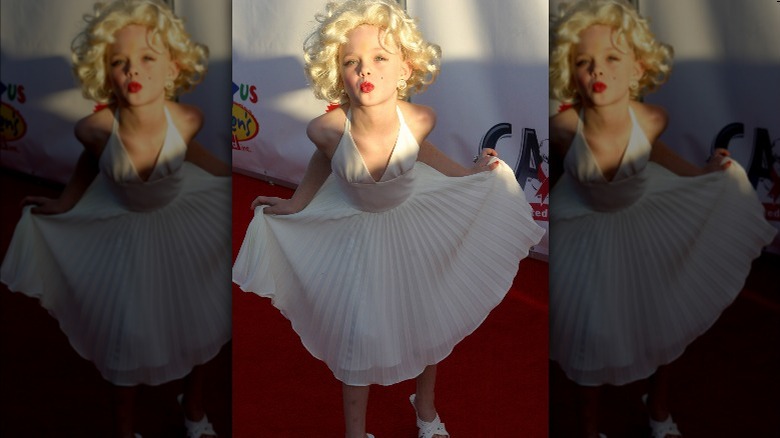 Ana Elisa Fuentes/Getty Images
In a 2014, Elle Fanning told Interview that her obsession began at age 7 after she laid eyes on a still photo of Marilyn Monroe, and she explained what she finds so alluring about the icon. "I would just look at her and I was mesmerized. She was beautiful and so ... truthful. She's not faking it," Fanning said. "If she's having a terrible day when the picture was taken, she'll show that she's really depressed and having a terrible day."
Fanning then told W the first Monroe movie she saw was "The Seven Year Itch." She was still a child, so her father helped her scour video stores around Los Angeles until they found the film on DVD. "Then I was her in the white dress for Halloween," Fanning recalled. She went all out with her costume, rocking a wig styled like Monroe's famous tousled tresses, black eyeliner, a fake beauty mark, and bright red lipstick. In fact, she was so determined to get her beauty look right that she almost missed out on free candy. "I started crying and I wouldn't go trick or treating, I refused because I didn't have the right shade of red lipsticks," she told Tush.
The actor's Monroe fixation was not just a childhood phase, though. "As I got older, I researched her more." Fanning told Elle. "She put up with a lot. And she made it into something good."
Elle Fanning owns some Marilyn Monroe memorabilia
On June 1, Elle Fanning paid tribute to her idol on Instagram. "It's Marilyn Monroe's birthday. I threw this wig on by coincidence today, not realizing the date," she wrote. In the accompanying photo, she wore a wavy bobbed wig.
Fanning doesn't just own a hairpiece that allows her to play dress-up as Monroe. She told W that she purchased two items once owned by the late actor at an auction: a jar of beauty cream and a container of face powder that still had some product inside. "I think I tried to put it on, and my mom's like, 'Uh, no,'" she recalled. Items like this can have some pretty hefty price tags. In 2016, Julien's Auctions sold a number of Monroe's old beauty products, and a jar of her Erno Laszlo Dual Phase Face Powder fetched $3,840.
Fanning isn't the only celeb who owns a piece of Monroe history. In 1999, People reported that Mariah Carey spent $662,500 on the "How to Marry a Millionaire" star's white baby grand piano. The dress from "The Seven Year Itch" that inspired Fanning's childhood Halloween costume has also gone up for auction before. According to CNN, it sold for $5.6 million in 2011. Fanning's net worth is estimated to be $6 million, per Celebrity Net Worth, so she'd have to be one dedicated Monroe superfan to bid on the garment if it's ever auctioned off again.