The Truth About Marina Squerciati's Marriage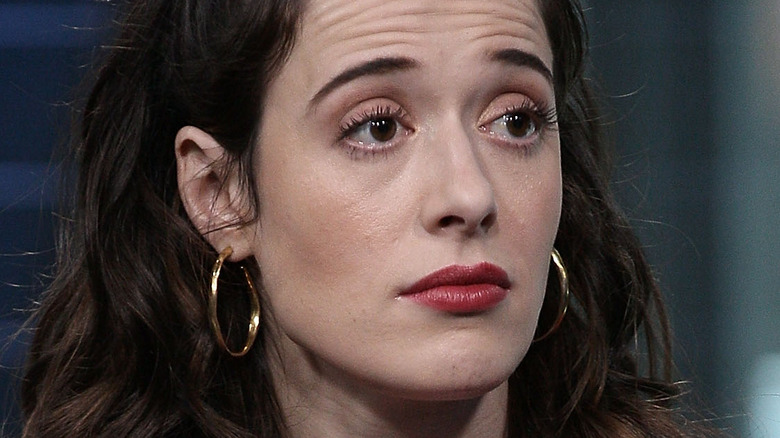 SD Mack/Shutterstock
Marina Squerciati talks about marriage a lot during interviews, but it's her on-screen relationship that the "Chicago P.D." star finds herself analyzing. That's because viewers have become majorly invested in the on-and-off romance between her character, intelligence officer Kim Burgess, and Burgess' fellow CPD member Adam Ruzek (John Flueger).
They've lived together, gotten engaged, and almost had a baby. But, whenever Burgess and Ruzek seem on the cusp of figuring things out, tragedy often strikes — like when Burgess suffered a devastating miscarriage. While the inevitable drama that upends lives on "Chicago P.D." sometimes pushes the pair apart, Squerciati is Team Burzek all the way. "I think there's always hope for them," Squerciati told TVInsider in 2021. "They're the eternal couple. They probably will get married in Season 15, but who knows?"
While Squerciati's job requires her to chat with reporters about her character's romantic journey, she's far more protective of her own personal life. However, the New York Post discovered an interesting detail about her engagement to Eli Kay-Oliphant. According to the outlet, Squerciati is the daughter of wealthy Wall Street financier John R. Jakobson. Squerciati kept the identity of her alleged absentee dad a secret for years until he purportedly failed to fulfill a verbal promise he made to her as an engagement gift: that he would include her in his will. We also know that Squerciati and Kay-Oliphant are parents, and before her acting career took off, Squerciati worked in the same industry as her husband.
Marina Squerciati's husband was involved in a high-profile legal case
According to Hello!, Marina Squerciati tied the knot with her college sweetheart, Eli Kay-Oliphant, in 2016. Their love story began at Northwestern University in Evanston, Illinois, where they were pursuing much different career paths. According to the New York Post, Squerciati studied theater, while Kay-Oliphant earned a B.A. in political science before going on to get his law degree from the Emory University School of Law, per LinkedIn.
As of June 2022, Kay-Oliphant is a partner at the law firm Sparacino PLLC. He's represented Southwest Airlines and other large businesses, but one of the most high-profile cases he has litigated is the lawsuit that the parents of Seth Rich brought against Fox News. Rich was a Democratic Party staffer who was murdered in 2016, and his death became the subject of baseless conspiracy theories perpetuated by Fox News, per NPR. According to Kay-Oliphant's bio on his firm's website, he helped the Rich family win a settlement from the cable network for an undisclosed sum of money.
Squerciati keeps details about her marriage close to the vest, but in a 2019 appearance on "The Rachael Ray Show," she revealed that she was also working in the legal field when she landed her "Chicago P.D." role. However, she was a real estate paralegal, not an attorney. "I stayed there for another year," Squerciati said. "I was too scared to leave. I had the job all throughout Season 1."
Transitioning to motherhood wasn't easy for Marina Squerciati
According to Crain's Chicago Business, Marina Squerciati and Eli Kay-Oliphant purchased a condo in Chicago for $667,500 in 2016. The following year, they welcomed a daughter, per Hello!, and Squerciati spoke candidly about her reaction to giving birth. "I didn't have an incredible surge of love; I didn't have an incredible non-surge of love. I just was like, 'Oh, this is a new part of my life,'" she told Chicago Parent.
Squerciati's feelings about parenthood changed over the next few months, as she bonded with her little one, and in 2020, she explained to Bump Club & Beyond that she had initially struggled with losing the amount of leisure time she had as a nonparent. But by the time her daughter was a toddler, she had adjusted to her new life. "I love it. I am very much a working mom," she said.
While Squerciati doesn't share photos of her husband on her Instagram page, their little girl pops up there frequently. Mother and daughter can be seen hanging out in an inflatable pool, visiting the American Girl Store, and wearing fruit-themed Halloween costumes. The actor revealed that her "Chicago P.D." co-stars Sophia Bush and Kate Morton planned her baby shower, and thanks to a photo on the Lyric Opera of Chicago Facebook page, we know that Kay-Oliphant has been welcomed to the One Chicago family: He and Squerciati are pictured attending an event with "Chicago Med" star Nick Gehlfuss and his wife.