The Truth About Michael Keaton And Courteney Cox's Relationship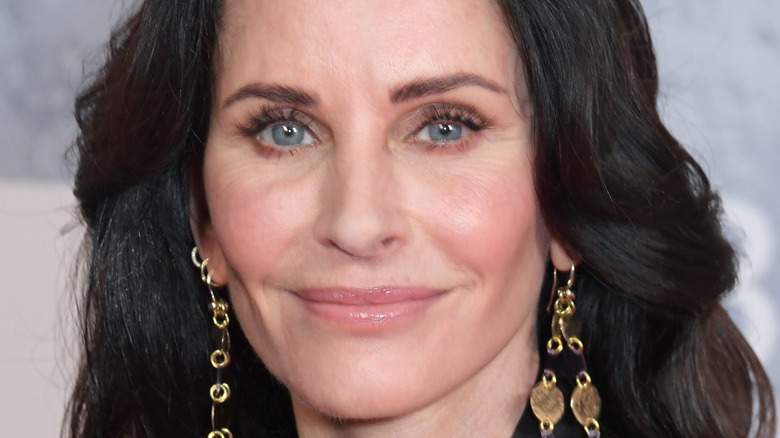 David M. Benett/Getty Images
The '90s was packed with celebrity couples that were once considered total #RelationshipGoals. There was Courtney Love and Kurt Cobain, Bruce Willis and Demi Moore, Brad Pitt and Jennifer Aniston, and of course, Winona Ryder and Johnny Depp.
There were also the underrated celeb relationships that we don't really talk about anymore. Think Matt Damon and Minnie Driver, Ben Affleck and Gwyneth Paltrow, and Sarah Jessica Parker and Robert Downey Jr. How can anyone forget the high-profile relationship actors Courteney Cox and Michael Keaton once had? While they were relatively low-key about their romance, the two dated for nearly six years and broke things off in 1995.
Unlike most couples in Hollywood, their relationship was never shrouded in toxicity. Even after they decided to part ways, they spoke fondly of each other, and not once did they put one another in a bad light. During the height of their romance, one could probably say that they were soulmates. While it didn't pan out, they used to be head over heels in love.
Courteney Cox and Michael Keaton hit it off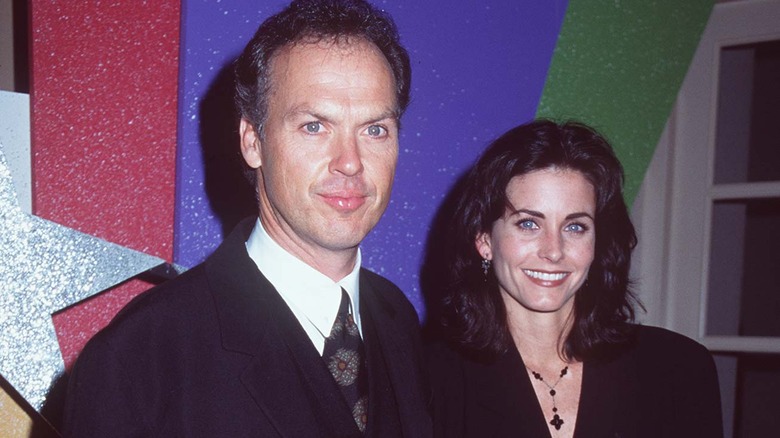 Tammie Arroyo/Getty Images
It was pretty much love at first sight for Courteney Cox and Michael Keaton when they first met. In an interview with People, the "Friends" actor said that a mutual friend had introduced her to Keaton in 1989 when she made it known that she was a fan after seeing him in the drama "Clean and Sober."
Perhaps to maintain their privacy, the two had their first-ever date at Cox's house, and it was a success. "We talked for five hours," she said, adding that they had already talked about the future right then and there. "We talked about our dream homes — the great ones we'd seen and the kind we'd like to build ourselves." It didn't take her long to discover that they were on the same wavelength. "We were sympathetic on so many levels," she continued. "If something weird happened, we would turn to each other and just say, 'I know.'"
While they had a significant age difference of 13 years, according to InStyle, the two liked the same things, and they bonded over mundane activities. "The things we liked to do were all in the neighborhood," Cox said.
Michael Keaton was Courteney Cox's 'most important relationship'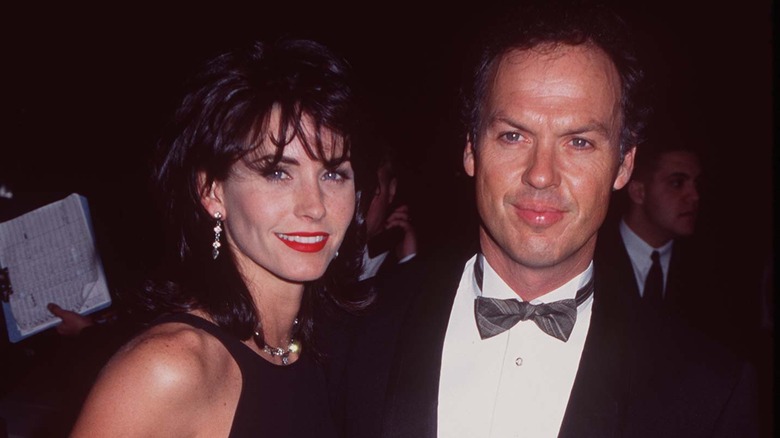 Tammie Arroyo/Getty Images
Courteney Cox and Michael Keaton called quits after half a decade of dating, and per the "Scream" actor, it boiled down to how their lives diverged. "Our lifestyles are very different," she said in an interview with Ladies Home Journal in 1996, pointing to the fact Keaton was a father to his son that he shared with his ex-wife, Caroline McWilliams. "We just have different personalities," she explained. "I don't want to tell too much about him because he's a very private person ... and he's not quite as impulsive as I am about making decisions."
While she later found happiness elsewhere in David Arquette, Cox was admitted at the time that Keaton was a positive force in her life. "It's the most important relationship I've ever had, and I think he's the most wonderful person I've ever met. We still love each other," she told People in 1995, sharing that only Keaton was capable of lifting her mood. "He always came up with the most clever ways of making a line funny. No matter how upset or pissed off I was, Michael could make a little face and crack me up."
Although she did point out that they had their differences, she also confessed that she couldn't pinpoint the exact reason why they broke up, telling People, "Nothing about our relationship was ever simple." It seems much about their relationship will remain a mystery.