What Really Happened Between Madelyn Cline And Zack Bia?
Joe Seer/Shutterstock
There's nothing more satisfying than when our favorite onscreen couples start dating in real life. From Zendaya and Tom Holland finding sparks on the set on "Spider-Man," to Natalia Dyer and Charlie Heaton keeping their "Stranger Things" romance going inbetween seasons, it's always exciting when fictional pairings take their chemistry off-screen.
Of course, when these couples split, there are fears that their acting performances may be impacted. Such was the case when Madelyn Cline split from her "Outer Banks" love interest, Chase Stokes. Fortunately, the pair was establishing a strong work-life balance even before they broke up, with Stokes telling V Man, "As soon as we get to work, we'll support each other. We'll be scene partners and take care of each other when it's an emotional moment. But it doesn't mean that if I don't believe you, that I'm not going to call you out and she holds me to the same standard."
Their healthy dynamic clearly paid off, as Cline has continued her acting work and has been able to move on from Stokes. In December 2021, just one month after the break up, People linked Cline to another big name in Hollywood: DJ Zack Bia.
Zack Bia and Madelyn Cline never put a label on things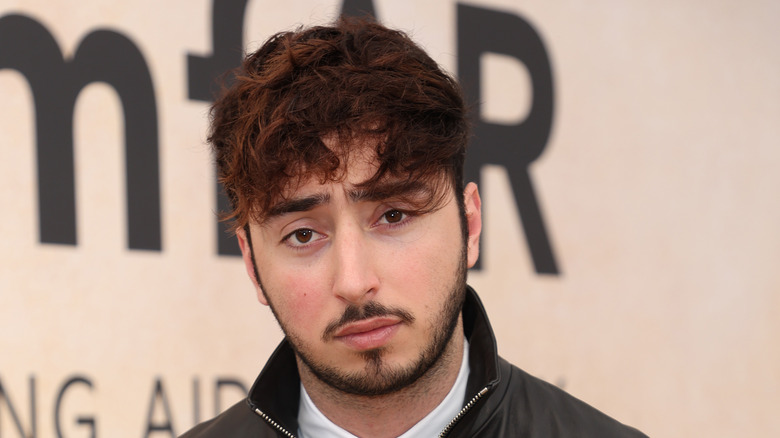 Mike Marsland/Getty Images
Just a few days before Madelyn Cline's 24th birthday, she grabbed dinner with Zack Bia at Santa Monica's Giorgi Baldi restaurant. Although People's initial report didn't expect imply the pair were dating, Cline's recent split from Stokes had everyone speculating. The rumors only intensified when the actor and DJ were spotted at sporting events together, per Us Weekly. 
The duo avoided making any official comments for quite awhile, but Dave Portnoy demanded answers when Bia appeared on the "BFFs" podcast in January. "Now you're dating Madelyn Cline ... Is this factual or am I just reading misinformation?" he asked. While the question was straight to the point, Bia's answer was slightly more ambiguous. "We are not dating," he began. "It is one of those things where we really enjoy hanging out and enjoy going to dinner. But we never officially started dating and probably will never officially stop because we are just hanging out."
While fans can debate if it's true that they never officially started dating, one thing's been made clear: They have officially stopped. Bia was recently connected to a new talent in Hollywood, and this time things seem a bit more serious. 
Zack Bia is rumored to be dating Olivia Rodrigo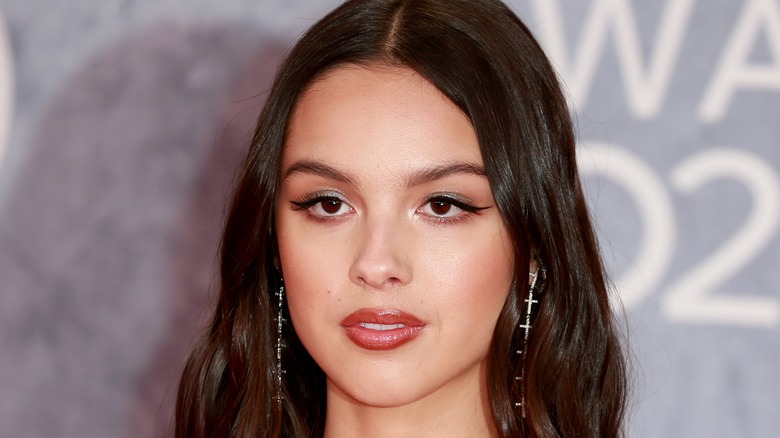 Cubankite/Shutterstock
Zack Bia seems to have a thing for talented brunettes with killer eye make-up. First was People's report of his split with Madison Beer, then came Madelyn Cline, and now Bia is connected to 19-year-old singer-songwriter Olivia Rodrigo. A source told People that the pair has been dating since the 2022 Super Bowl, placing the beginning of their love story less than one month after Bia's appearance on Portnoy's podcast. 
Rumors of a romance began in February, when a source told E! News that "[Bia] invited her to Super Bowl parties that he was DJing that weekend and she went to support him. They hit it off and have been casually hanging out." Just a few months later, in April, E! News got their hands on photos of the pair out for a cozy walk. 
While neither Bia nor Rodrigo have commented on the relationship rumors, People's source claimed, "They really like each other." Good 4 U, Olivia!