Kim Kardashian's Kids Caused Quite A Stir During Her Jimmy Fallon Appearance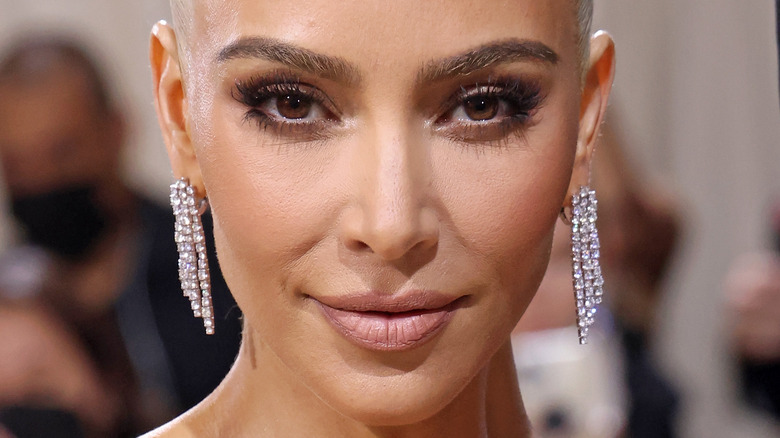 Taylor Hill/Getty Images
Kim Kardashian is many things. She is a reality TV star. She's an entrepreneur. She's a one-time "Saturday Night Live" host. But the multi-hyphenate A-lister is also a mom, and two of her four children were kind enough to remind the world during her latest appearance on "The Tonight Show With Jimmy Fallon." 
Kardashian spent most of the interview talking about normal stuff, like her daughter North's interest in special effects makeup, bonding with her boyfriend Pete Davidson, and, of course, her new skincare line, SKKN By Kim. But just as she was in the middle of telling Fallon that she didn't realize that Will Ferrell was once on "Saturday Night Live" (side note: Kim, what?), their conversation was interrupted by Kardashian's two small sons, who she shares with her ex-husband Kanye "Ye" West.
Not even celebrity children can keep from interrupting when mommy is talking it seems, even if mommy is on a late night show with Jimmy Fallon on live television.
Saint and Psalm interrupted Kim Kardashian's Jimmy Fallon interview
Right as Kim Kardashian was in the middle of making a joke about her own lack of "SNL" knowledge, Jimmy Fallon interrupted her with, "I'm hearing kids." Kardashian then turned around to address said kids, "Guys can you stop?" She gently scolded, "This is like your first time at work with me, please!" The camera then cut to Kardashian's sons, Saint and Psalm and her business partner Tracy Romulus's daughter, looking adorable in their little masks. "My two boys are here and I can hear them making so much noise," Kardashian explained. "Guys this is your first time at work with me, don't mess this up!"
This is yet another example of the fact that kids are gonna be kids no matter who they are or where you take them. Other recent examples include Blue Ivy Carter being mortified by her father Jay-Z at a basketball game (via ESPN), the inimitable Prince Louis's antics at his grandmother the queen's Platinum Jubilee, and Psalm and Saint West on their mother's Instagram Live shortly before their "Tonight Show" interruption.
"Hi, weirdos," Saint exclaimed on the live video after Kardashian asked him to greet her followers. "Stop it," she warned, before Saint retaliated, "If you're watching this, I hate you!"